Oh my, oh my, oh my! Just thinking about 2011 Heritage Vines Zinfandel from Dry Creek Vineyard makes my mouth water. Ever watch Restaurant Impossible and see Chef Robert Irvine jump up and down and do his happy dance after preparing a new dish for the flailing restaurant?
That's how I feel about this wine. I literally want to jump up and down and my mouth begins to water before the bottle opens.
Last week we were in Cancun staying at the Moon Palace Resort (recap/review coming soon) and received $1,500 in resort credits to use in various places like the spa, activities, etc. To make a long story short these "credits" are somewhat limiting and we were unable to apply where we wanted.
After booking spa treatments we had $1,200 to burn. 
Surprisingly, credits can be applied toward upgrading wine at any of the restaurants. So what the heck, if I can't get more spa treatments, we'll drink the credits away.
Our first attempt upgrading none of us recognized anything on the wine list, so hubs threw caution to the wind and randomly selected the 2011 Heritage Vines Zinfandel from Dry Creek Vineyard. For the record he knows very little about wine and his drink of choice is a vodka martini when dining out.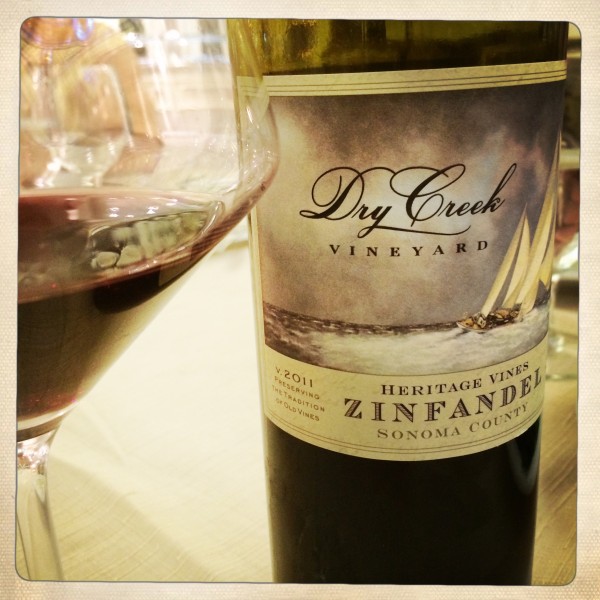 Whoa! At first sip instinctively my impulse was to grab the bottle and make a run for it. How was I going to manage sharing this bottle of perfectly balanced, silky vino??
Last week I reviewed Gnarly Head Zinfandel and wondered if there was a difference between the 2011 vs 2012. After two bottles of 2012 I was surprised that I had been so impressed by this wine. My first experience was a 2011. Could the year really matter??
Turns out the year does matter. I did a little research and apparently the 2011 zinfandel vintage was a good year although the weather wasn't great. It rained too much in the winter, lasting into the late spring and early summer. The summer growing season was unseasonably cool and temperatures rarely broke 90° F in Northern California.
Because the Zin is a thin-skinned grape and prone to rot, most Zin producers rushed to harvest the grapes the first of October.
After that first night ordering, every dinner was highly anticipated thanks to our new friend.  At $85 per bottle we accomplished our mission of drinking away remaining credits.
What a relief to check online and confirm that the fabulous Zin sells for $14.99 at online for $17.99.
Sassy Tip: Drive quickly (and safely) to your nearest retailer and purchase the 2011 Heritage Vines Zinfandel from Dry Creek Vineyard. Save it for yourself or buy extra and be sure it's 2011.
Cheers!!
What are you drinking this week? Have any great wines I should know about?