Is taking a Disney cruise on your family's bucket list? A few years ago we took the girls on Disney's Wonder and our family had an amazing time! I wish I could say it was as simple as booking the trip and showing up to have a magical experience. The planning process was somewhat time consuming and after spending hours and hours preparing, I'm saving you tons of time by sharing everything I learned. Before leaving home, it's important to know what to pack for a Disney Cruise.
Be sure to check out what people had to say on Facebook when asked to share their best Disney cruise tips and tricks!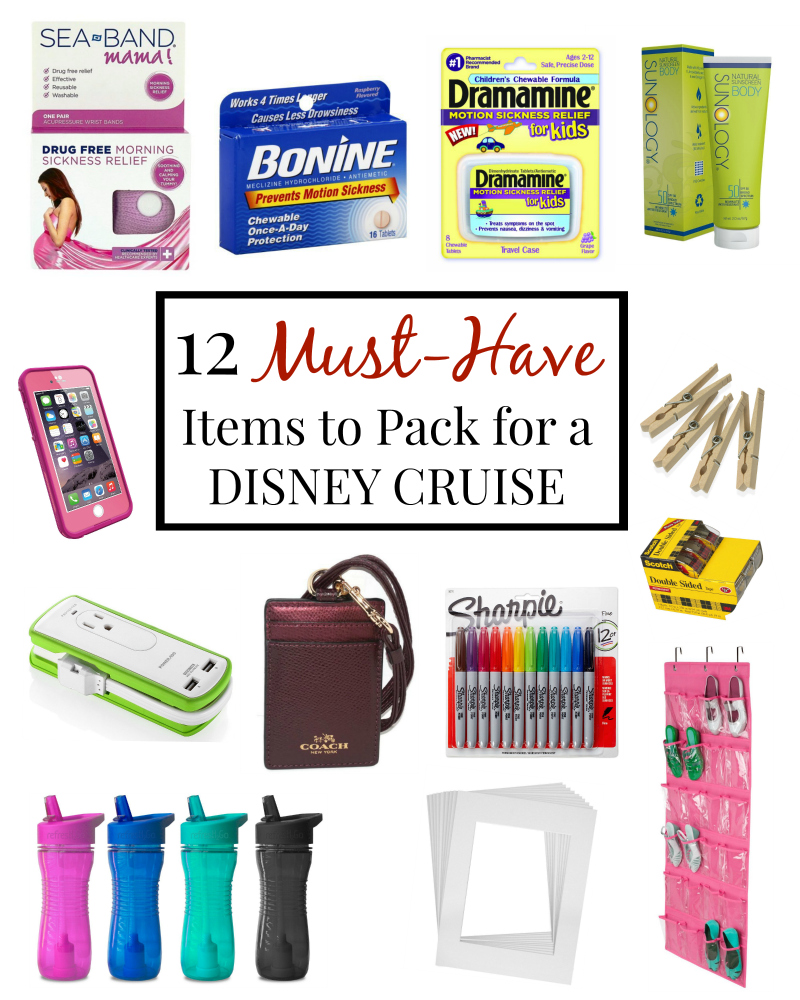 Most of the recommended must-have travel items for a Disney cruise are included in my standard travel packing list. There are definitely things that surprised me and items I'd never considered. Good thing I did my research.
It's really important to be prepared prior to boarding any cruise ship as space is tight and the living quarters can be become claustrophobic after a few days.
And yes, we used all twelve items on this list. 
What to Pack for a Disney Cruise
Motion Sickness Medicine
I wasn't 100% sure how the girls would handle the motion of a cruise ship, but decided not to take any chances so they took Dramamine for Kids  before boarding. They had no motion sickness issues at any time during the week. They each took two tablets the day of boarding and we spaced out the remainder.
In the past Bonine worked well for me deep sea fishing and on other cruises. Harvard Homemaker shared her list of things to pack for a Disney Cruise and suggested using Sea- Bands. I purchased but didn't end up using, but definitely a great drug-free option for pregnant women and kids.
My husband opted for a nausea patch prescription. For some reason I thought it would try it out the first two days AND I also took Bonine. This was a very bad idea. I was falling asleep every time I sat down and could barley keep my eyes open.
Once I removed the patch and stuck with the Bonine – all was good. I think I was just paranoid of getting sea sick that combing both would provide extra protection. Not so smart.
Travel Tip: There are only 8 tablets in one box of Dramamine for Kids. The safest bet is to bring one box of  per child. If you are prone to motion sickness it's better to just take something prior to boarding the ship. Once motion sickness sets in, it's really difficult to get past and can ruin an entire trip.
Sunscreen
Sunscreen is a no brainer but I'm very particular about brands that are free from PABA, phthalates, parabens, fragrances or nano-particles. It's challenging to find non-toxic spray sunscreen but this one by Honest worked well.
I'm not a fan of spray sunscreen as most brands are filled with toxins and spraying poolside can trickle over to neighboring guests. This one by Honest worked really well.
One thing to note about brands that use safe & effective active ingredients like Zinc Oxide and Titanium Dioxide – it does leave your skin white. One way to avoid this is to apply coconut oil first, to help blend in a little easier. 
But honestly wouldn't you rather avoid toxic chemicals and deal with white skin? It's a trade off I'm willing to take.
Waterproof Phone case
A waterproof phone case goes without saying but it really does come in handy especially snapping photos at the pool or at Castaway Cay. I've had great luck with Lifeproof Waterproof Phonecase which most of my family members in Florida own too.
Clothespins for Hanging Bathing Suits
Normally we just throw wet suits over the retractible clothes line in hotel showers, but with four people it's easy to run out of space. I used wooden clothespins, which are super cheap, lightweight and don't take up much space in a suitcase.
Travel Tip: Two bathing suits per person is standard and recommended. That gives you a day to dry and rotate.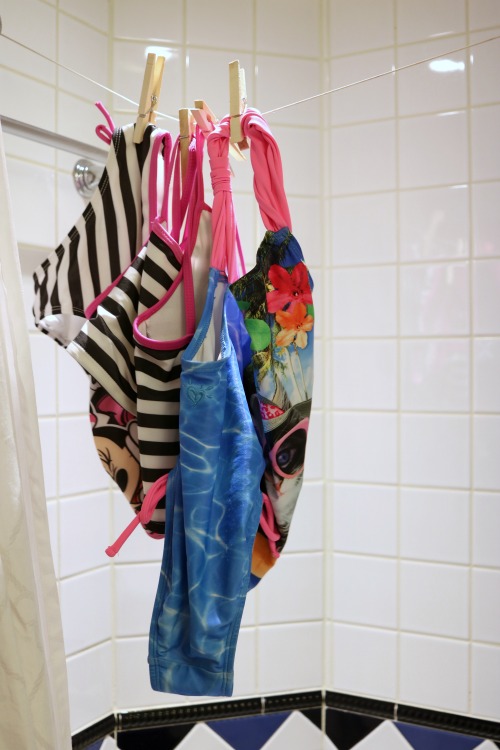 Portable Power Protector
A portable power protector is always in my travel bag so I can easily charge devices, laptop and camera battery on the road. It's important to know that the outlets are hard to come by and are not conveniently located in Disney Wonder cabins. There are two on the desk and on each side of the bed.
The bathroom outlets are not strong enough for a powerful blow dryer so I used the outlet at the desk. The girls were getting annoyed after a few days because it interrupted their TV time. The alternative was to use the outlet on the side of the bed or the provided dryer which would never work on my hair.
I prefer this three outlet portable surge protector that includes USB ports for charging multiple devices.
Disney prohibits items like extension cords, surge protectors and power strips but not sure how we would have managed without one. I never left it plugged in while we were away from the room.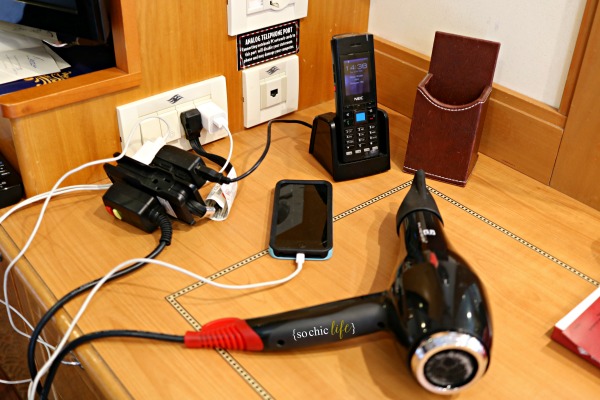 Travel Tip: For the Disney Wonder only a portable travel protector with an extended cord works best (versus a plug sticking from the side) as the light switches and outlets are all together (see above).
In addition to your own electronics you'll be charging the Wave Phones – devices that allow you to call and text both onboard and at Disney's Castaway Cay.
Hanging Shoe Rack
This was a really odd one but totally made sense once we unpacked and is 100% necessary. There is very little counter space. The hanging shoe rack allowed me to keep brushes, shoes, medications, snacks, sunscreen, hair care products and all the miscellaneous items easily organized during our stay. I think the key is to purchase a clear version so you can see everything. Most shoe racks that I found (and originally purchased at Target) are canvas with the exception of this one –Honey-Can-Do Over The Door Shoe Organizer. 
Travel Tip: I was able to hang the door shoe organizer over the bathroom door which was super convenient while I was getting ready each night. I would have gone completely insane without having this and our cabin would have been an unorganized mess. This is also on the prohibited item list, but not sure why and no one from housekeeping said anything. You could always store under the bed and hang temporarily while using.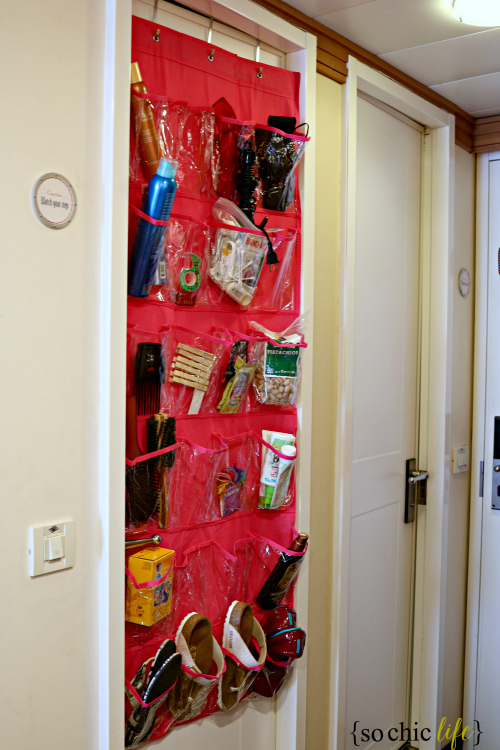 Filtered Water Bottles
Every blog it seemed recommended bringing water bottles to avoid going back and forth to Deck 11 or Deck 9 whenever someone gets thirsty. The beverage station is located on Deck 9 with the pool on the Disney Wonder so we filled up before we left each day. We used Refresh water bottles
My favorite brand is 12 ounce Junior bottles – space savers and perfect for tiny hands.
We brought two tall bottles and one 12 ounce which was perfect.
Water and sodas are provided via fountain stations. Coffee, hot chocolate and hot tea stations are also available. Bottled waters and club soda (not sure I saw canned sodas) are not included in your package but available for purchase. We paid for club soda at the bar.
Travel Tip: Fill up the water bottles at breakfast and refill before going to the cabin at the end of the day. We designated a specific area in our room as the water station. Bring water bottles to Castaway Cay otherwise you're stuck walking to the food and beverage areas.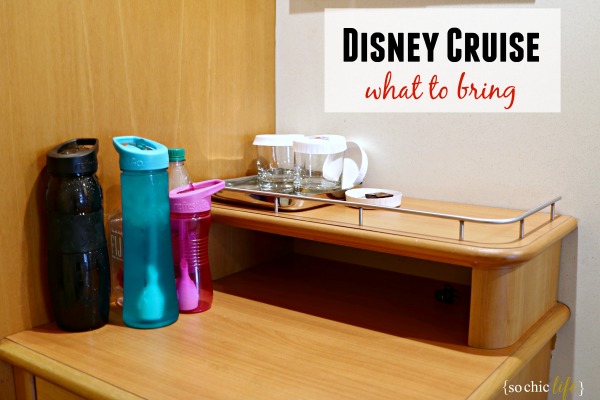 Character Autographs
Character autographs are a Disney standard. I read that in the past you could leave a photo mat frame or autograph book with guest services and they would return to your cabin with all the character signatures. This was not an option on the Disney Wonder.
Character appearances are scheduled throughout each day. We had the best luck in the mornings or afternoon. Evenings before dinner is extremely busy, however the lines move quickly – it's just extremely chaotic.
Travel Tip: Carry a pre-cut photo mat (or autograph book) and Sharpie with you at all times. I kept our mat in a ziplock bag so it wouldn't get damaged. We forgot the Sharpies and purchased a marker set from the retail store. This didn't work as well or and the ink didn't show up like I expected. Really regret not having my own markers/pens. Also, for a photo mat use a different color sharpie for each character if possible. We plan to print a family photo from the trip for each girl's bedroom and frame with the autographed mat.
Lanyard ID Holder
You will see almost every guest wearing some type of lanyard to carry the Key to the World cards provided to each family member. This opens your cabin door, needed for making room charges, taking photos, etc. I was in charge of mine and the girls that I carried around in my here.
Decorating Cabin Doors
Many guests decorate their cabin doors for the kids. I wasn't sure how elaborate this would be but we saw everything from personalized fish extenders. Never did figure out what that was about but we kept things simple and the girls made a few signs before the trip.
I brought magnets as the cabin doors are made of steel, but these did not secure the artwork. I chose to use scotch tape (this is also not allowed but no one seemed to care). Would have preferred to double sided tape but we made it work.
Travel Tip: There will be plenty of time in the kids club to create signs for your cabin door too. It also helps kids easily identify which cabin is yours should they forget the actual number.

Other Things to Pack for a Disney Cruise
Snacks
Another item I never leave home without are travel snacks. I packed Coconut Chips and Granola Bars. There is no shortage of food at ANY time during a Disney Cruise, however occasionally you just need a little something rather than running up to the pool deck for unlimited ice cream, pizza, pretzels, chicken fingers, french fries or the buffet restaurant. 24 hour room service is also available.
Watches (for each Family Member)
There are absolutely no clocks anywhere and it was easy to lose track of time. The problem with not knowing the time? There are activities (character appearances) and something occurring every hour of the day!
It would have helped tremendously to bring a watch for each family member (preferably waterproof). I looked at Target before we left and had no luck finding anything for the girls, but Harvard Homemaker recommended this site for affordable kid watches.
We relied on our phones but after a few days it was annoying not wearing a watch.
Extra Bags
I forgot to bring extra ziplock bags and it came back to bite me. After the sunscreen exploded in my largest baggie I was down one. We also needed bags to store dirty clothes and a bag to bring home all our wet bathing suits. Fortunately we overnighted in Miami the night before boarding so I grabbed the plastic laundry bags from the hotel. Don't forget to bring a few extra bags!! 
Alcohol
You are allowed to bring two bottles of wine or champagne or six beers on board and pay a corkage fee at dinner. We decided to purchase a three bottle Premium wine package ($145) that I drank throughout the week by myself. The wait staff will transfer your wine (even open bottles) to the next evening and whatever restaurant you are assigned. Each night you rotate restaurants that are pre-assigned and confirmed when you board the ship.
It seemed like a hassle to bring your own and I wasn't comfortable packing a suitcase and paying baggage fees just for wine. Read more about Disney Cruise Line's Alcohol Policy.
Pirate Costume
Another great tip is to bring a Pirate costume for the Pirate Party. Our cruise had one and I wasn't about to be the odd family out by not dressing up.
We came prepared after I found these.
I found an adult pirate belt with a red fabric sash and a black faux leather belt and gold metallic plastic skull medallion at Party City for $10. To save money and get away with purchasing two, the adults wore the leather belts and the girls wore the red sashes tied around our waists. Our bottoms were black leggings and shorts.
Disney leaves pirate themed bandanas in everyone's state room for each family member during the day. Super cute but be prepared – these are somewhat small! Read more about the Pirate Party here.
Our pirate costumes turned out so cute and we looked awesome but we didn't get one single photo that night. I was heart broken! My only advice is to get ready as early as possible and go to the main lobby for photos before going to the party. Still mad at myself!
The Pirate Party is on the pool deck hosted after the early dinner seating and before late dinner seating (in between so everyone can attend). We had the late dinner seating and not knowing what to expect, we made the mistake going directly from our cabin to the party which is outside. It was already dark, thousands of people around and the girls ran off to the kid zone to get their dance on.
We didn't see them until it was over. It was also so incredibly windy so by the time we made our way inside everyone looked like a hot mess! We debated on whether to change before dinner but after a few cocktails decided what the heck and stayed in costume.
Here's a glimpse at how crazy it is! So fun. Mickey even zip lined from the top of the boat to the stage.
This was one of the best nights of the trip. Pretty much everyone dressed up in some capacity or at least wore white shirts (polo, button down, flowy, etc) with black shorts, leggings and the pirate bandana. There were a ton of Harvard Homemakers DIY pirate costumes on board. Apparently we all read the same post on Pinterest!
Shop the Post

Have you taken a Disney Cruise; any tips you'd like to share? Would love to hear what items you think are important to bring on this type of trip!
Click on the printable Disney Cruise Travel Checklist to download for easy packing!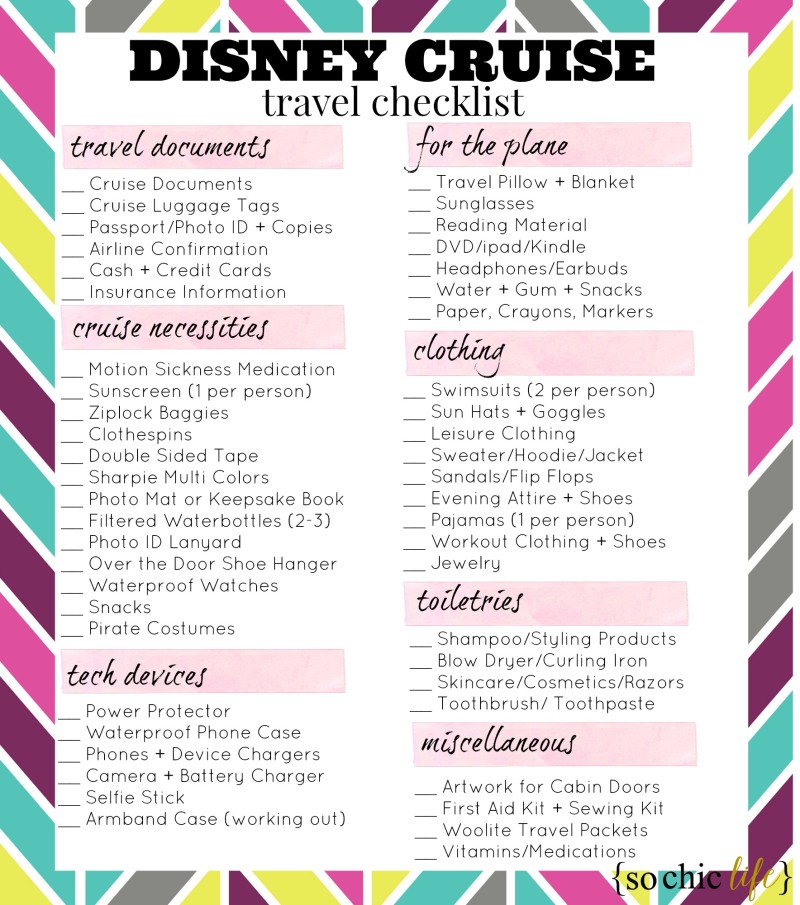 Note: This post was not written on behalf of Disney Cruise line and I do not benefit in anyway for sharing our experience. This post does obtain affiliate links. If you click and purchase from this post I will receive a small commission that goes toward helping run So Chic Life. 
If this post was helpful would love for you to share on Pinterest! You can also follow me on Instagram.