Although a simple glass of wine is a lovely accompaniment for all things holiday, why not mix it up a bit and serve a selection of unique holiday cocktails? Your guests will be wowed when you try out one of the recipes we have gathered below. We aren't talking dry ice and molecular gastronomy, merely the addition of an unexpected flavor, garnish or serving style will elevate your holiday sips to the next level.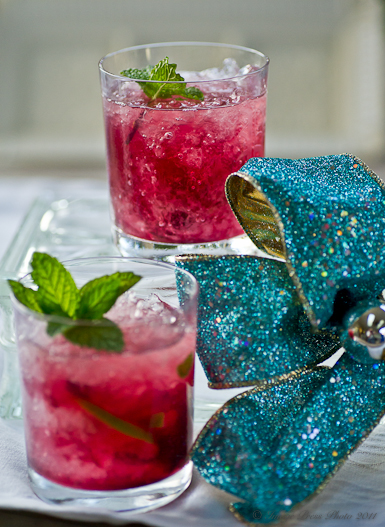 Wild Hibiscus Mojito
What's red and green and incredibly festive? A Wild Hibiscus Mojito, of course! This holiday take on a traditional Cuban cocktail will have friends (and taste buds) talking for years to come. Wild Hibiscus Flower Co. produces natural flower extracts, hibiscus tea, and wild hibiscus salt flakes in addition to whole flowers in syrup.
2 oz white rum
1 oz fresh lime juice
1.5 oz Wild Hibiscus Flower Syrup
2 chopped Wild Hibiscus Flowers
2 halved lime wheels
2 stems mint
Soda water
MIX IT:
Fill a high ball glass with crushed ice. Muddle 1-2 stems of mint, lime wheels and chopped Wild Hibiscus Flower. Add rum, Wild Hibiscus Flower Syrup & lime juice to shaker and shake vigorously. Strain 1/2 of mix into glass and top with soda. Garnish with mint.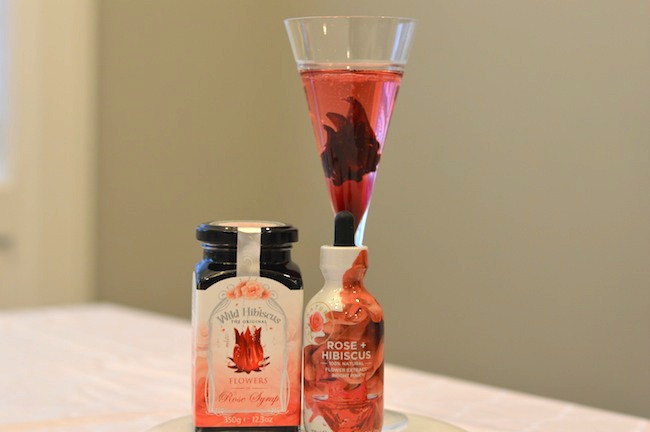 Wild Hibiscus Rose Royale
A whole edible flower suspended in a champagne glass with bubbles floating through definitely qualifies as a unique holiday cocktail! The flowers are preserved in cane sugar syrup, and add a splash of color and texture to classy cocktails and food dishes. Wonder what they taste like? Delicious- similar to a combination of raspberry and rhubarb.
Wild Hibiscus Flower Garnish
3 dropperfuls Rose + Hibiscus Flower Extract
2/3 oz Wild Hibiscus Flower Syrup
Mint
Champagne
MIX IT:
Muddle mint in champagne flute and discard. Place Wild Hibiscus Flower in bottom of glass and stand upright. Add Rose + Hibiscus Flower Extract and some torn mint pieces; top with champagne. Pour in the Wild Hibiscus Syrup which will fade from crimson at the bottom to light pink at the top. Flower will open after 3-4 minutes at the bottom of the flute.

Holiday Mule
Although Moscow Mules are traditionally served at warm weather festivities, make your offering unique by taking a holiday twist on this refreshing cocktail. When served with a zingy ginger beer like Barritt's and plenty of cranberry cheer with Deep Eddy Cranberry Vodka, this turns into a festive cocktail that boasts a unique, complex yet appealing flavor. Deep Eddy Vodka is based in Austin, TX and uses premium juices, essential oils, natural sweeteners and local honey to produce some of the best darn vodka I have ever tasted.
1/2 oz simple syrup
1/2 oz unsweetened cranberry juice
1.5 oz Deep Eddy Cranberry Vodka
1 rosemary sprig
1 orange slice, for garnish
sugared cranberries
MIX IT:
Combine simple syrup, cranberry juice and vodka. Pour over ice and top with ginger beer. Serve garnished with rosemary sprig, orange slice and topped with sugared cranberries.

Double Cider-Bourbon Punch
If you want to actually enjoy your party, make one signature cocktail and serve in an old school cut crystal punch bowl. This way, you aren't stuck playing bartender and everyone can serve themselves! This is a crowd-pleaser- apple cider pairs perfectly with bourbon, and the ginger beer provides a little extra kick. I use Barritt's Ginger Beer- the fabulously retro cans add a vintage feel (stack them up next to the punch!). Barritt's is originally from Bermuda, and is currently owned by the fifth generation of the Barritt's family- it has a history of great taste.
4 cups apple cider
3 12-ounce bottles hard apple cider
2 12-ounce bottles Barritt's Ginger Beer
2 cups seltzer
3 cups bourbon
Juice of 1 lemon
2 large apples for garnish
Cinnamon sticks for garnish
Ice
MIX IT:
In a punch bowl, combine ciders, ginger beer, seltzer, bourbon and lemon juice. Stir to combine, and slice one apple thinly to float in the punch. Slice the other apple to use as garnish. Serve punch in glasses with ice, garnished with apple slices and cinnamon sticks.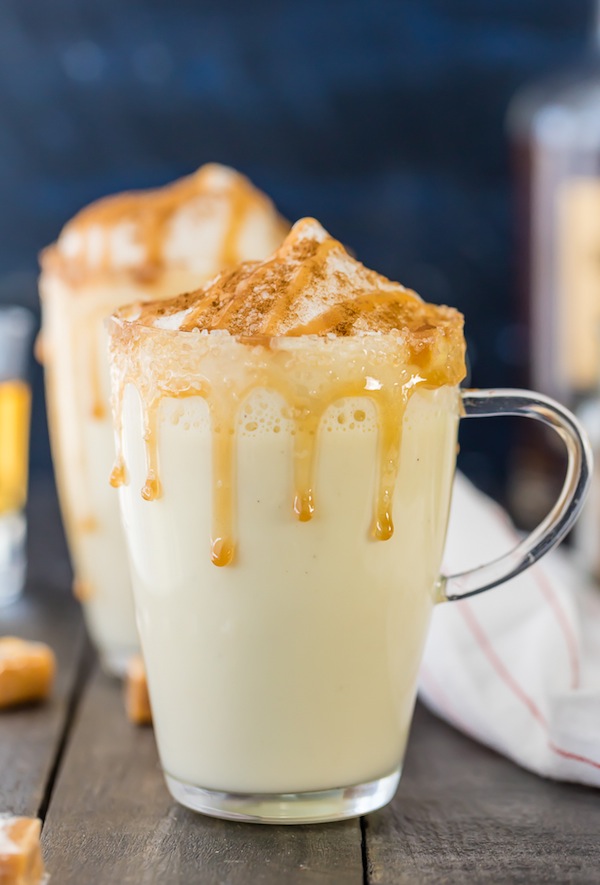 Salted Caramel Eggnog
These are two of my favorite things- salted caramel and spicy eggnog, combined together to produce a unique take on this traditional holiday cocktail! This drink is made with high quality rum and my pick is Parce– an award-winning Columbian all natural rum. It's aged in whiskey barrels, resulting in a rum that more closely resembles a great bourbon or single malt scotch. It adds an excellent flavor complex that you don't usually find in eggnog.
3 cups whole milk
1 cup heavy whipping cream
4 cinnamon sticks
3/4 tablespoon pure vanilla extract
1 teaspoon grated nutmeg
5 eggs
2/3 cup sugar
1/2 cup caramel syrup, plus additional for garnish
1 tablespoon sea salt, plus additional for garnish
3/4 cup good quality rum- we used Parce
MIX IT:
In a large saucepan, combine the milk, heavy whipping cream, cinnamon sticks, vanilla extract and nutmeg. Bring to a boil over medium heat and immediately remove from heat and allow 5-10 minutes to cool (you don't want to cook the eggs that you will add).
In a large stand mixer, beat eggs and sugar on medium high until fully combined. Pour egg mixture into the milk and whisk quickly until combined. Add caramel, sea salt and rum; whisk until fully combined. Pour eggnog into glasses, garnish with caramel sauce and nutmeg. ***Consuming raw eggs is at your own risk, but is what true eggnog is made from!
More Unique Holiday Cocktails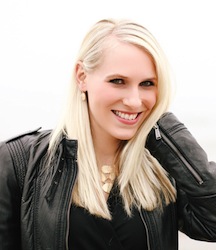 Cheryl Leahy is the author of the blog ChicagonistaLIVE! show.