Spring can't come soon enough and my anxiousness stems from a pair of Tieks Facebook page. I began dreaming of ordering a pair but being December in Chicago, it wasn't the most practical purchase at the time.
A few months later I participated in a Twitter party, hosted by my friend Savvy Sassy Moms and somehow and I have no idea how this happened, won my very own pair of designer Tieks. I was beyond excited because while I love a good Twitter party, my motivation for attending that night was to once again stalk the company.
You may be wondering what all the fuss is about, but after perusing their online boutique, you'll be hooked too. Their company's mission was to reinvent the ballet flat for the modern women and I'd say they accomplished their mission. Offering the most unique fabrics and patterns from snakeskin, lace, and copper to colorful patent leather and even a vegan collection, it's easy to see how this company has exploded.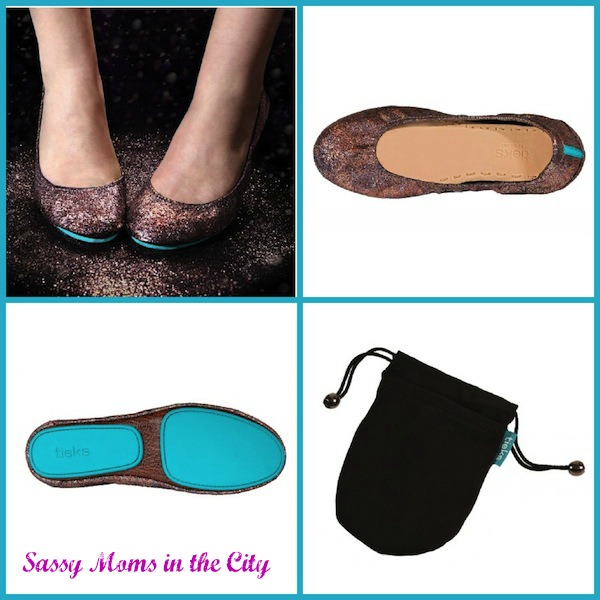 The beautiful blue box arrived a few weeks ago and sadly my Lovestruck Tieks have been limited to indoors, that was until this weekend. Having dinner with my bestie who was in town visiting, we hit the town – me wearing Cole Haan Chelsea High Pumps with my Tieks riding shotgun in my BFF's handbag. Worried I wouldn't last all night, I needed a back up plan.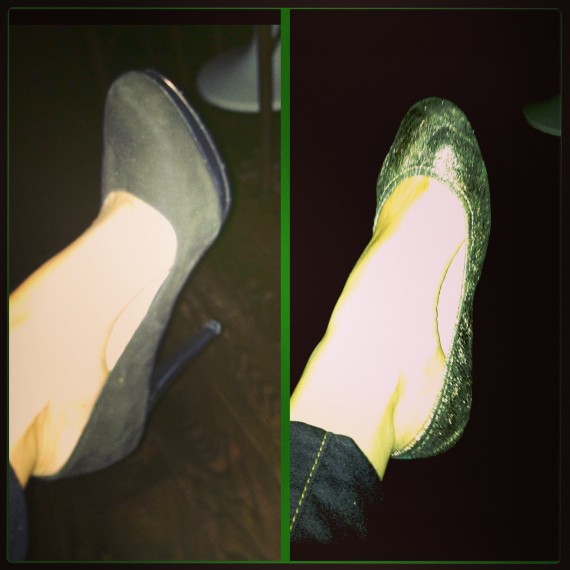 Smart plan because before the end of the night I needed serious relief (terrible photo but you get the point). Known as the ballet flat reinvented and the most versatile designer flats in the world, Tieks are wearable all day. Made of the finest Italian leathers, lightweight and designed to fold and fit in a purse, providing comfort when you tire of wearing heels.
While Tieks takes great pride in their shoes, they take even greater pride in their philanthropic efforts working with Facebook they donate $1 to alleviate poverty and help aspiring woman entrepreneurs all over the world. Thus far Tieks has donated over $476,000! While we
 Sassy Moms in the City was not paid for this post. Stay tuned for an updated review once Spring is in full force!