Do you ever crave rich creamy spaghetti pasta carbonara but don't want to deal with hitting the gym for hours to burn off those calories? The best alternative for this sinful Italian dish is Spaghetti Squash Carbonara.
Just one cup of traditional pasta with carbonara sauce is almost 400 calories. It's not terrible but if you're watching total carb intake for the day the ratio of portion size to calories/grams is high. Or if you're trying to avoid grains and dairy why be deprived??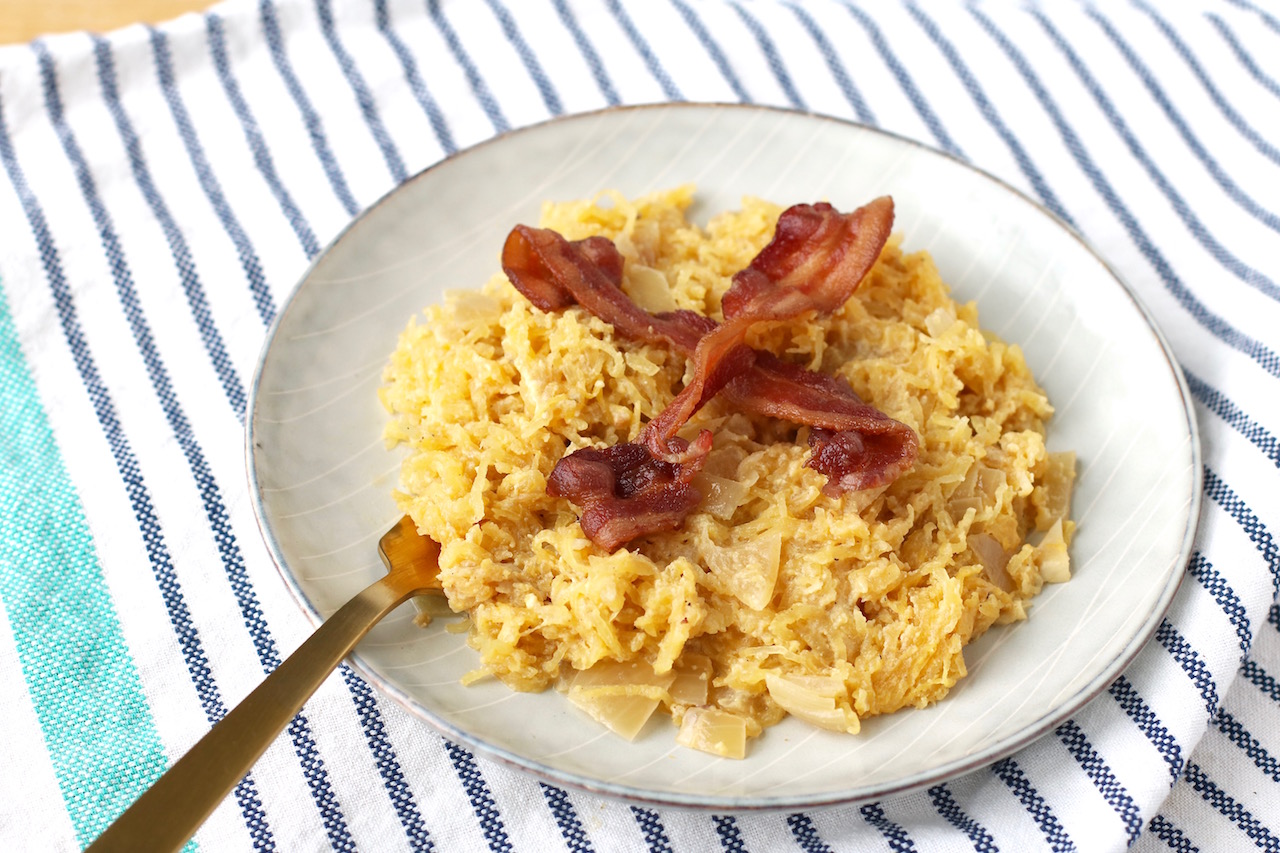 I've been making this Paleo friendly recipe at least three years adapting a Spaghetti Squash Carbonara recipe from PaleOMG. Both are delish but over time I've made a few alterations to modify flavors or calories.
Three Diets One Dinner uses four eggs to create the richness of the carbonara sauce and PaleOMG incorporates coconut milk and Delicata squash (which is not always readily available at the market).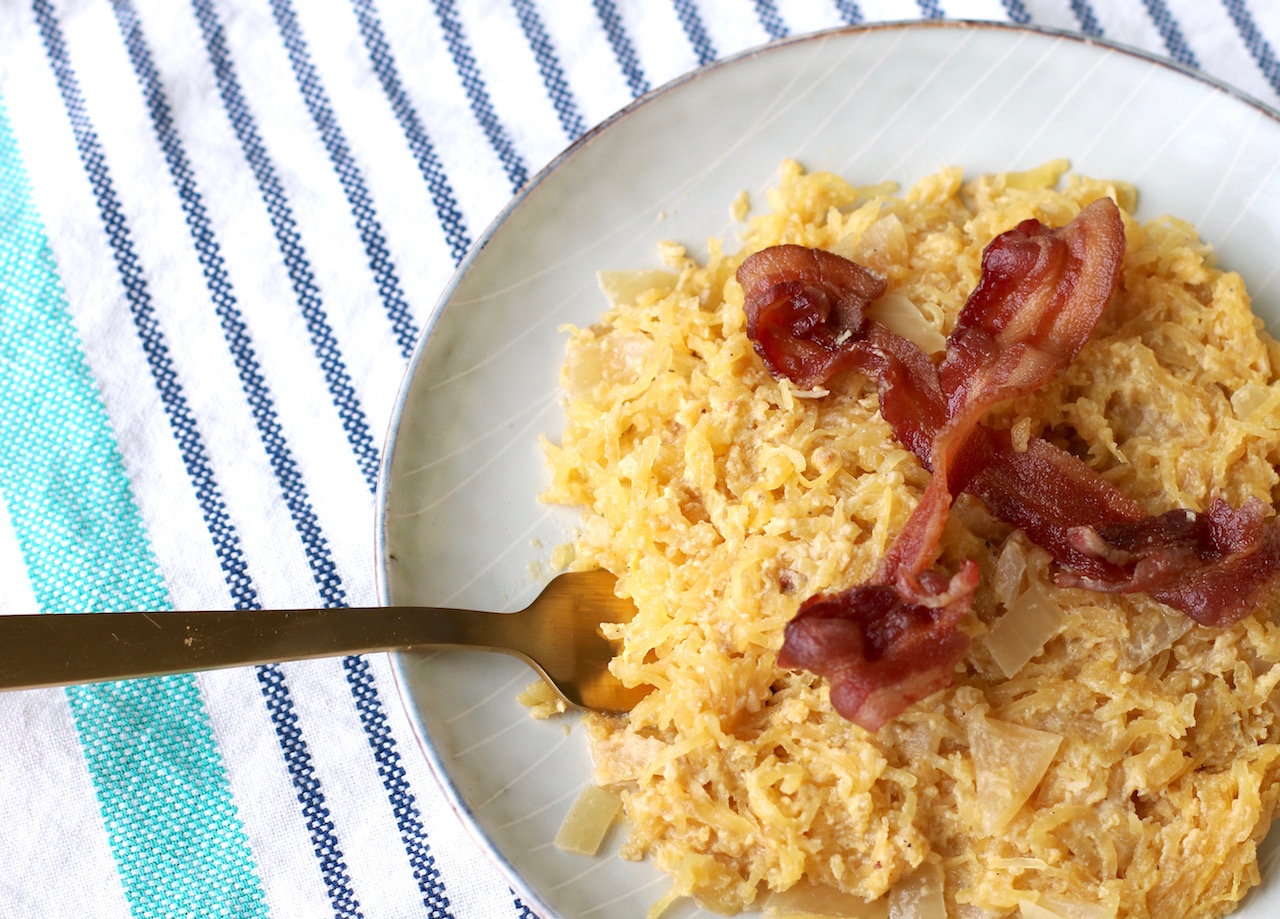 Because I pay a little more for Vital Farms eggs, I'm kinda stingy so using full fat coconut milk allows me to cut back to two eggs. If I'm being truly Paleo I leave out the cheese but usually add it for the hubs. Go for it if you don't have a problem with dairy.
I gotta tell you this is by far my favorite Paleo pasta recipe. Even when I serve this to friends and family they kinda go crazy.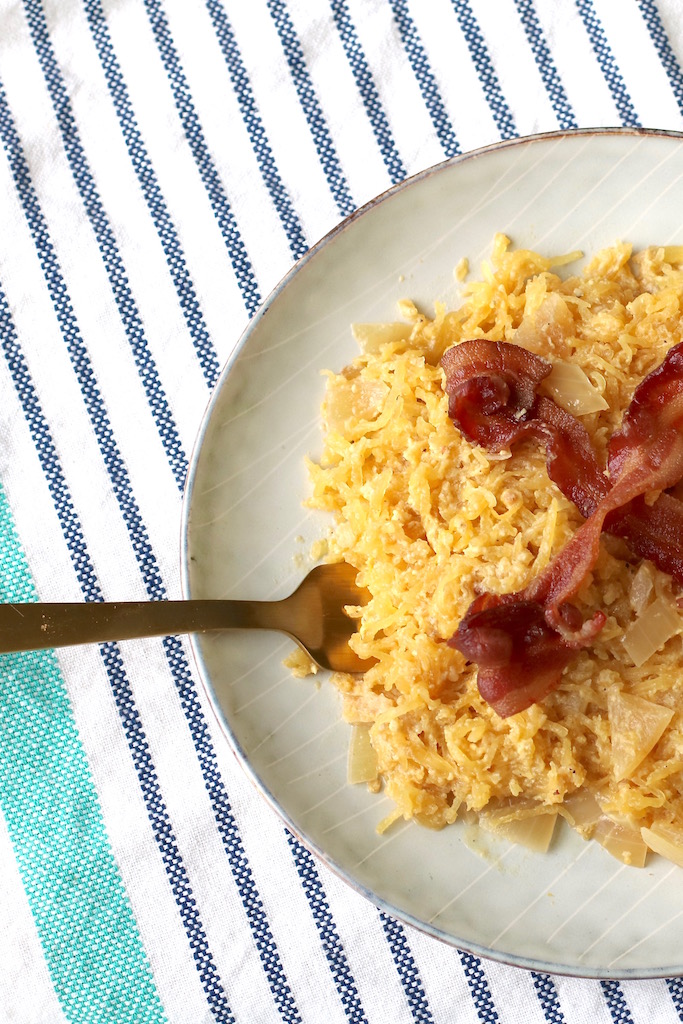 And don't let people tell ya they don't like coconuts or coconut milk (this is my favorite brand here). My husband says this every time I beg him to replace dairy in his coffee, but real cream hasn't passed his lips in almost four years when it comes in the form of a meal prepared from our kitchen.
In other news I just celebrated my birthday recently and bought myself a new pair of Maui Jim Venus Pool sunglasses. I couldn't help myself since we were headed to Mexico for spring break. My family officially thinks I'm a sunglass hoarder.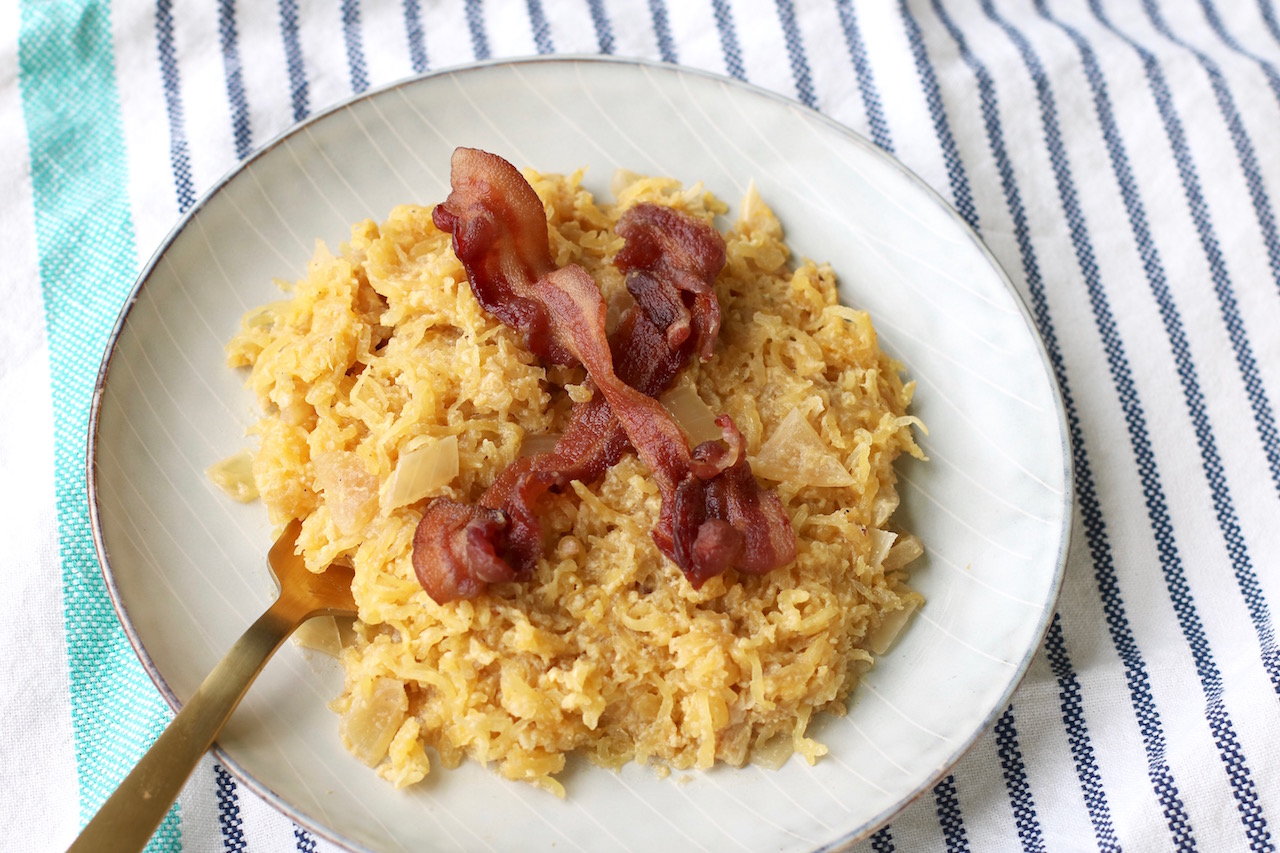 So what if I bought this pair too!
I know, I know but everyone needs different styles of sunglasses depending on the outfit – am I right? I can't wear anything but polarized lenses and not sure how anyone else can either. Maui Jim's are so worth the investment!
If you managed to travel for spring break I hope you went somewhere warm and sunny. We spent six nights at the Hard Rock Riviera Maya. It was a much needed vacation, far away from this gloomy weather but I was happy to get back to my own bed.
Hope you are having a great week and be sure to let me know if you tried this yummy Spaghetti Squash Carbonara recipe. I promise it is to die for!!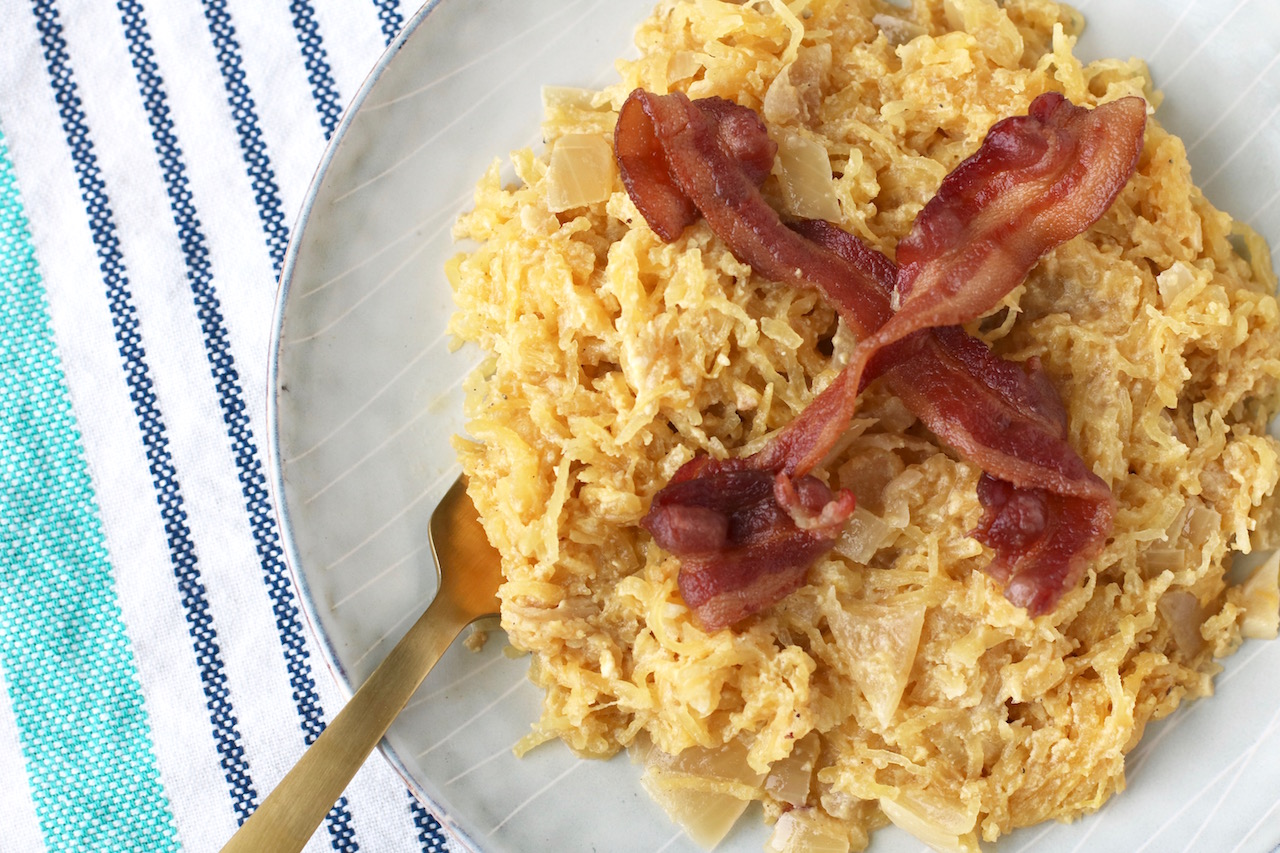 Spaghetti Squash Carbonara
Spaghetti Squash Carbonara Recipe Type : Side Dish Cuisine: Italian Author: Alison
Ingredients
1 medium spaghetti squash, cut in half lengthwise, seeds removed
1 larger delicata squash, cut in half lengthwise, seeds removed (optional)
2 eggs whisked
4-6 slices nitrate free bacon
¼ - ½ large onion (or a whole small onion), diced very small
3 cloves garlic, minced
¾ c dry white wine (or chicken stock)
juice of ½ lemon
pinch of red pepper flakes (optional)
parsley, for garnish
½ -1 lb chicken tenders (optional)
¼ cup canned coconut milk (more if needed)
1 cup pecorino romano, shredded (optional)
salt and pepper, to taste
Instructions
Preheat oven 435 degrees
Cut spaghetti squash in half, scoop out the seeds and excess threads
Place squash open side down on lined baking sheet using parchment paper, cook for 20-25 minutes.
While squash is cooking, fry bacon in large cast iron skillet until crispy.
If adding chicken, this can be done in the oven at the same time as the squash! Place chicken on parchment paper lined baking sheet, drizzle with a little olive oil, salt and pepper, bake 15-20 minutes.
Reserve a few tablespoons of bacon fat in skillet. Add onion and garlic, cooking over medium until soft.
Pour in wine (or chicken broth) and bring to a simmer, cook until liquid reduces by half (about 20 minutes).
Add lemon juice, stirring until combined well.
Once squash is done cooking, remove from oven and scrape flesh into the skillet, mixing with the liquid.
Add eggs and stir well. Allow eggs to cook for a few minutes on low then add coconut milk and cheese.
Add additional seasonings, mix thoroughly and turn stove to simmer for about 5 more minutes.
Dice cooked chicken and add to spaghetti squash if desired.
Serve your plate. Add bacon.
Enjoy!
SHOP THE POST

Be sure to check out my Paleo + Whole 30 Board on Pinterest.
If this post was helpful would love for you to share on Pinterest! You can also follow me on here!
This post does contain affiliate links. If you click and purchase any of the recommended products I will receive a small commission that goes towards running So Chic Life.