Any time I'm stuck preparing a party menu when entertaining friends, there's one dish that has become my all time go-to – Slow Cooker Pulled Pork Tacos. I know, I know the Instant Pot is all the rage, but I grew up on slow cooker meals and can't seem to bring myself to cheat on my beloved Crock-Pot.
Since discovering the best pulled pork tacos recipe years ago, it's so unbelievably easy and yummy that there is no other option out there.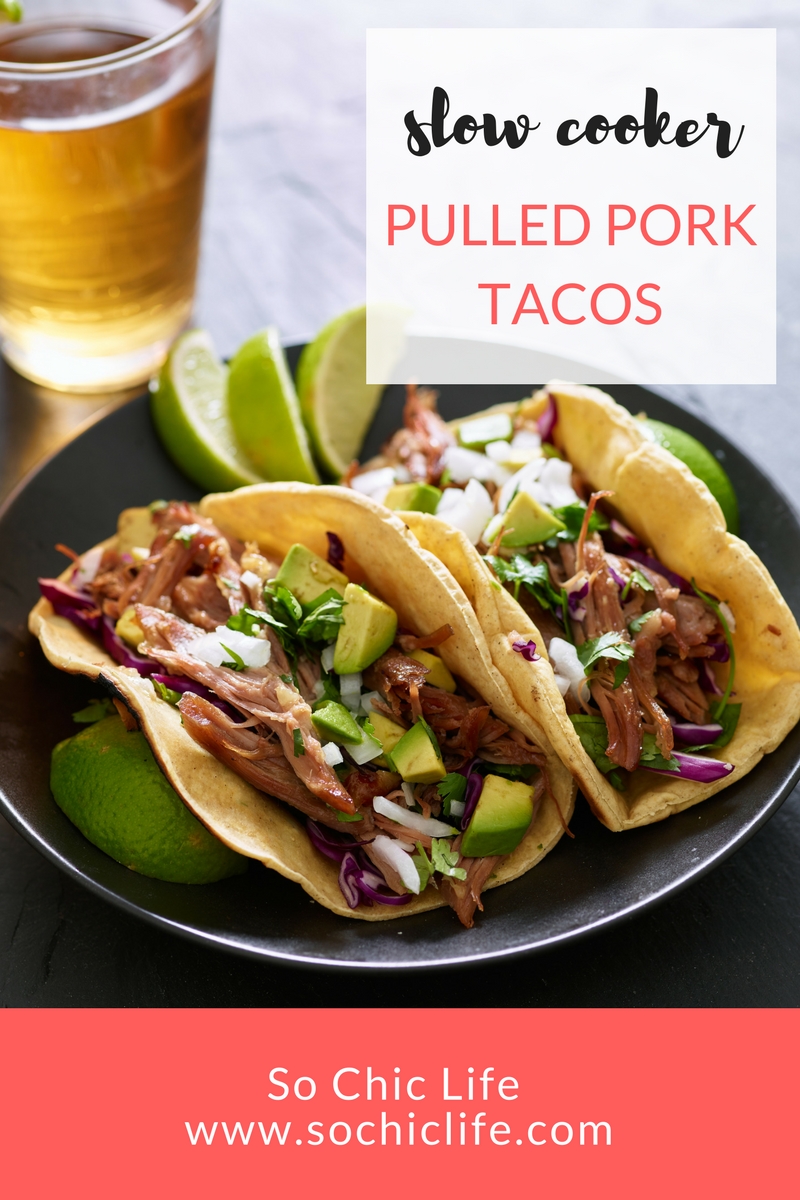 Slow Cooker Pulled Pork Tacos
No better way to upgrade Taco Tuesday! This pulled pork taco recipe has only 5 ingredients- throw together, forget about it and BAM dinner is ready in under 5 hours. I'm sure this could easily convert from a slow cooker recipe to an Instant Pot for faster results.
It's become a favorite when entertaining and it also makes a great shared meal too.
I'm convinced the secret is in the cocoa powder. The pork is versatile for sandwiches, sliders and nachos. Pair with your favorite margarita and guacamole and you're all set!
Not a fan of pork? Swap for chicken or beef.

Slow-Cooker Pulled-Pork Tacos
Prep time:
Cook time:
Total time:
Instructions
In a 4- to 6-quart slow cooker, combine the salsa, chili powder, oregano, cocoa, and 1 teaspoon salt. Add the pork and turn to coat.
Cook, covered, until the meat is tender and pulls apart easily, on high for 4 to 5 hours or on low for 7 to 8 hours.
Using 2 forks, shred the pork and stir into the cooking liquid. Serve with the tortillas, cilantro, sour cream, lime, and extra salsa.
Twenty minutes before serving, heat oven to 350° F.
Stack the tortillas, wrap them in foil, and bake until warm, about 15 minutes.
Chic Tip:
Yes making fresh guacamole is easy, but when entertaining having a little help with this all natural mix is a huge time saver.
Serve with the BEST all natural 3 ingredient margarita recipe here!
Add fresh toppings: pineapple, mango, shredded cabbage, cilantro, pico, radish, diced jalapeno, diced red onions, shredded cheese and beans.
Checkout more What's for Dinner board on Pinterest for inspiration!
Shop the Post

here!
This post does contain affiliate links. If you click and purchase any of the recommended products I will receive a small commission that goes towards running So Chic Life.
image via
Original recipe is adapted from one of my favorite magazines, Real Simple.