Pictures are worth a thousand words and that's exactly the case for the twelve incredible days we spent with Chrysler's Town & Country. For someone who rarely has access to a car during the week, I was excited to incorporate the Town & Country in our family's city lifestyle. From road trips to summer camp pick up to tailgating at Alpine Music Theatre, the Town & Country far exceeded our expectations.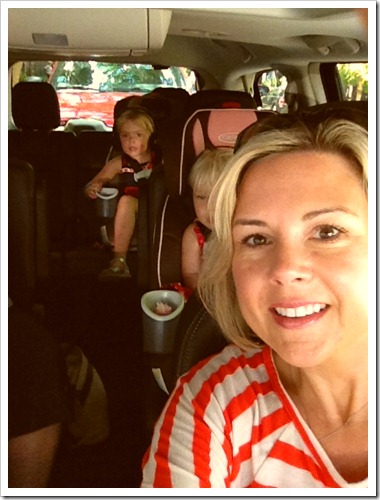 Our first road trip was to Glenview, IL to spend the morning at Kohl Children's Museum as we packed up the entire family to let the girls try out all the kid friendly features. The girls were excited about the multiple DVD players and ability to sit in separate rows. I was all about the navigation system while my husband was into the media system.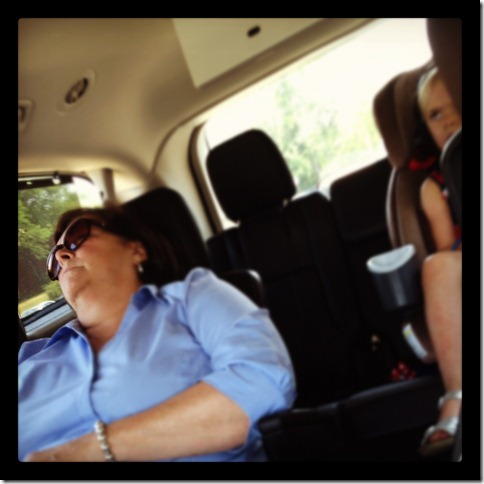 Can you tell what my mom's favorite feature is? Fully reclining second row seats for a quick nap.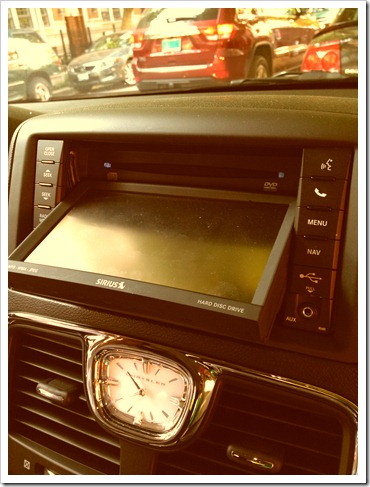 The entire family thought the media panel and location of the DVD player was really unique. The second DVD player is located below the ac panel.
Summer camp pick up with L's friends was a fun adventure for the kids. We weren't traveling far, but they were happy to give their opinions about having so much room and of course the media center was a big hit.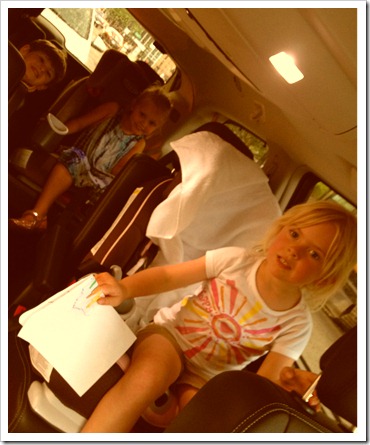 Road trip #2 was a two night getaway without the kids to Lake Geneva, Wisconsin. Our mission for the weekend? Catch up on our sleep, relax by the Grand Geneva Resort's pool and Dave Matthews Band concert at Alpine Music Theatre. By this time we were on day 7 and my husband had only spent a total of 2 hours in the car. This would give me the opportunity to show him what the Town & Country really had to offer during the 82 mile journey.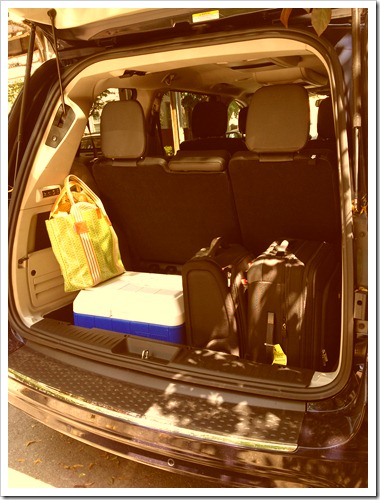 We didn't have much to pack but the standard tailgating and weekend getaway supplies (cooler and an overnight bag). Everything fit perfectly behind the third row, with tons of space left over.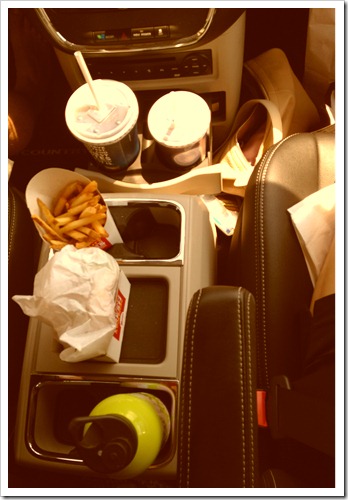 Rarely do we eat in our car with the exception of traveling. As you can see we had tons of room for three beverages, sandwiches and fries allowing us to eat on the go conveniently.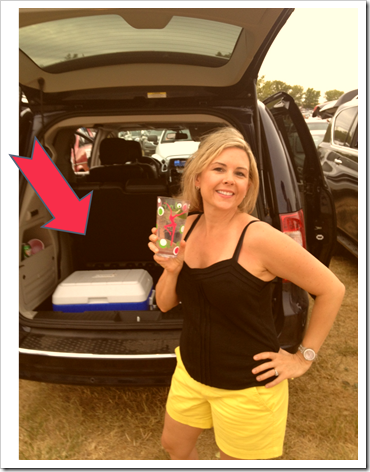 I need to be honest. It was somewhat surreal arriving Alpine Valley in a minivan. Nothing can make you feel over the hill like tailgating with hoards of college kids at a Dave Matthews Band concert in what many consider a mommy vehicle. However, what's so amazing about the Town & Country is being anything but uncool. It's far too luxurious to care anyway!
Our initial tailgate setup at Alpine Valley was to host the beverage station behind the third row (see pic above). We quickly realized this was not the most efficient location so we lowered the one-touch power-folding third row directly into the floor, moving the cooler and mixers on top. This worked for awhile but we had been talking up tailgate bench so much that the bar was moved once again so we could get the full experience.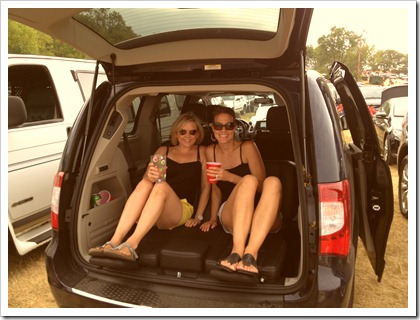 It was a blast hanging out with our friends before the concert in the comfort of the Town & Country. Other tailgaters were impressed including two teenage boys who stopped by to tell us our minivan was and I quote "really cool".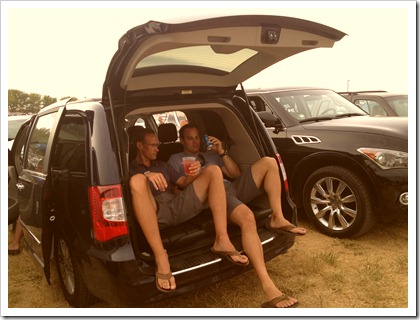 During our travels, these Town & Country features proved to be extremely useful. It will definitely be difficult to be without on our next trip.
Navigation – Not only did it provide turn-by-turn voice guidance and visual display, we were updated with information on traffic flow and redirected if needed. This came in handy departing from Alpine Music Theatre after the concert. The venue is in the middle of no where Wisconsin and navigating without assistance in pitch darkness has given us problems in the past. This time we drove immediately back to Grand Geneva Resort. I will say my husband advised me to take a wrong turn thinking the navigation was incorrect. That did not work out so well.
Dual DVD Players with Remote – The was a treat for the girls and husband. They loved being entertained in route to our destination and my husband loved that they were so quite and not arguing. There is no denying that Chrysler put a great deal of thought into this for parents. The Town & Country delivers a premium level of entertainment features, including a class-exclusive standard rear DVD system. With
two available nine-inch DVD screens that flip down from the overhead console, game-console inputs, and two available DVD players, the kids don't have to settle on just one thing to watch. The video system can be operated from either the rear-seat entertainment unit or the radio head unit. How cool is that??
Sunshades – Second- and third-rows offer retractable window shades that totally came in handy during one of the hottest weeks this month.
UCONNECT® – This is beyond amazing! The media center is packed with features that include the AM/FM radio with CD/DVD/MP3 format capability, audio jack, and 40GB HDD (28GB available) with USB port for uploading files, 6.5-inch touch screen for displaying music info and uploaded pictures. This came in handy while tailgating allowing our friends to plugin their iPhones for accessing multiple playlists in iTunes.
Air Conditioning — Three-Zone Automatic Temperature Control providing full control for second and third row passengers
Blind Spot Monitoring System – In almost every vehicle we have owned, blind spots are a big issue for me.  Buyers can equip the Town & Country with a monitoring system, that alerts you to vehicles in your blind spot with a lighted arrow in the side mirror. So cool!
Power Outlet — I was able to access our iPod using the Auxiliary 12V plug located in media instrument panel and charge my iPad in route using the 115V outlet located on the driver-side quarter trim panel.
Stow 'n Go® Seating and Storage System – Where to begin! The second row bucket seats fold completely into the floor board along with the rear 60/40 split-folding bench third row, providing full access to 143.8 cubic feet of space. I have limited experience with minivans but I do know that the older designs are not this convenient and originally required removing seats entirely from the van to have the same amount of space. My favorite feature is the one-touch folding third-row seat Tailgate Seating (included with Luxury Group or Premium Group), a bench that faces out the back of the vehicle which can be used to take cover from the weather while attending a barbecue, watching a soccer game from the sidelines or simply having a rest.
Storage — You'll never run out of room with all the storage in this minivan.  Tons of cup holders, storage bins and my favorite large storage drawer and two power outlets in the main console area.
Learn more about http://drive4kids.com for details.
I was provided a Town & Country by Chrysler to drive for the purpose of this review. This post is part of a Chrysler sponsorship. As always all opinions are honest and my own.