Next to puffy coats and fabulous boots, the best thing about this time of year are autumn vegetables. There is nothing I love more than roasting winter squash, pumpkins, parsnips paired with apples and figs. Because of their versatility, you can do so much from creating gourmet soups to simple salads.
I featured creamy pumpkin dressing (but without the cream). You have to try it.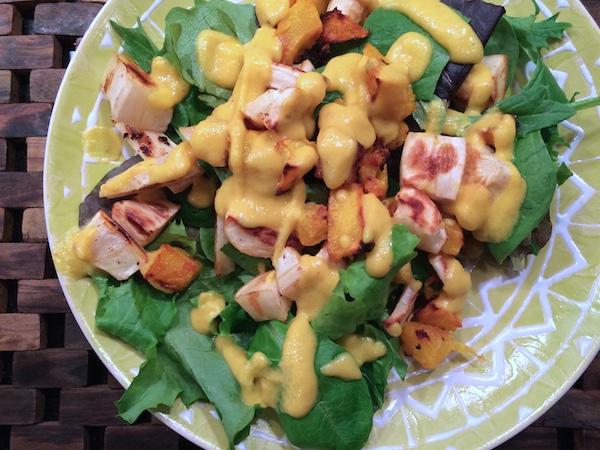 I made a few modifications for the 21 Day Sugar Detox protocol which was omitting the potatoes in the salad and substituting with parsnips. For the dressing I omitted the maple sugar. With the apple it was plenty sweet enough.
Instead of using extra virgin olive oil, Colavita sent me a bottle of Roasted Garlic Cooking Oil Blend which I used in the dressing and to roast the veggies. This stuff rocks!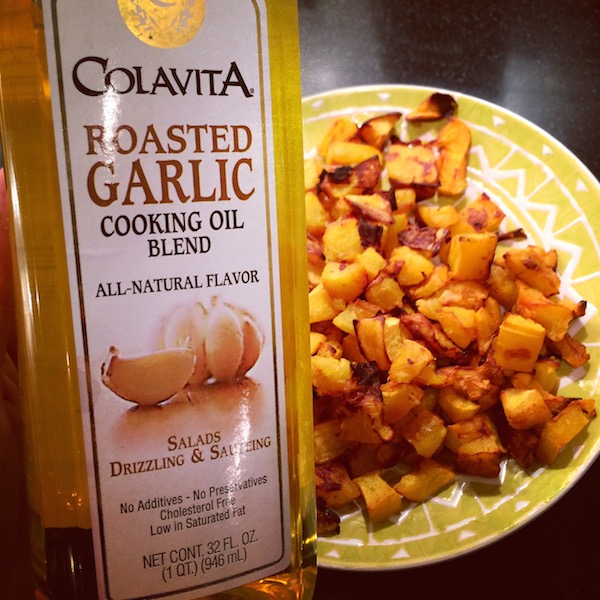 recipe spotlight: grilled pumpkin salad with autumn vegetables
Ingredients
For the Salad
1½ cups roasted pumpkin, sliced
1 bunch kale, coarsely chopped
6 small multi-colored potatoes (omit if Paleo or Sugar-Free)
1 apple, cubed
4 poached eggs, 1 per serving (optional)
2 tbsp Colavita Extra Virgin Olive Oil
fresh parsley for garnish
salt and freshly ground black pepper to taste
Optional: roasted and spiced pumpkin seeds for topping
Creamy pumpkin dressing
For the dressing
½ red apple, like Gala
½ cup pureed pumpkin
¼ cup water
¼ cup Colavita Classic Extra Virgin, Mediterranean or Greek Olive Oil
2 tbsp apple cider vinegar
¼ tsp cayenne pepper
1 teaspoon maple syrup (Omit if needed)
pinch of sea salt
Instructions
Salad Instructions
Heat your oven to 400°F. Cube the potatoes, and place them on a baking sheet. Drizzle them with Colavita Olive Oil, and sprinkle with salt and pepper. Place them in the oven and roast for about 15 minutes.
Heat up a grill or grill pan. Slice the meat from a roasted pumpkin into strips. Brush with Colavita Extra Virgin Olive Oil and grill about 1 minute on each side. Remove from the heat and set aside on a plate.
Rip the kale into bite-sized pieces and place in small, personal-sized bowls. Cube the apple and add it to the kale.
Add in the roasted potatoes, a sprinkle of the spiced nuts and drizzle with the creamy pumpkin dressing.
Top with a poached egg, some freshly chopped parsley, salt and freshly ground black pepper
Dressing Instructions
Place all the dressing ingredients in a blender or small food processor and blend until smooth.
Need more tips and tricks in the kitchen? Watch this quick video from Cooking Planit's Executive Chef Emily Wilson:
[youtube]https://www.youtube.com/watch?v=YcRHCZD89QY[/youtube]
This is a sponsored post.