Tonight I finally had the chance to prepare my version of Inspiralized's Garlic Broccoli Noodles with Toasted Pine Nuts. You really need to check out Ali's website. I'm a huge fan and her recipes have changed the way I cook and my relationship with vegetables. I purchased my Paderno Spiral Vegetable Slicer
 (on sale for $28.31 on Amazon!!) soon after going Paleo but it wasn't until finding Inspiralized.com that I finally got my money's worth.
Anyhoo – I posted a few pics on Facebook tonight and people asked me for the recipe so here ya go! To learn how to spiralize broccoli you'll want to check out Ali's post. It's super easy and you're not wasting the stem.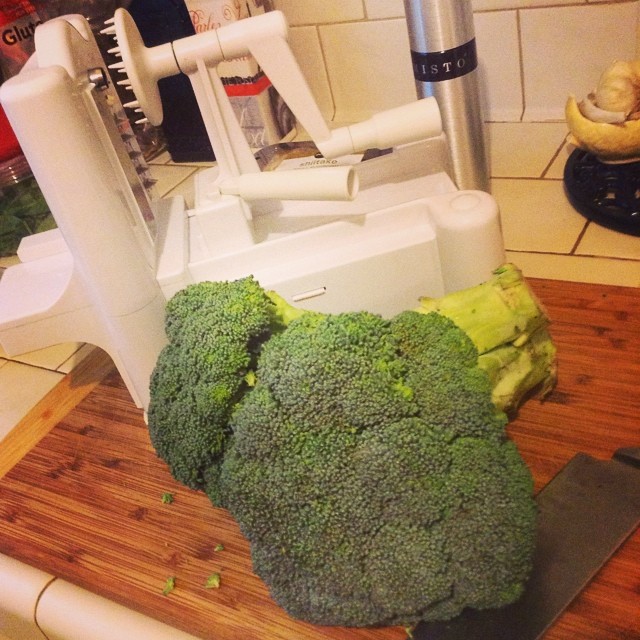 That's my biggest issue with buying fresh broccoli. I alway feel like I'm wasting so much and never know what to do with that dang stalk. Sorry for the poor quality photos and the missing photo of the spiralized noodles. I was so hungry it was all I could do to take these. Will update with better pics next time!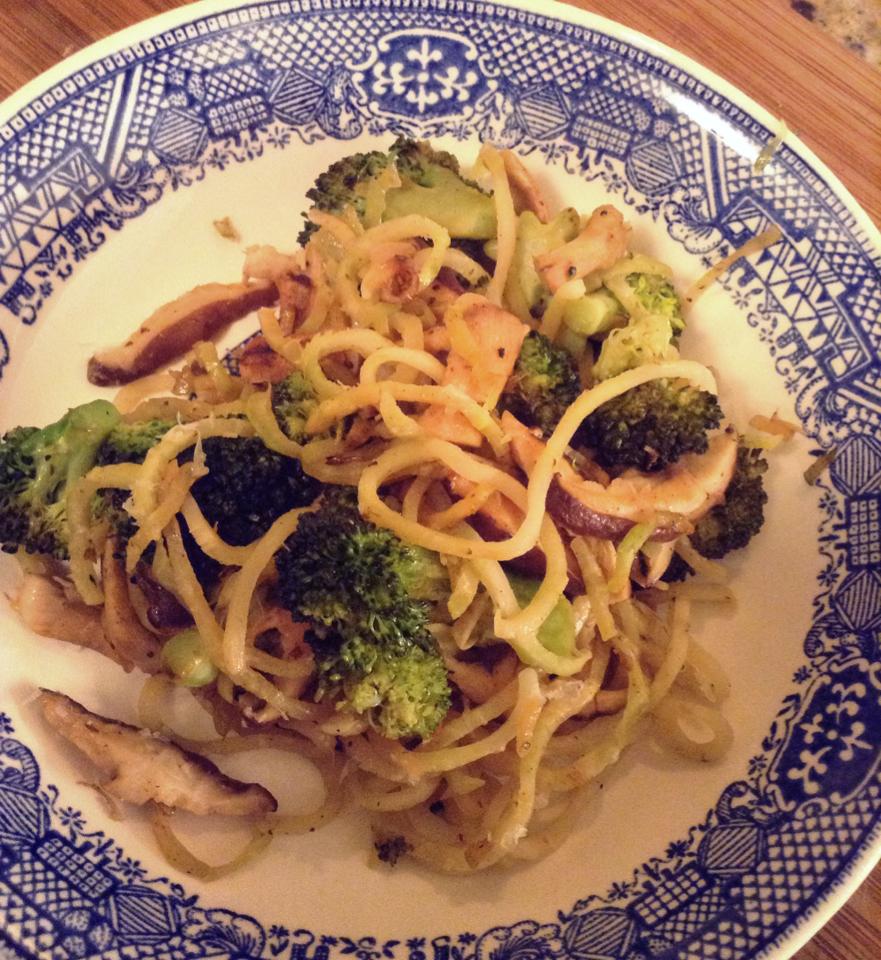 This was one of the most delicious things I've prepared in a long time. I practically ate the entire thing by myself. Of course you can omit the bacon if you are vegetarian. Inspiralized's version has pine nuts and no mushrooms.
recipe spotlight: garlic broccoli noodles with shiitake mushrooms
Ingredients
2 medium broccoli heads with stem
2 slices nitrate free bacon
1 container shiitake mushrooms (est 5 mushrooms)
2 tablespoons bacon fat
salt and pepper, to taste
3 garlic cloves, thinly sliced
1 small lemon
1 tablespoon grated parmesan cheese
Instructions
Cook bacon in large skillet.
While bacon is cooking, slice off the head of the broccoli, leaving as little stem on the florets as possible.
Set aside the broccoli florets. Slice the bottom end off the broccoli stem so that it is evenly flat. Spiralize the broccoli stem. Visit Inspiralized.com for instructions.
Once bacon is ready, remove from skillet and set to the side.
Add the broccoli florets and spiralized stems to the hot skillet with bacon grease (add additional grease if you have it on hand if needed or use coconut oil), season with salt and pepper.
Cook for 3 minutes at high heat so broccoli gets a little brown, shaking the skillet frequently.
Add mushrooms, stir frequently and cook for 2 minutes. Once mushrooms begin to soften, add the garlic and lemon juice and cook for 3-5 more minutes (covered) or until broccoli is tender but careful not to let it get soggy.
Transfer the broccoli to a serving bowl and top with cheese and bacon.
 This posts contains affiliate links.