Have you ever considered swapping tomato sauce with pureed winter squash? As someone who loves tomatos, trying to adhere to the AIP protocol is no easy feat.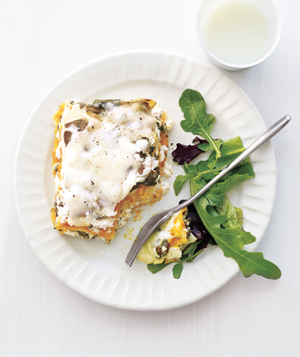 Everyone seemed to like the lasagna however one recommendation from sassy husband was to include a Baked Zit.
Serves 6|  Hands-On Time: 15m |  Total Time: 4hr 15m
Ingredients
Roasted acorn and butternut squash (pureed)
1/8 teaspoon ground nutmeg
1 32-ounce container ricotta
1 5-ounce package baby spinach (6 cups)
kosher salt and black pepper
12 lasagna noodles (about 3/4 of a 16-ounce box)
8 ounces mozzarella, grated (about 2 cups)
Arugula on the side
Directions
1. In a medium bowl, mix the squash and nutmeg. In a second bowl, combine the ricotta, spinach, ½ teaspoon salt, and ¼ teaspoon pepper.
2. In the bottom of a 5- to 6-quart slow cooker coated lightly with olive oil, spread ½ of the squash mixture. Top with 3 of the lasagna noodles (breaking to fit), half the remaining squash mixture, 3 lasagna noodles, and half the ricotta mixture; repeat, ending with the ricotta mixture. Sprinkle with the mozzarella.
If you are planning to add the béchamel sauce, coat each layer lightly as you build the lasagna in the cooker.
3. Cook on low, covered, until the noodles are tender, 3 to 4 hours. Serve with the green salad, if desired.
I altered the original recipe by roasting 1 acorn squash and 1 butternut squash (on 350 degrees). I pureed both together because my local grocery store did not have frozen pureed winter squash.
Disclaimer: Photo and recipe provided by RealSimple.com.