Welcome to my Musings of a Housewife. 


Sassy Moms in the City is hosting the Inlinkz widget. Scroll down to share your own recent healthy recipe or meal plan from your blog. We simply request you link back to one of us, and that the recipes you share use primarily real, whole foods.
As a busy working mom, I'm always trying different techniques and products to make the week run more efficiently. Meal planning works well for our family, keeping me on track, organized and ensures I prepare healthy meals. It's important to me that I'm doing whatever I can to instill good eating habits in my girls and avoiding that dreaded question every night – What's for dinner??.
CookingPlanit.com is such a great solution for busy moms. So many of us have no time to cook much less hunt down healthy recipes. After initially reviewing the site I was hooked and so excited to share it with you!
Over the next several weeks I'll be partnering with CookingPlanit along with 10 other fabulous lifestyle bloggers to plan, shop and cook simple, healthy and of course delicious recipes. JOIN US!! 
How Does CookingPlanit.com Work?
Register and Create a FREE Account in less than 1 minute or Download the App (Android)
Browse & Save Healthy Recipes
Create Meals
Plan Meals
Shop for Groceries
Cook it!
Take a tour and see how it easy the site is to use. Honestly this is going to save me so much time!
[youtube]https://www.youtube.com/watch?v=R0t_iiwhnv8[/youtube]
Starting today I'll be sharing a variety of recipes and meal plans curated from 21 Day Sugar Detox again.
The best part for you?? More healthy recipes at your fingertips! If you've ever considered adhering to a weekly meal plan now is the time to give it go.
Join me and the other Cooking Planit #EatFreshChallenge Bloggers and see what's cooking!
I'd love for you to join me on the 21 Day Sugar Detox again. Suggested modifications for the detox will be noted by each recipe below.
cookingplanit.com weekly meal plan october 4th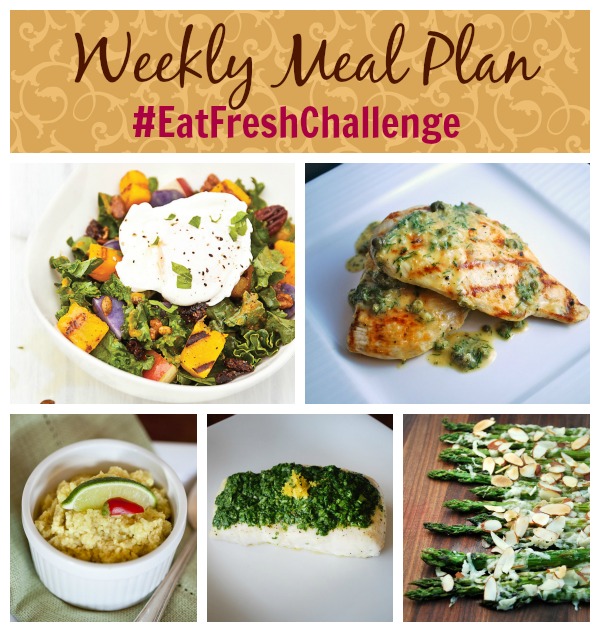 Monday:  Asparagus with Almonds and Parmesan (omit almonds and cheese)
Tuesday:  Grilled Pumpkin Salad with Autumn Vegetables (omit potatoes from salad and maple syrup from dressing)
Wednesday: Avocado Arugula Salad 
Thursday: Coconut Curry Cauliflower Rice
Friday:  Haystack Sweet Potatoes
SHOP COLAVITA!! Enter Promo Code EatFresh20 at Checkout and receive 20% off (plus free shipping on all orders over $99)
For more healthy recipes, see all my Pinterest.

This is a sponsored post.