Welcome to my Musings of a Housewife. 


This week I'm is hosting the Inlinkz widget below. Scroll down to link up your own recent healthy recipe or meal plan from your blog. We simply request you link back to one of us, and that the recipes you share use primarily real, whole foods.
Today is the official first day of FALL! Can't say I'm officially ready for colder temps just yet but that's ok because I'm headed to Costa Rica on Wednesday with my Real Food Recipe co-host JoLynne and 28 other fabulous bloggers. It's going to be five glorious days of sun, relaxation and brainstorming.
Today also marks Day 12 (woo hoo!!) of the 21 Day Sugar Detox. By now I've gotten into a natural rhythm with my eating habits. Going into week three I'm feeling positive and a little nervous. Traveling brings on another set of challenges. Not having 100% control over what I am eating makes me a little uneasy. I'm pretty sure I can maintain a sugar free regimen but the hardest part will be refraining from drinking.
As much as I LOVE my wine, it hasn't been an issue yet. What has been an issue is craving chocolate and dining out. Wish me luck!
here's what's cooking! weekly meal plan september 21st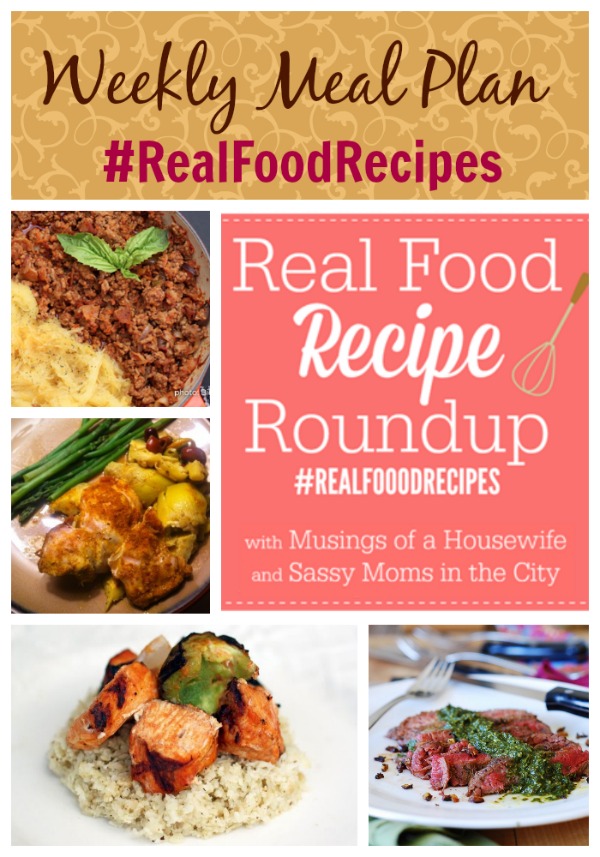 Sunday: Paleo Spaghetti Squash Bolonese from Balanced Bites
Monday: Red Curry Chicken Skewers from Primal Palate + Steamed Broccoli
Tuesday: Leftovers
Wednesday: Chicken with Artichokes and Olives from 21 Day Sugar Detox + Roasted Green Beans
Thursday: Flank Steak with Chimichurri Sauce from Julia's Album+ Roasted Brussel Sprouts
Friday: Pizza Frittata from 21 Day Sugar Detox
For more healthy recipes, see all my Pinterest.