Happy Father's Day and welcome to this week's  last week. We had 32 participants, several that I'm featuring in my meal plan below.


When I approached JoLynne about co-hosting her weekly meal plan, I was hopeful that we could connect with others who were just as passionate for eating healthy. With any new project I'm realistic that it takes time to grow – build it they will come doesn't really work sometimes, however moving into this week, I'm so excited that we are seeing so many of you linking up!
Thank you so much for joining the Real Food Recipe Round Up! It's so exciting to find new resources for feeding my family healthy food each week.
Now let's get to it! What's for dinner this week??
weekly meal plan: june 15th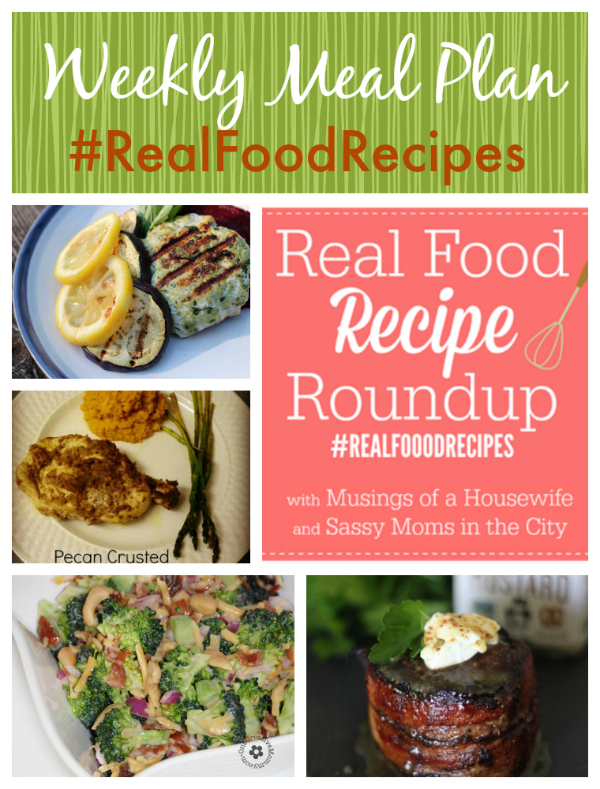 Sunday: We're driving to Florida today and will be stuffing our faces with fried Gulf Shrimp and probably my aunt's famous cole slaw. Have you ever tried frying shrimp at home? Some may find it intimidating, however every Southern chef will tell you it's a piece of cake. This Batter Fried Shrimp recipe from Deep South Dish is pretty close to my family's version. Live a little – fry some shrimps y'all!
Monday: Artichoke Spinach Chicken Burgers & Fennel Beet Parsnip Puree from Strength & Sunshine (OMG I love parsnip puree and I love beets, can't wait to try this recipe)
Tuesday: Gluten Free Pulled Pork Sandwiches from Gluten Free Mom to Be + Green Salad
Wednesday: Broccoli Salad with Bacon & Cashews from One Creative Mommy + Quinoa
Thursday: Paleo Pecan Crusted Chicken from Momma Lew + Sweet Potato Fries + Grilled Asparagus
Friday: Honey Mustard Bacon Wrapped Filet Mignon from PaleOMG + Summer Corn Salad 
Be sure to head over the Musings of a Housewife to link up your favorite healthy recipe and enter for a chance to win one of (2) awesome BBQ Gift Sets from Chicago q – perfect to get you going for summer grilling!