I love sandwiches but bread is a no-no and to be honest it's terrible for you. Don't bother justifying eating whole wheat as a healthier alternative. Just as bad – it has gluten along with a ton of other preservatives.
Personally I'm not a fan of processed gluten-free products, but we can all agree salads get old quickly. In the midst of my raw food obsession I found this photo of nori rolls on Pinterest.
Take a closer look and you'll notice it's filled with veggies, not raw fish.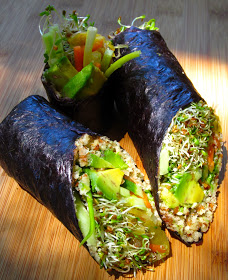 How did I not think of this sooner?? I love sushi but never tried making it at home or even considered omitting fish. I was so inspired by Raw Food for Truth's recipe, nori rolls have become my go-to lunch.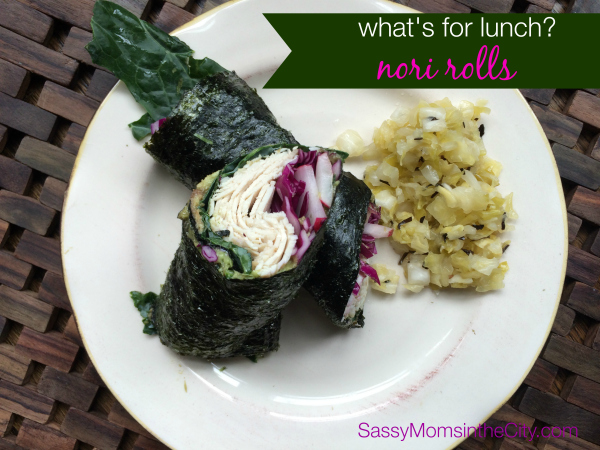 Don't be intimated by this super easy concoction. It takes under 2 minutes to throw together the most delicious and healthy roll you'll ever put into your mouth.
Ingredients:
(1) Nori Sheets (per person)
1/4 -1/2 Avocado
Hormone Free Organic Protein (chicken, turkey, etc) I purchase deli meet prepared by Whole Foods (Optional)
Assortment of Raw Organic Veggies – spiralized zucchini, radishes or cucumber, purple cabbage, kale, red and yellow peppers, sprouts, etc
Directions:
Thinly spread avocado across the entire sheet of nori — mayo works well but not as healthy, edamame hummus or regular hummus is delicious too!
Add protein to the right end of nori
Pile 2-4 veggies max on top of protein. Try not to over pack until you get the hang of rolling or the nori will rip.
Carefully lift the right end, hold down your pile of ingredients, start rolling it as tightly as you can manage to the left.  The avocado will serve as an adhesive. If you did not spread across the entire sheet, dampen the other end lightly with water.
Cut in half with a sharp knife.
Boom! Lunch is served..
Get creative with fillings. The photo above included turkey, avocado, kale, purple cabbage and radishes. Today my nori roll was all veggie – avocado. purple cabbage, spiralized beets, spiralized cucumber and thinly sliced red peppers.
Did you know?? A major benefit of nori sheets is the massive amounts of iodine that are essential to everyone's diet. One sheet provides 70% of daily intake. Unfortunately because of an American diet, most of us are Organic Kelp Granules Salt Alternative. 

Did you try something you saw on Pinterest this week? We're linking up with All Things Chic, Mommies with Style for Pinspiration.