This isn't my first go partaking of a 3 day juice cleanse.  While I fully enjoyed the Dr. Oz cleanse and considered it successful, I wasn't particularly motivated to incorporate more raw food into my diet like Peeled's juice cleanse.
I know what you're thinking, do cleanses really work?
Depends how you measure.
My reasoning for this cleanse is based on feeling bloated, fatigued and insomnia started to resurface again.
Yes I adhere to a mostly Paleo lifestyle but lean toward cooking most veggies. I've gotten off track lately drinking a "little" more wine, consuming the occasional deli sandwich and pasta.
This may seem innocent and no big deal to many, but you'd be surprised how the sugar in alcohol, gluten in bread and nitrates in deli meat can trigger side effects. When you pay close attention to your body and how it feels, it's easy to determine when something is off.
For me being off appears in the form of fatigue, insomnia and the blahs. If I were to see a doctor I'd most likely be diagnosed with depression. Good times!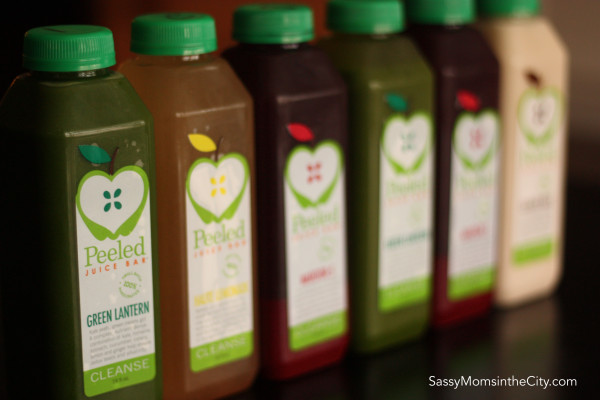 A few friends were in the midst of a six day cleanse and I thought why not? I wasn't mentally prepared to push through six days but I could handle three days. Unlike the Dr. Oz cleanse, Peeled Chicago provides six freshly made drinks per day. You pick up 18 bottles the day prior to starting.
Tips for Survival:
Purchase fresh organic veggies used in the juices like kale, green apples, celery, lemon, cucumber, beets, avocado. When hunger becomes unbearable especially the first day, Peeled suggests eating raw items to hold you over until the next juice.
The night before day 1, eat a substantial meal with complex carbs (quinoa, sweet potato, brown rice). I indulged in pasta but that may not work for everyone. Try not to overindulge.
Prepare a one-pot meal for your family the day prior to starting that they will eat the evening of day one of the cleanse. Avoid cooking the first day really helps. My husband cooked chili the first night. Smelling that was difficult but I sustained by locking myself in the bedroom.
Have your family eat leftovers on day two, purchase healthy prepared foods or ask your spouse/partner/family member to take over as chef all three nights.  I served my kids organic rotisserie chicken and veggies on night two and three.
Start on a day when you have the least amount of evening obligations where you may be tempted to fall off the wagon. I started on a Sunday (hubs was on kids duty) and he was out of town Monday and Tuesday. My only obligation was preparing dinner for the girls. Also, rarely do I have anything outside the home on these nights. Later in the week is more difficult for me. I would stay away from cleansing over a Friday or Saturday unless you've committed to the six day.
STAY OFF INSTAGRAM AND PINTEREST. Seriously. It's agonizing to see all your friends posting photos of what they cooked that day and pinning what they plan to cook in the future. Trust me, stay far, far away.
Drink green tea with lemon each morning prior to the first juice.

Prepare snacks each night to sustain you through the difficult moments. See below for snacks I consumed.

Drink one 16 oz juice every 2 hours. My preferred timing – 9:00 am, 11:00 am, 1:00 pm, 3:00 pm 5:00 pm, 7:00 pm. DO NOT leave the house without your next juice. Example: if you leave home while consuming your 9 am juice, take the 11 am and possibly the 1 pm. If you work out of the home, pack a cooler with raw snacks and all your juices. 

Drinking water with lemon and a cup of green tea in between juices is imperative and truly helps expedite the "cleansing" process. 

Make your own Lemonade (see recipe below). Peeled's second bottle is the Master Cleanse Lemonade. Consuming more of these throughout the day helps tremendously.
I chose to skip the gym all three days, however moderate to light exercise is fine. Go with how you feel. The good news is you can make up your sessions when it's over. The gym isn't going anywhere.
Post cleanse – start your day with green tea and preferably a smoothie or oatmeal for breakfast. Salads and raw foods, vegetable soup or grilled fish for dinner. Stay away from red meat for a few days. Focus on incorporating more raw veggies throughout the day. It definitely helps keep you in the right frame of mind.
Snacks During a Cleanse:
The biggest mistake I made during the Dr. Oz three day cleanse was not eating raw food to hold me over. Snacks helped tremendously and are approved by Peeled. Be sure to choose organic fruits, vegetables or soaked nuts and seeds. Keep in mind eating slows down the juice cleansing process so keep to a minimum througout the day.
Organic Cucumber Slices (1/2 cucumber)
Kale Salad (1 cup Dinosaur Kale, 1/2 avocado, 1 tsp raw apple cider vinegar, 1/4 cup raw cashews, 1/4 slice of lime juice, spices (cumin, coriander, cayenne pepper).
Kale Avocado Salad (1 cup Dinosaur Kale, 1/4 avocado, lemon juice – cut avocado and smash with your hands into kale)

Organic Green Apple

Beet Salad: 1/2 raw beet shredded, 1 tsp raw apple cider vinegar, 1/4 slice of lemon juice
Master Cleanser Lemonade: 2 Tablespoons of organic lemon Juice (about 1/2 a Lemon), 2 Tablespoons of Organic grade B maple syrup (not the commercial maple flavored syrup you use on pancakes), 1/10 Teaspoon Cayenne pepper powder, Ten ounces of filtered water. This is the same recipe in Peeled's Haute Lemonade which is acceptable to consume between their juice.
After this 3 day cleanse I could definitely tell a big difference. My sleeping is better, I'm not feeling so tired and the blahs seem to have subsided. I definitely had more energy.
The biggest benefit was realizing how few veggies I was actually consuming. It's time to step up my game. Never under estimate the power of raw food.
Have you tried a cleanse? What were your results? 
Need ideas on eating raw post cleanse? Check out my
dehydrator
.
SHOP LOCAL: Peeled Chicago has a Groupon for $99 (50% off $195.
SHOP ONLINE: Urban Remedy is vey similar, will ship and has other great products like raw snacks.