Have you seen the back to school posts on Facebook this week? Where the heck did summer go?? Not that I'm complaining but we've been having ourselves a good ole time hanging at the pool, staying up late, eating more than our fair share of ice cream and just having fun.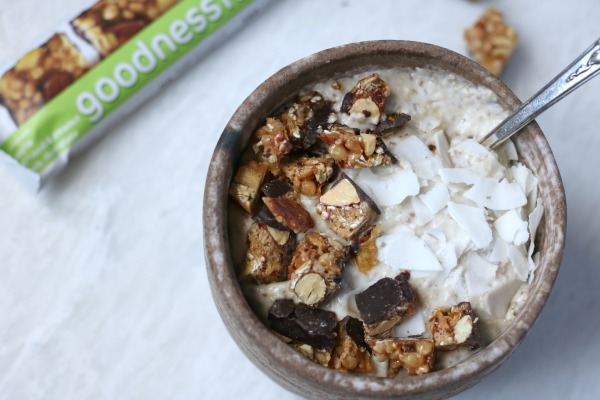 Now it's time to start thinking about back to school (haven't even started shopping)? We had a trial run last week at Girl Scout camp that required a 7:00 am wake up call, preparing lunches and breakfast to make an 8:00 am bus. The struggle was real.
We've been very lazy with breakfast, lunch and snacks all summer. As in "every man for themselves". The girls are at the age where they can handle the basics making cereal, yogurt, PB&J sandwiches and granola bars.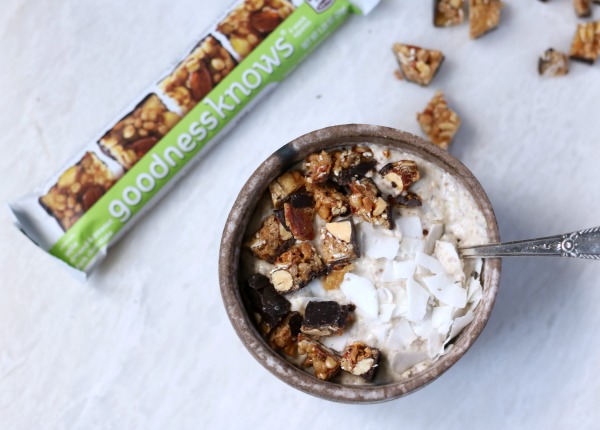 Thanks to the goodnessknows Bike to Work campaign, we've been enjoying our nice stash of snack squares which are quickly dwindling. Guess it's time to restock!
spinach pancakes and some mornings they want to skip the most important meal of the day.
Even oatmeal can be hit or miss but there had to be away to make this breakfast staple more exciting.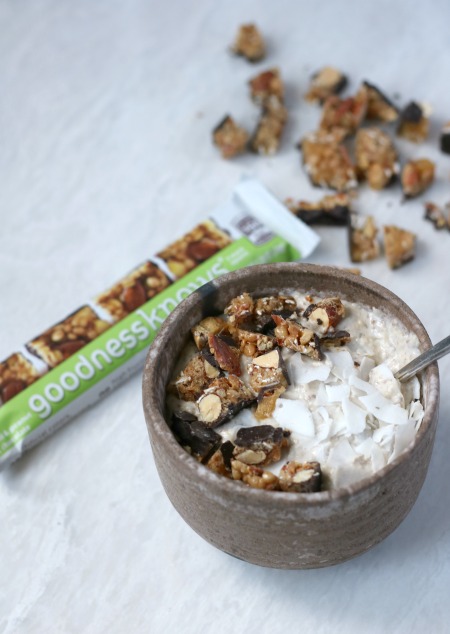 I also wanted something that involved little to no cooking, short prep time and kid friendly. After playing around with a few ingredients I came up with an Oatmeal Coconut Banana Smoothie Bowl topped with goodnessknows apple almond & peanut dark chocolate snack squares.
What's NOT to love?? Oatmeal is so versatile and can be paired with almost anything, but with so much good stuff rolled into goodnessknows – it doesn't get any easier. Just chop into small pieces and you are good to go!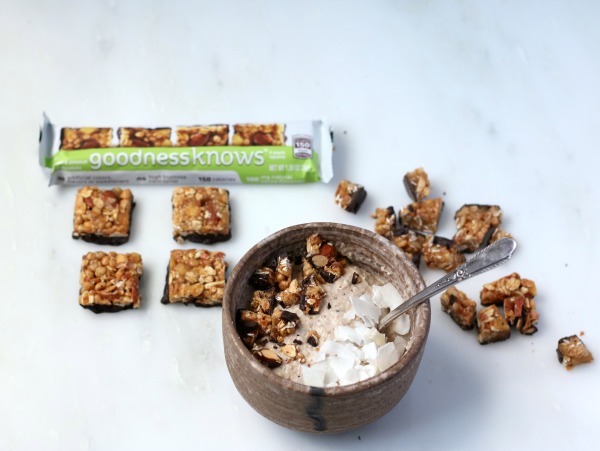 The creaminess of the oatmeal lightly sweetened with the banana (you could use apple sauce too) and the crunch and added sweetness from the nuts covered with dark chocolate pairs perfectly.
I even added shaved organic coconut for extra crunch. If you're not a fan, leave it off and if coconut milk isn't your jam, substitute with almond or soy milk.
My next goodnessknows pairing will be with Greek yogurt. Yum!
Breakfast of champions for the kiddos was a win! Pretty excited about adding both the Greek yogurt and oatmeal smoothie bowls as back to school breakfast options into our weekly rotation.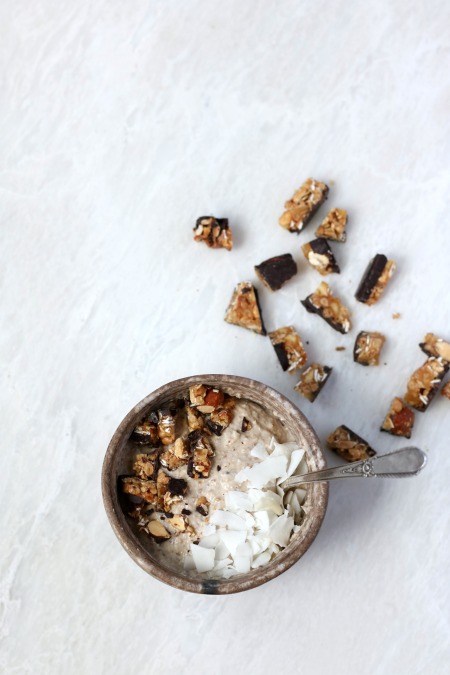 Oatmeal Banana Smoothie Bowl
Instructions
Mix together in a small bowl the oats, ½ cup coconut milk, chia seeds, vanilla and salt. Cover and place in the fridge for for at least 30 minutes or overnight. Overnight helps all the flavors soak in.
The next morning add oat mixture to a blender or food processor along with the remaining ½ cup milk and banana (or applesauce). Blend until smooth and creamy.
Pour creamy oats into a bowl, top with goodness bar crumbles, coconut and banana. Enjoy!
Notes
Soaking overnight is a bonus but not necessary. I prepared both ways and didn't really notice a big difference in flavor or consistency.

I used full fat coconut milk to soak but found that a thinner milk is better for blending and creating the smoothie.

The consistency once blended is still pretty thick, just smoother almost like yogurt.

I used a Vita-Mix and food processor and prefer the food processor as it was easier to pour all the smoothie out.
This is a sponsored conversation written by me on behalf of goodnessknows. The opinions and text are all mine.