After so many friends asked for my recipe inspired by Rachel Ray's Neapolitan Baked Ziti Recipe, it was time to share the goods. I saw Rachel Ray make this on her talk show and not only did it look delicious, it was simple.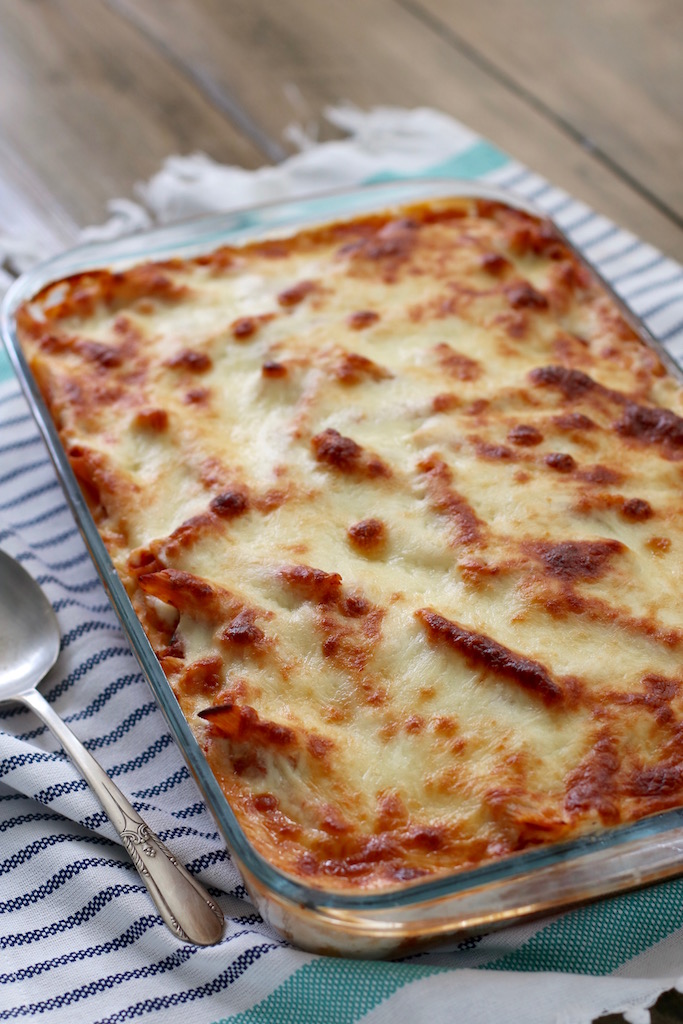 After following Rachel's recipe a few times, it was a little bland so I made a few modifications. I'm sure she wouldn't mind.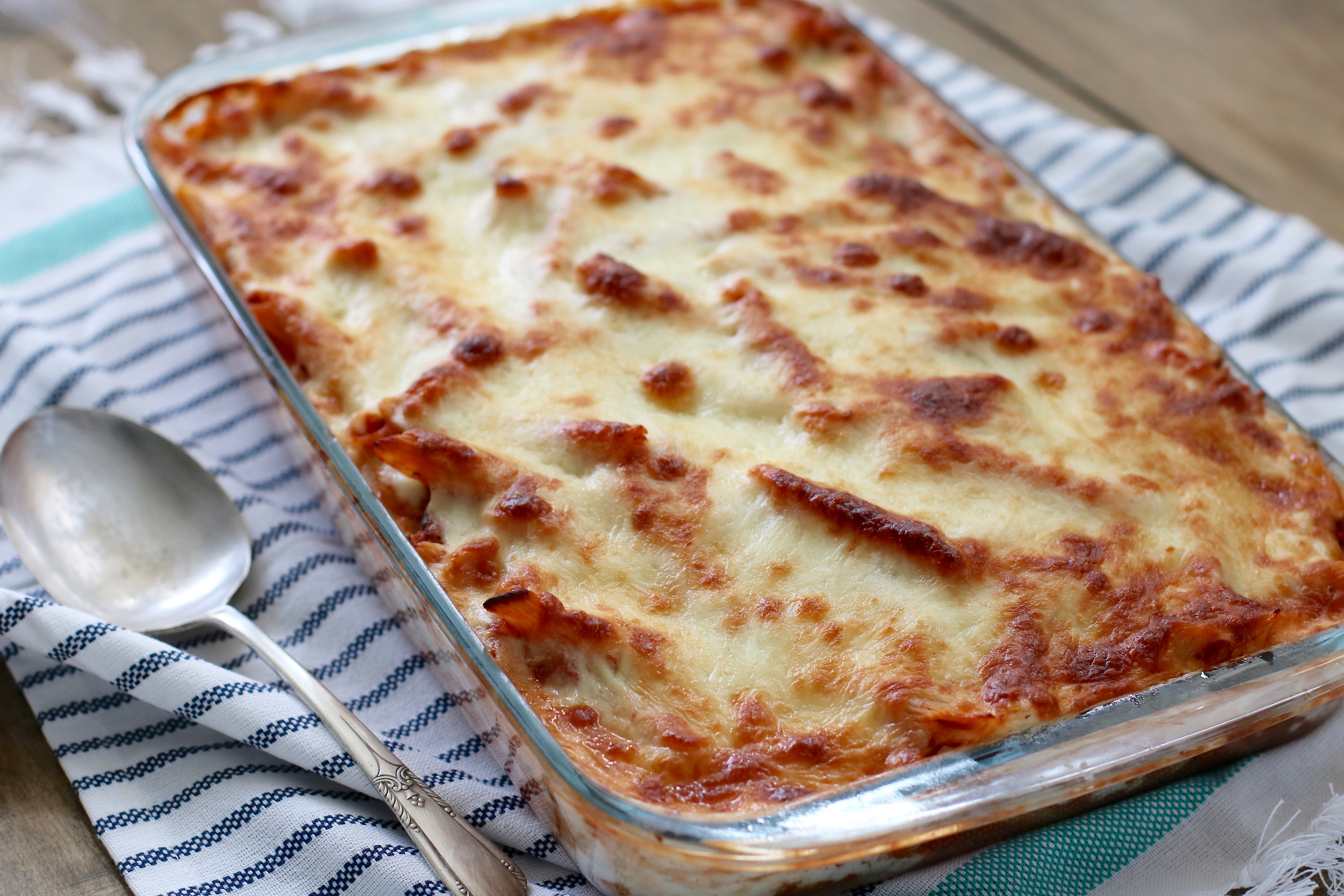 Make this dish for your friends after they bring home a new baby, when hosting book club, meal train or dinner with your family. Tip: If you are giving as a gift, prepare the day before but do not bake. Serve in a disposable aluminum lasagna pan and include instructions to bake at 400°F for 30 mins.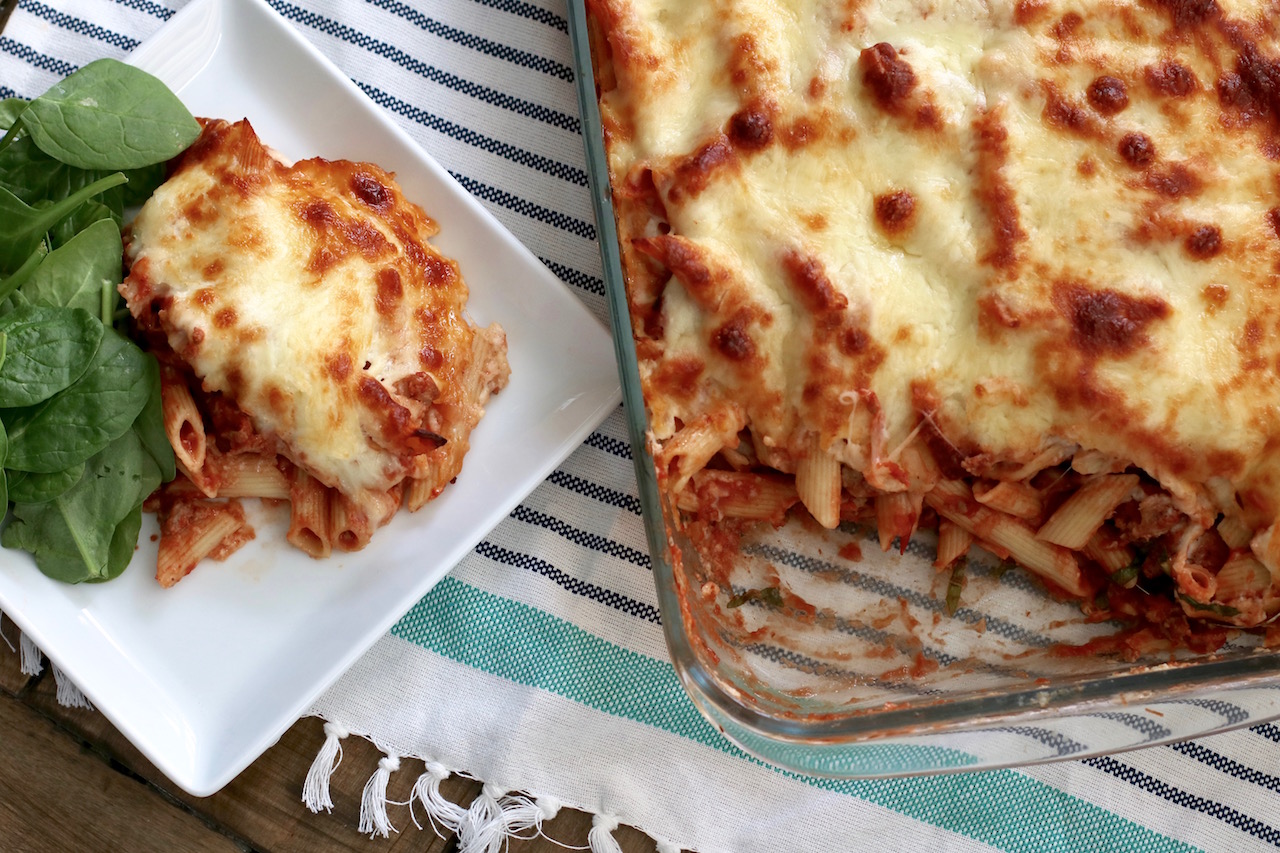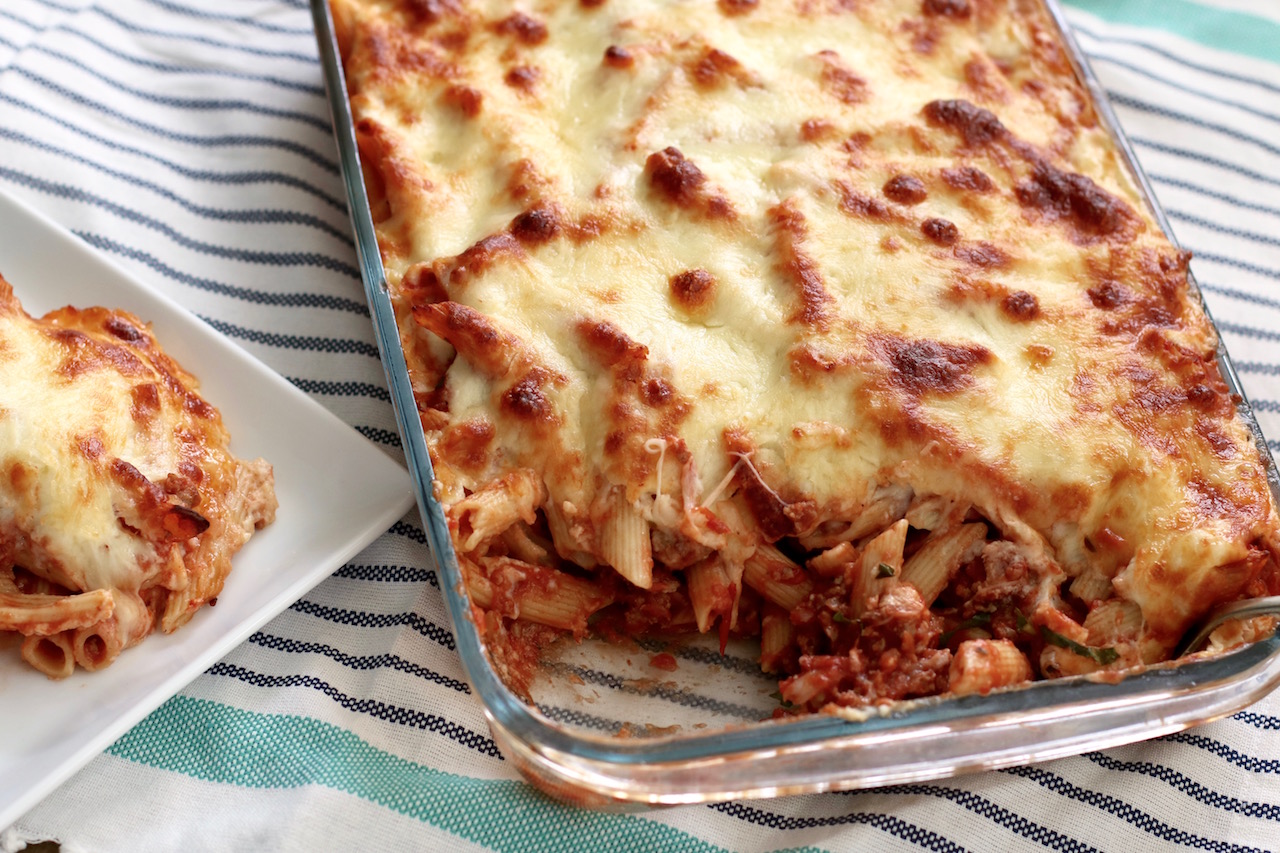 Let me know how it turns out by posting your comments below and feel free to ask me any questions.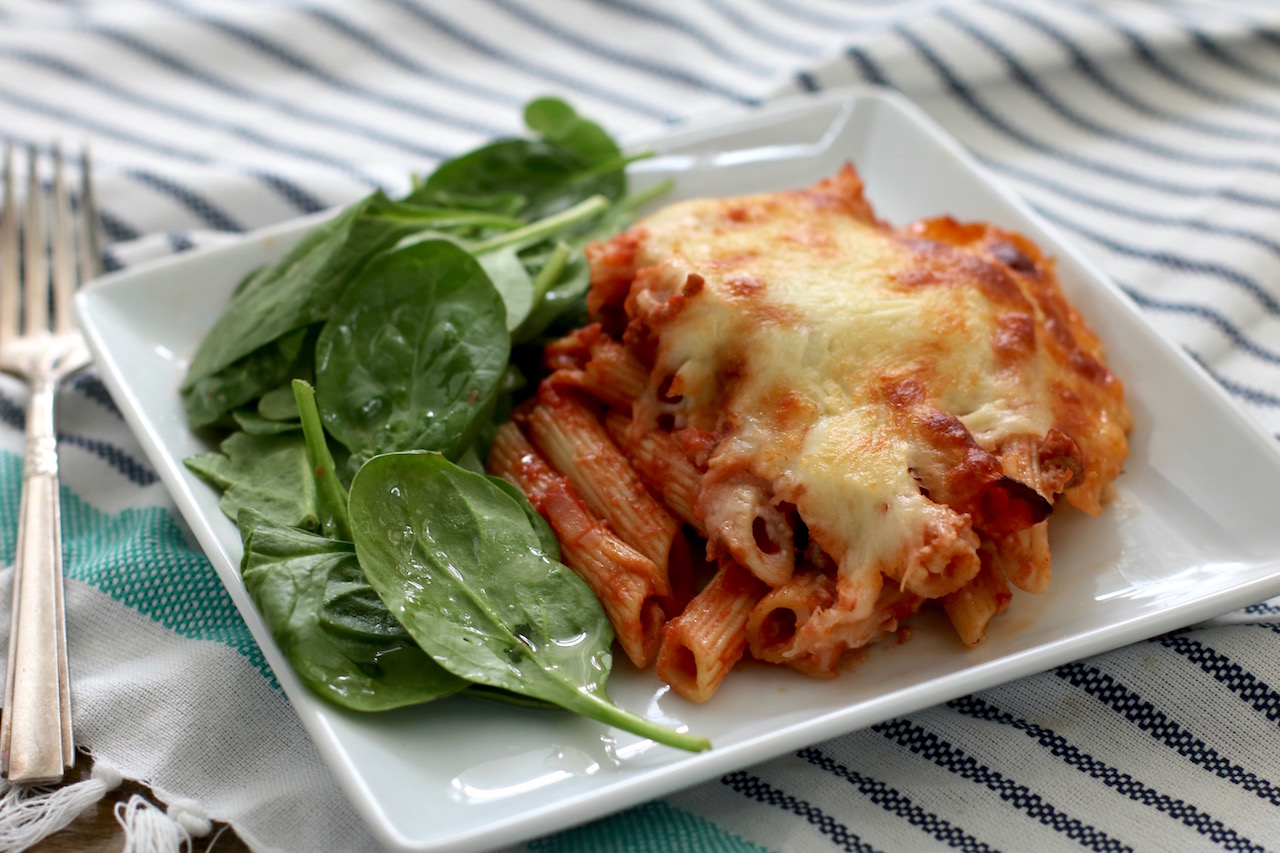 Neapolitan Baked Ziti Recipe
Ingredients
1 pound ziti with lines (gluten free penne pasta works too)
1 pound of Sweet Italian Turkey Sausage (optional)
2 tablespoons EVOO - Organic Cold Pressed Extra Virgin Olive Oil
1 medium onion, chopped
4 cloves garlic, grated with a lemon zester
1.5 cans 28-ounce can organic crushed tomatoes (freeze any remaining tomatoes)
1 tablespoon dry oregano
1-2 tbsp organic tomato paste – use to thicken sauce as needed
Fresh basil using the chiffonade technique – I use an entire package
Sea Salt and pepper to taste
Béchamel sauce
3 tablespoons butter
3 tablespoons flour
2 cups milk
2 fresh or dried bay leaf
Freshly grated nutmeg
Salt and Pepper to taste
2 cups shredded mozzarella cheese
Instructions
Preheat oven 400°F.
Place a large pot of water over high heat and bring up to boil to cook the ziti. Once boiling, add some salt and the pasta, and cook just shy of al dente (about 110 mins). Drain thoroughly.
While the water is coming up to a boil, start the red sauce: Place a medium-size sauce pan over medium-high heat with about 2 tablespoons of EVOO. Add the onion, sausage (optional) and grated garlic; cook, stirring every now and then until the onions start to get tender, about 3-4 minutes. Garlic provides better flavor if you grate each clove using a lemon zester.
Add 1.5 can of crushed tomatoes first. Add oregano and season with salt and pepper. Bring up to a bubble and simmer for 15 minutes. Use tomato paste to thicken sauce as needed. The crushed tomatoes will thin out the sauce but you need this to cover all the pasta or it will be too dry.
Once you have the red sauce working, make the béchamel sauce: Place a medium-size sauce pan over medium heat and melt the butter. Add the flour, stir to combine and cook for about a minute on medium. Whisk in the milk, add the bay leaf and season with salt, pepper and a couple of grates of nutmeg. Bring up to a bubble, turn the heat down to low and gently simmer, stirring frequently, for 5 minutes. Remove the bay leaf and discard. The white sauce can take awhile to thicken so be patient.
Combine the cooked ziti with the red sauce in the pot the pasta was cooked in. Add the fresh basil and combine with the pasta and sauce. (Option: add fresh baby spinach to this step and allow it to wilt before adding the white sauce).
Transfer everything to a baking dish and spread evenly.
Top the pasta with the béchamel sauce. Sprinkle the mozzarella and grated Parmigianino over the top, transfer to the oven and bake for 25-30 minutes.
Original recipe adapted from the Rachel Ray
Show
.For more yummy recipes like this visit my 
What's For Dinner
Pinterest Board!
If this post was helpful would love for you to share on Pinterest! You can also follow me on Facebook, Twitter, Pinterest and Instagram. Sign up for our monthly newsletter and never miss a post here!
This post does contain affiliate links. If you click and purchase any of the recommended products I will receive a small commission that goes towards running So Chic Life.