Never say never – right? I should have known better that uttering the word NEVER emphatically could have jinxed myself. The day has come folks. I'm not sure I can write or say it out loud so here goes nothing.
We are leaving the city. We're Moving to the Burbs
For real. As in moving. As in changing our zip code.
Excuse me while I take a moment to be sick. I know, I know – What has the world come to??
Before calling me a quitter, watch this video and see exactly how things went down in our home. It's pretty much spot on.
As I wipe away the tears…let me explain what lead to this major life decision.
The number one reason we are moving is my husband's commute. For the past eleven years since moving to Chicago in 2003, he has done the opposite commute to the burbs. At the time, we were dating, living the single life with no kids and we wanted to be near the action. His commute was even worse then, traveling almost two hours one way.
Looking back that seems crazy, but the alternative of living outside the city at that stage of life was not even considerable.
For the past 9 years his commute as been reduced to one hour each way – going to and from the office. He usually leaves the house as early as 6:30 am and returns by the time we eat dinner as a family. At least we are able to have that time together.
It's not horrible, however it does has a major impact on our family life. And let's not forget to mention he travels for work sometimes 3-4 nights or more. If he worked in the city, we would not even be having this conversation. Ever.
Another factor for throwing in the city towel is the cost of raising our girls. In addition to paying for private school on one income, the cost of extracurricular activities has gotten ridiculous.
Yes, we could apply for public school but that's an entirely different conversation. Yes, I could go get a better paying job or kick up my hours to earn more income, but that means I need to hire a sitter or put my kids in after care from 3-6 pm.
Don't get me wrong, I'm not complaining that the city is too expensive (but it is), I'm just a little tired of paying $30 + per hour for my kid learn a skill or keep them occupied after school. The girls have outgrown being limited to riding bikes and scooters on the sidewalk in front of our house. Yes, we go to the park however the closest "good" park to our home is a 10-15 min walk depending if the girls bike, scoot or walk. And that requires packing a portable potty, snacks, drinks, etc.
Ok, now I'm just making excuses and getting completely off topic. And I'm not about to bash city living – it was my dream to raise our girls here. I'm all for it, support it 100% and wish it was working for us.
If I am really, really being honest, our family needs a change. In most circumstances we would just sell our home and move to a different place as we've done previously. Deep down we are tired of sharing walls and want a single family home. To do that in the city would require moving a few miles further north (than where we currently live) to gain more space and a semi "yard". Unfortunately, just 1-2 miles could result in another 30 minutes or more to hub's commute.
That my friends does not equate to a better quality of life. So what's the point? Sadly we must bid adieu and head west – just a short 35 min drive (without traffic) outside the city.
Now that suburbia is becoming a reality, you know what I am most excited about???
We get to build our very own home!
Never in a million years would I think that this would be possible but it really is happening. That means every inch – from shingles to stone, appliances to door knob, paint colors to countertops – we get to design and hand select.
And a few other reasons I'm excited about moving to the burbs:
To sit on our porch in a swing, sipping wine while my kids play in the yard. Every southern girl needs a porch and a swing. I think it's in the official "Southern Girl Handbook".
Hubs will finally start working out regularly!! And join a gym.
Plant a garden. A real garden with vegetables.
Not share walls with anyone other than my own family members.
Have a dedicated laundry room. I'm kinda tired of folding clothes on my kitchen counter.
Have big parties!
I finally get a big kitchen with lots of natural light. No more taking food photos in the dark.
My very own walk-on closet. Hey – my shoes are tired of sharing space!
So I know what you're probably thinking – what will happen to Sassy Moms in the City – will I now be known a Sassy Mom in the Burbs??
Here's the thing. When I first created Sassy Moms in the City the vision was to reach moms in ANY city. It's also about attitude and the sassy spirit of motherhood. Not to mention I was still obsessed with Sex and the City and in 2009 that was the only name I could come up with that didn't pull up porn sites searching Google. 
So while I technically won't be physically residing in the city, this doesn't change anything about the information shared on SassyMomsintheCity.com.
I'm excited, nervous (all our city friends will disown us), sad to be leaving the only home our daughters have ever known, anxious about the unknown and a gazillion other emotions but now is the time to do what makes sense for our family. The good news is because we are building we won't be moving until next summer. 
That means I get an entire year to share all the fun of building a home from start to finish. SO get ready to come along for the ride. I can't wait!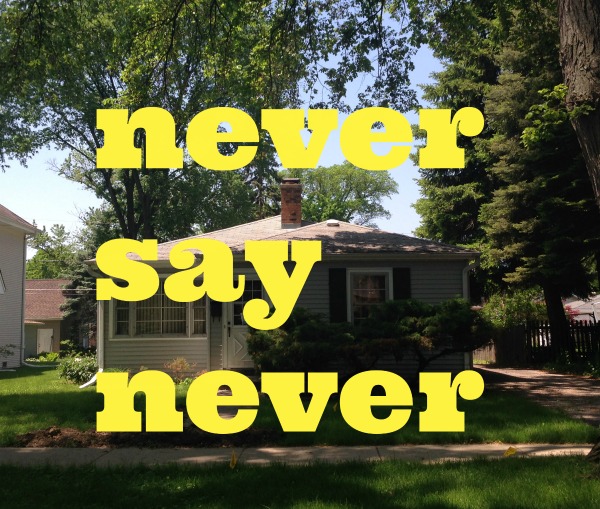 We are now the proud owners of this little bungalow that will soon be torn down to build our dream home.
There I did it. I'm moving to the burbs.
Never. Say. Never. or this could happen to you.