I'm obsessed with this recipe from Martha Stewart Living Magazine. I have a little secret to making this easy peasy but shhhhh don't tell Martha!
How many times have you considered roasting your own chicken? For starters a whole chicken is expensive and you need to be sure it reaches the appropriate temperature (125°) using a meat thermometer.
My little trick for this fantabulous winner winner chicken dinner? Purchase a rotisserie chicken (preferably at Whole Foods). Select the least flavored chicken to avoid clashing with the other ingredients.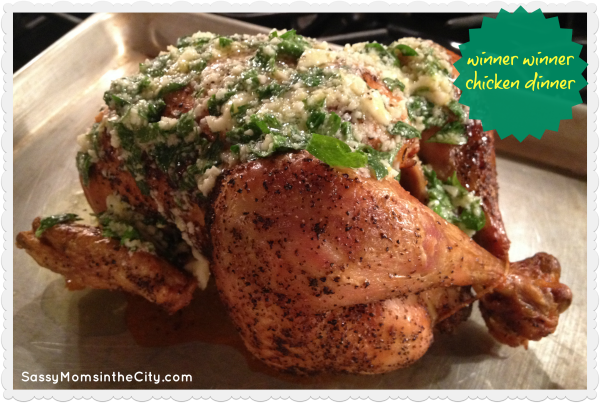 lemon parsley & parmesan roasted chicken + potatoes
Ingredients
For the Chicken & Potatoes
1 whole rotisserie chicken (preferably hormone free)
1 lemon, halved
Aluminum Foil
1 pound fingerling potatoes (cut in half or in thirds if large) or small red potatoes (1-2 per person) cut in wedges
Coarse Salt and Ground Pepper
For the Sauce
2-3 cloves of garlic, minced
½ cup finely chopped flat-leaf parsley
⅓ cup extra virgin olive oil
1 lemon, zested (2 teaspoons) and juiced (11/2 tablespoons)
½ cup grated Parmesan cheese
½ tsp Coarse Salt
Ground Pepper to taste
Instructions
Preheat oven to 425 °
Place chicken breast side up on baking sheet. Place 1 lemon half in cavity and loosely cover with foil.
Toss potatoes with 2 tablespoons of olive oil in separate pan. Drizzle with juice from remaining lemon half. Season with salt and pepper.
Roast potatoes for 15 minutes. Reduce temperature to 375 °; cook for 25 minutes. Rotate pan, toss potatoes and cook until golden brown.
Place chicken on higher rack to warm as potatoes cook.
Prepare sauce by combining ingredients.
Remove chicken and potatoes, let rest for 10 mins.
Brush sauce on chicken and drizzle on potatoes
Adapted from Martha Stewart Living – Lemon, Parsley and Parmesan Plus Chicken and Potatoes.