No better way to kick up your summer menu than this super easy Guacamole Salad!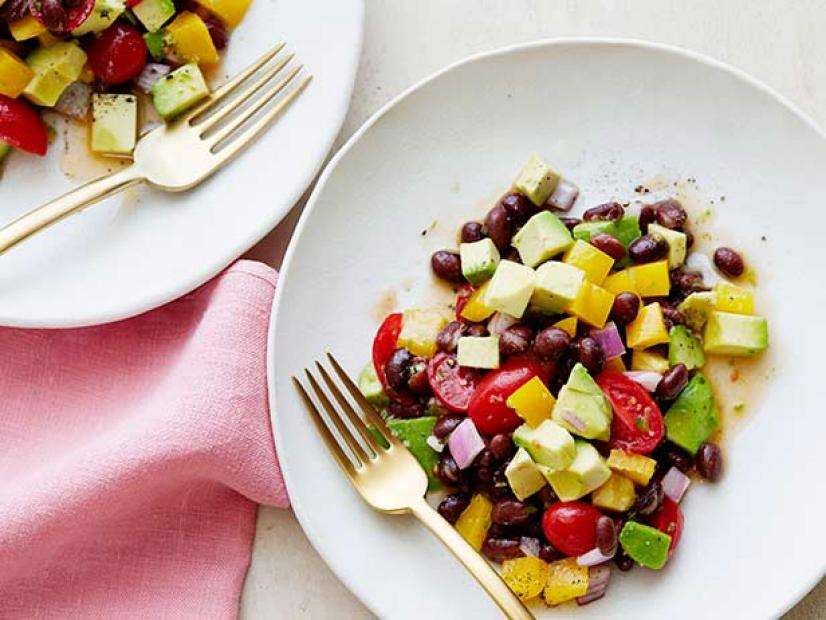 A few years ago I was trying to find an easy salad to make using ingredients from the fridge and pantry with avocado and black beans as the stars. I'd been perfecting Ina Garten's hamburgers and her Guacamole Salad was the delicious side kick.
This has turned out to be a go-to side dish entertaining at home or for a pot-luck. All the flavors pair so well together.

Ina Garten's Guacamole Salad
Ingredients
1 pint grape tomatoes, halved
1 yellow bell pepper, seeded and ½-inch diced
1 (15-ounce) can black beans, rinsed and drained
½ cup small diced red onion (optional)
2 tablespoons minced jalapeno peppers, seeded (2 peppers) (optional)
½ teaspoon freshly grated lime zest
¼ cup freshly squeezed lime juice (2 limes)
¼ cup organic cold pressed olive oil
1 teaspoon kosher salt
½ teaspoon freshly ground black pepper
½ teaspoon minced garlic
¼ teaspoon ground cayenne pepper (optional)
2 ripe Hass avocados, seeded, peeled, and ½-inch diced
Instructions
Place the tomatoes, yellow pepper, black beans, red onion, jalapeno peppers, and lime zest in a large bowl. Whisk together the lime juice, olive oil, salt, black pepper, garlic, and cayenne pepper and pour over the vegetables. Toss well.
Just before you're ready to serve the salad, fold the avocados into the salad. Check the seasoning and serve at room temperature.
recipe adapted from Ina Garten