In honor of Paleo Coffee recipe I shared this time last year.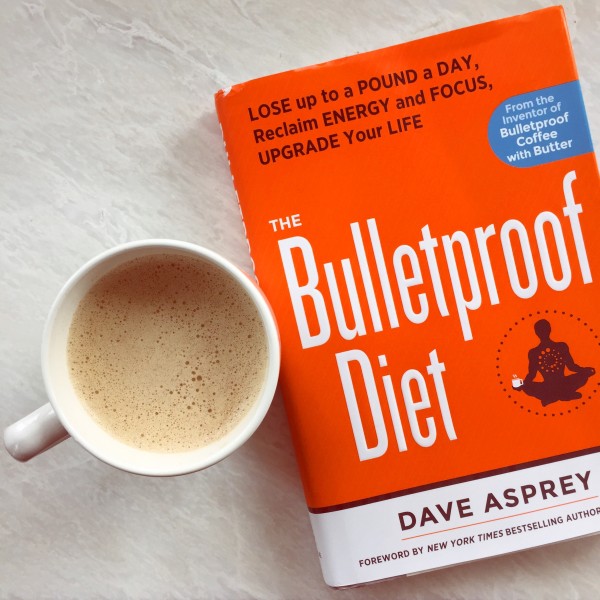 The major difference between Paleo Coffee and Bulletproof Coffee is the importance of using the lowest toxin, highest performance coffee available blended with unsalted, grass-fed butter and MCT oil (coconut oil).  I know, I know – oil AND butter in your coffee? Sounds weird but honestly if you haven't tried it yet you really should.
Blending coffee, even with only the coconut oil, makes a rich, creamy and frothy cup latte. Adding the grass-fed butter takes it to an entirely different level. It's extremely difficult for me to NOT blend my coffee these days.
The philosophy behind adding butter is really about adding back the good fats into your diet. And if you didn't know this – fat burns fat.
Worried about coffee with no sugar or sweetener? Surprisingly once I began drinking Paleo Coffee the need for sugar subsided. Some days I may use full fat coconut milk instead of butter but for the most part I prepare using the recipe below.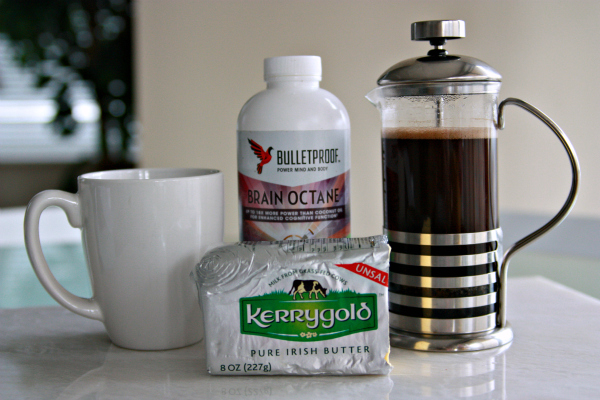 How to Make Bulletproof Coffee
Brew 1 cup (8-12 oz.) of premium coffee using filtered water (French Press is easiest.)
Pour coffee into your blender (I use a Vitamix or Immersion Blender)
Add in 1-2 tablespoons of MCT Oil to the hot coffee
Add 1-2 tablespoons ghee to the hot coffee
Mix it all in a blender for 20-30 seconds until it is frothy like a foamy latte
My normal routine is preparing the coffee in a 1 cup French Press, blending 1 tablespoon butter, 1 tablespoon MCT oil + 1 tablespoon of Bulletproof Upgraded Collagen Protein. The protein is a bonus and really important for women especially those who are trying to lose weight.
If you're not able to digest dairy and the butter is throwing you off, LeAnne from Healthful Pursuit has a yummy alternative called Rocket Fuel Latte which is dairy free. Instead of butter she uses cacao butter as an alternative and adds collagen along with hemp seeds.
I've tried this several times but haven't mastered 100%. The coffee turns out a little too oily if you leave out the Hemp Seeds and not as frothy like the coconut oil and butter combo. Leanne believes that blending MCT oil and butter doesn't work for (most) women. "It leads to cravings, blood sugar lows, shakiness and hormone fluctuations." 
I haven't found that necessarily to be the case for me, however I do mix up my coffee recipes throughout the week.
So for all you java lovers – there is a better way to drink your beloved cup of joe. It all boils down to high grade coffee sans the myotoxins and mold and adding in the fat to fuel your brain and metabolism.
It may seem like the brand or type of coffee doesn't matter but it really does. While I've been known to be a coffee snob for years, good coffee beans can make or break how coffee affects your mood.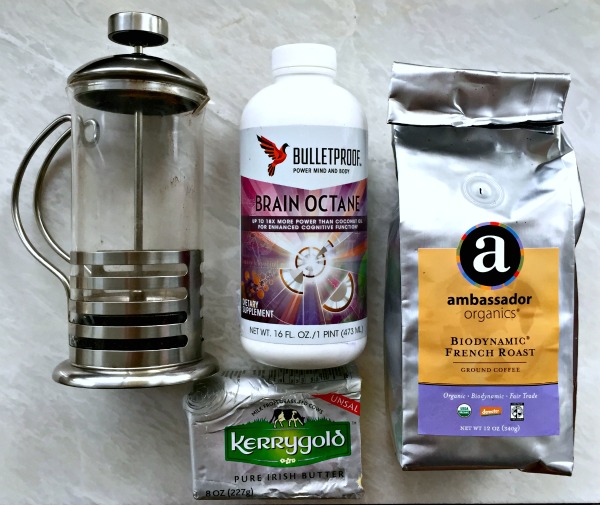 If you've been a So Chic Life reader for awhile you know I only recommend products that I purchase or believe in. This is why I recommend doing more research onAmbassador Organics Biodynamic French Roast Ground Organic Coffee when I was out of the Bulletproof.
If you're ready to give Bulletproof Coffee a try the easiest way to get started is to order the Bulletproof Upgraded Coffee Starter Kit that includes the coffee and MCT Oil.
Have you tried bulletproof coffee yet? Tell me what you think!
This post contains affiliate links. Using my links helps support my coffee fund.