Last week I picked up two of my favorite Kind Bars at Whole Foods on sale 4 for $5.00. Woot! I was so excited a case almost made it in my shopping cart.
After working out one day and enjoying a KIND Almond Coconut bars
 I decided to take a closer look at the ingredients. Overall really good, but soy lecithan and non-GMO glucose caught my eye. Nothing too terrible but there had to be a way to eliminate all together.
After a few searches on Google I found a homemade coconut almond bar recipe that could be combined with a no-bake gluten free granola bar recipe I've been making. The end result was almost spot on.
The biggest variation is the texture and sweetness. At the last minute I added more coconut butter
 and agave nectar (more than what is listed below). Next time I'm sticking with the measurements noted in the following recipe. The good news is these are no bake and impossible to make a mistake.
I decided to leave the almonds whole but the girls didn't go for that. If you're planning to serve to kids, go ahead and chop the almonds and shredded coconut.
If you've never tried coconut butter (different from coconut oil) this is the perfect recipe to test. It's a great alternative for kids with allergies and be used in place of any nut butter.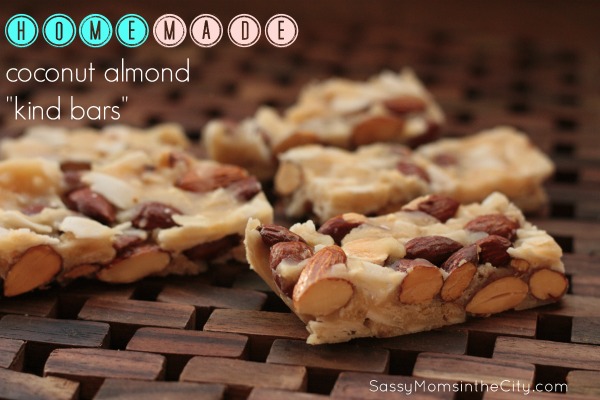 homemade coconut almond "kind bars"
Ingredients
1 cup chopped organic almonds (I used a combo of raw and roasted with sea salt)
1-2 cups organic unsweetened coconut (I love coconut and went with 2)
¼-1/2 cup gluten free rice cereal (I used ¼ cup but think it will work better with ½).
⅓ cup coconut butter
¼-1/3 cup agave nectar
pinch of celtic sea salt (omit if your nuts are salted)
Instructions
Mix dry ingredients together in a bowl.
Melt coconut butter and agave nectar, mix well. I melted in the microwave using a glass measuring cup.
Combine wet and dry ingredients together. Be sure coconut and almonds are coated evenly.
Line 8x8 pan with parchment paper.
Pour mixture into pan, press down firmly and evenly.
Place in refrigerator for at least 1 hour or until coconut butter is firm.
Remove from refrigerator and cut in squares or bars.
Store in glass air tight container.