PANIC was the initial reaction when our basement flooded in March. The week before we left town for Spring break. As we watched massive amounts of water gush into our guest bedroom, my office and the entire hallway into our family room, finding the source was almost impossible.
Realizing a pipe had burst we went into recovery mode and began saving our furniture moving into various places throughout our home. Once the furniture was saved, we transitioned into renovation mode.
It's taken a little over two months to renovate. The flooding required water restoration (carpet and drywall removal and basement drying), selecting new tile and carpet, painting and installation.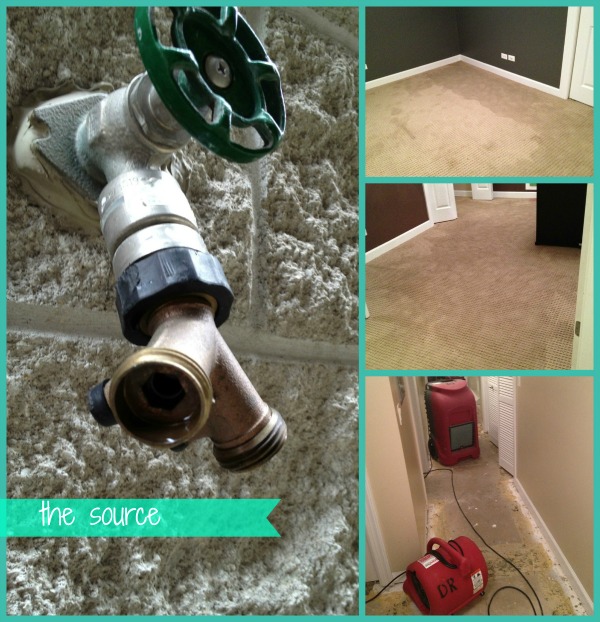 I decided to turn this into an opportunity to renovate my office which was in desperate need of an update. The room, formally our kid's playroom was painted dark chocolate brown with pink and white accents. Working in a dark room was a little depressing not to mention a strain on my eyes.
First step – selecting paint color. My inspiration was a pillow from our family room with peacock blue, grey, beige, white and yellow. The goal was to design a teal home office with accents of grey, yellow and white. Sounds simple right?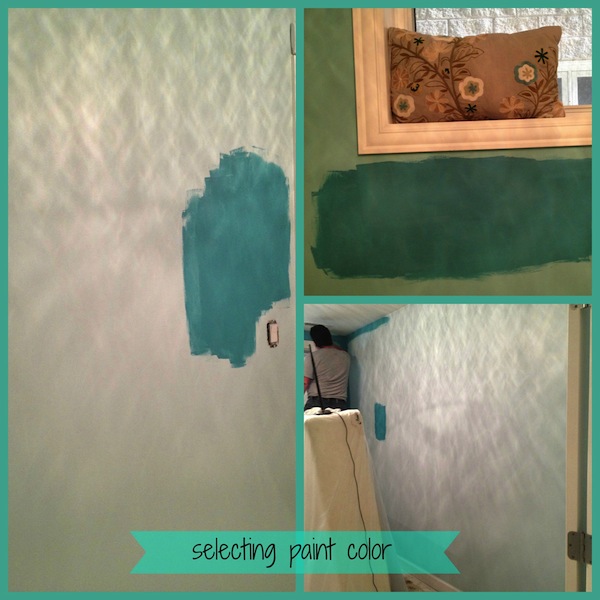 Choosing a shade of teal for a moderate space is more challenging than expected. The first round of teal blue – way too light. Second round was bold and potentially too dark returning to my previous situation. A new chandelier was reflecting the light oddly off the walls causing even more doubt.
Finally settling on Benjamin Moore Wilmington Spruce (formulated 10% lighter) I forged on, unsure what to do next. A designer once gave me a tip: select your color inspiration and build around it. Once the walls were painted how would I bring in texture and the secondary colors?
I found this metallic wallpaper and thought it would look beautiful on the primary wall to add interest. Isn't this amazing? The price, not so much.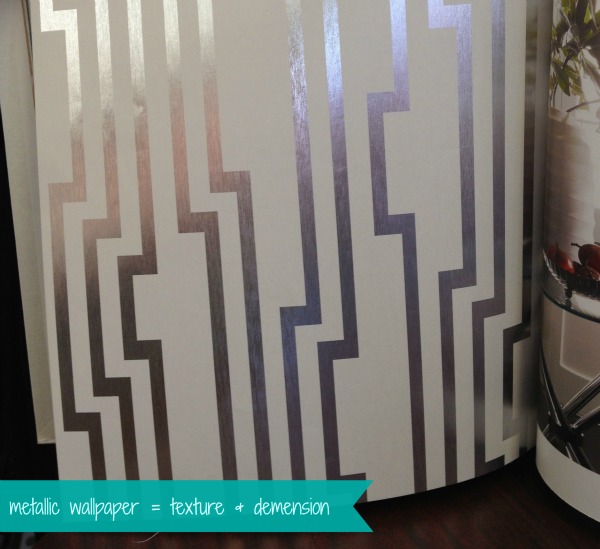 Not 100% set on the wallpaper, I needed more options. Searching Pinterest,  I came across 21 amazing Blue DIY projects from sas interiors.
Cutting Edge Stencils looked like the perfect alternative and much more cost effective. The question remained…Would hubs be up for a little DIY project?
To be continued….