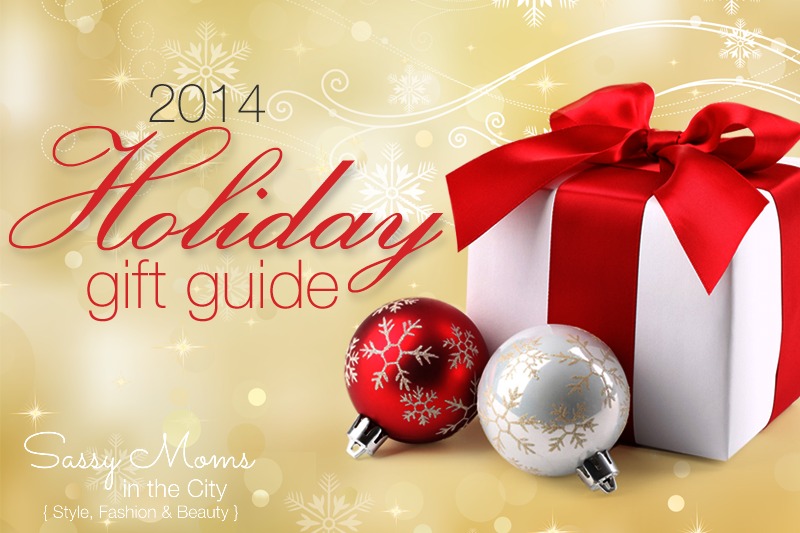 Welcome back to the 2014 Holiday Gift Guide I'm co-hosting with JoLynne Shane.  Now it's time for the gifts that I'd love to have for myself. Hello if anyone is listening!
As much as I love to cook you'd think by now I would own every possible chef's tool, but until we move into our new home purchasing is on lock down. This post is sponsored by William Sonoma a home cook's dream store! I can't tell you how many times I've strolled the aisles drooling over all the fabulous products calling my name.
Well today you'll find just a few of my top picks for holiday gifts for the home cook. Hope you find something for the home cook in your life but I can assure you that any of these will bring the biggest smile to his or her face!
Holiday Gifts for the Home Cook from William Sonoma

Williams-Sonoma Vegetable of The Day Cookbook:  Why do vegetables seem so boring?? This calendar-style cookbook brings together 365 seasonal recipes, one for every day of the year. Each of the 12 chapters opens with a colorful monthly calendar that provides an at-a-glance view of the dishes included. From January to December, you'll find recipes that suit every occasion, from a weekday family supper or a summer backyard barbecue to a celebratory dinner, and that fit every schedule, from quick sautés to slow braises. This book is packed with inspired recipes that promise to help you do just that.
Williams-Sonoma Smart Tools for iPad® Sets: We designed and developed our Williams-Sonoma Smart Tools collection to make it easy for you to watch cooking videos, search for recipes, listen to music and even video chat while you cook and entertain. This complete three-piece set includes the Bluetooth® Speaker, Kitchen Stand and Screen Shield to expand the versatility of your iPad® in the kitchen— or anywhere in your home.
Cast-Iron Bacon Press: A stout pig lends its porcine shape to this cast-iron press, which flattens bacon strips for optimal cooking. Heavyweight cast iron flattens bacon strips for fast, even cooking. Also handy for grilled sandwiches and quesadillas. Fits most 10″ skillets. Wooden handle stays cool to the touch.
de Buyer Kobra Adjustable Slicer: Indulge your inner chef with this user-friendly adjustable slicer from France. It duplicates knife skills that professional chefs take years to master, producing consistent results. V-shaped microserrated blade cuts vegetables and fruits with perfect precision. Supersharp cutlery grade stainless-steel blade. Slices from paper-thin to 3/16″ thick. Equally efficient with firm produce and soft foods like cooked beets, ripe tomatoes and pears.

Paderno Spiralizer 3-Blade and Spiralizer Book: You guys know how much I love my spirilizer!! I can't live without it and highly recommend as gift for the home cook who has everything. This simple-to-use machine produces spiral cuts, shoestrings and vegetable "noodles" for adding new texture to pasta dishes, stir-fries and salads. You can make long ribbons of cucumber, carrots and radishes for salads, or apple spirals for apple slaw. Cut onion rings, potato chips, shoestring potatoes or curly sweet potato fries in seconds. To help you make the most of your Spiralizer, there's a copy of The Spiralizer Cookbook by the Williams-Sonoma Test Kitchen.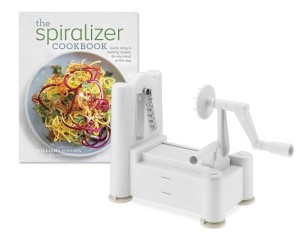 Vitamix S30 Personal Blender: Enjoy the professional performance of a Vitamix blender in a streamlined machine that's great for compact kitchens or on-the-go food prep. Count on this efficient blender for everything from whipping up individual portions of smoothies to blending small batches of soups, sauces and dressings. It's great for chopping herbs and veggies, too!
All-Clad Stainless-Steel 7-Piece Tool Set: Made of heavy-gauge polished stainless steel, the tools in this set – spatula, pasta fork, roasting fork, skimmer, solid spoon and ladle – are gathered in a matching canister for convenient storage. Set includes a spatula, pasta fork, roasting fork, skimmer, solid spoon, ladle and storage canister. Polished 18/10 stainless steel makes these essential tools durable and easy to clean. All-Clad's signature handles ensure a secure grip. Canister has a brushed finished and polished rim. Dishwasher safe. A Williams-Sonoma exclusive.
Cuisinart DLC-2011CHB 11-Cup Food Processor:  If the home cook is currently using anything smaller than an 11 cup food processor, it's time to upgrade him or her. This is on my personal holiday wish list. I love that the Cuisinart Prep Plus Food Processor is compact but build with serious power.
Spice Tiffin Masala Dabba with Spice Levelers in Each Bowl: The Spice Tiffin is different from any other spice storage device. Anupy Singla's patent-pending design puts a half-moon 'catch' into every small bowl – enabling you to level your measuring spoons right in your container! Each Tiffin is made of beautiful stainless steel. Each bowl is large enough to hold up to 6 oz of spice and the inner lid combined with the outer lid keeps your spices fresh. Organize your spices by cuisine, save time and space in your cabinets. Anupy's concept, Indian As Apple Pie, will leave your family and friends thinking you're a gourmet chef……..it's as Easy As Pie!!!! Genius!!!!!!!!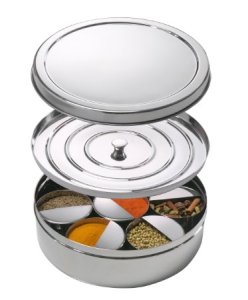 Simplemente Delicioso Mosaico Verde 16-pc. Dinnerware Set: The intricate, geometric pattern on this 16-piece dinnerware set will add a chic touch to any meal of the day. 16-piece set includes: four 11″ dinner plates, four 7¾" dessert plates, four 6″ bowls and four 14-ounce mugs.
If this post was helpful would love for you to share on Pinterest! You can also follow on Facebook, Twitter, Pinterest and Instagram. Sign up for our monthly newsletter and never miss a post here!
This post does contain affiliate links. If you click and purchase any of the recommended products I will receive a small commission that goes towards running So Chic Life.