You'd be surprised how much impact the front door has on your home. I am truly in love with our Simpson Door. Everyday I walk up the front steps to our porch and this beautiful entrance greets me.
If you are in the market for a new door be sure to read my Front Door Inspiration post where I featured a few of my favorite styles. All that research truly did make the decision making process much easier.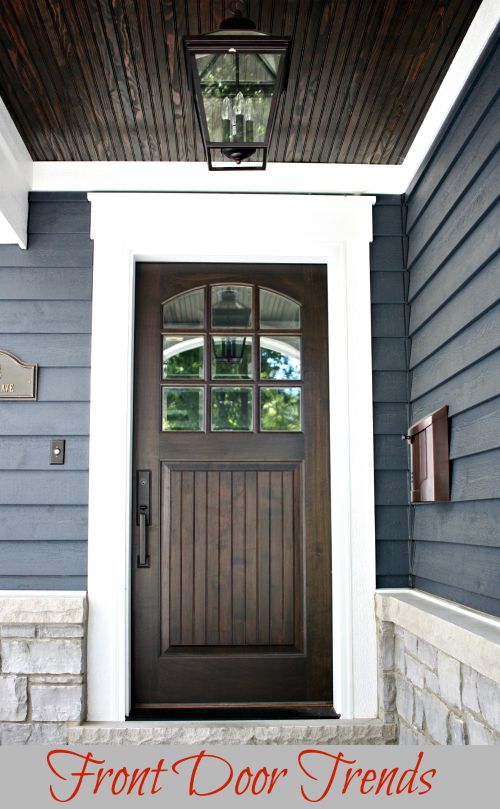 Our door as featured in this photo is from the Simpson Door Bungalow Series #37216, with UltraBlock technology and beveled glass. 
Recently I chatted with Brad Loveless, Product Development & Marketing Manager from Simpson Door Company about front door trends, the differences in door materials and what to know based on your climate. I had no idea there were so many choices until we went through the process ourselves.
SLC: Tell me a little about Simpson Door Co. for readers who might not be familiar with your company.
Simpson has been building beautiful, impeccably crafted wood doors for more than a century. Based in the forests of the Pacific Northwest, we supply our doors throughout the U.S. and Canada. Our vast line of interior and exterior doors includes hundreds of standard options from contemporary to traditional to French to decorative entry doors with matching sidelights and transoms.
Available in virtually any wood species and size, and with dozens of glass options, we also can personalize doors to meet any homeowner's vision.
SLC: What are the main reasons people choose wood doors over other materials like steel and fiberglass?
People love the look and feel of wood. It's rich and warm, with each door having a unique character, not something stamped out of a mold. Think of fine furniture, which is usually wood. A door is the same thing – an artistic statement on the front of your home.
A strong indicator of wood's unmatched beauty is to look at the marketing materials for other types of doors, which often claim to 'look like wood.' Have you ever heard anyone say, 'I'd like a door that has the fine shine of plastic'?"
SLC: How can a new front door help enhance a home's curb appeal?
Because it's the one part of a home that every family member and visitor touches, the front door naturally draws our eyes. If it's ugly or bland, that's a big turn-off, whereas a beautiful door can create a strong sense of home on any type of house.
Research has shown that replacing the front door is one of the home improvements with the biggest pay-off. Even adding a fresh coat of paint, especially in a vibrant color, can quickly make a home more stylish and welcoming.
SLC: What are the hot trends in door designs this year? For the U.S. as a whole, and in the Upper Midwest?
Throughout much of the U.S., including the Midwest, contemporary and mid-century modern door styles are popular. Many homeowners, particularly those on the upper end, look for entry doors that are much more clean, simple and classy. Contemporary door styles have straight lines, flat panels and simple geometric shapes like squares, diamonds and rectangles."
SLC: Which wood species are most popular in Midwest homes?
Similar to many other parts of the country, Douglas fir is the most popular wood species for doors in the Midwest.  Fir has tight, vertical grain and warm coloring, which makes it well suited for both contemporary and traditional door designs. Other popular species are Western hemlock, sapele mahogany and knotty alder.
SLC: For people who like the look of wood doors, but live in tough climates like Chicago, what options are available to them?
Great question. Just because your climate has frequent rain or snow doesn't mean you have to settle for anything less than the beauty of a wood door. Two options are available for homes with tough exposures: wood doors with a protective overlay and doors specifically designed and engineered for such exposures.
At Simpson, we offer a protective overlay called WaterBarrier technology that can go on virtually any door. It uses a medium density overlay (MDO), which is a durable wood-based material commonly used in demanding outdoor applications, and can be painted. This overlay defends the exterior face of the door from moisture absorption, while retaining the beauty of wood inside the home.
Specialty performance wood doors, like the Simpson Nantucket Collection, go a step farther than clad doors by providing the look of wood outside the home, too. We build these doors out of wood species that naturally resist moisture, such as Douglas fir, sapele mahogany and Nootka cypress. We also use an advanced joinery technique that holds the door components tightly together through varying weather. Simpson backs its Nantucket Collection doors with a 10-year warranty, even if the home doesn't have a protective overhang.
SLC: What are some of the resources Simpson makes available to homeowners to help select a front door?
We think choosing doors should be informative, but also fun, so we've created a set of free and easy-to-use tools homeowners can find on the Simpson website, under the online photo gallery for design inspiration.
A big thanks to Brad Loveless from Simpson Door Company for chatting with us about front door trends!
As a side note I used Simpson's "Test Drive a Door" feature and it was fantastic. The online tool provides the opportunity to upload pictures of your own home and view different exterior and interior door styles to find the perfect match.
This is not a sponsored post. So Chic Life was provided a Simpson Door for the purposes of review.