This post is sponsored by Target.
Let's talk jeans ladies! How many pairs do you own and how many are you actually wearing?
After evaluating the current status of my closet, there is a pretty high stack of jeans dating back 10 years that I can't seem to part with. Ironically, I only wear about three to five pairs max.
Those that make the cut flatter my body type, are beyond comfortable and each time I put them on I know without a doubt they will fit. Isn't that what it's all about?
I've paid as much as $200 and as little as $20 and ya know what? At the end of the day price has never dictated how a pair of jeans will work for me. If the fit falls flat, what's the point?
Like most women, I heart jeans. But based on my body type it isn't easy finding a pair that I fall in love with. Hence the untouched mound sitting in the closet….
But when I do find the perfect pair of jeans, it's like winning the lottery.
When Target challenged me to spend 14 days trying out their denim, how could I resist? It's not my first experience wearing Target jeans so I was excited to see what was new.
Could these be the perfect pair of jeans??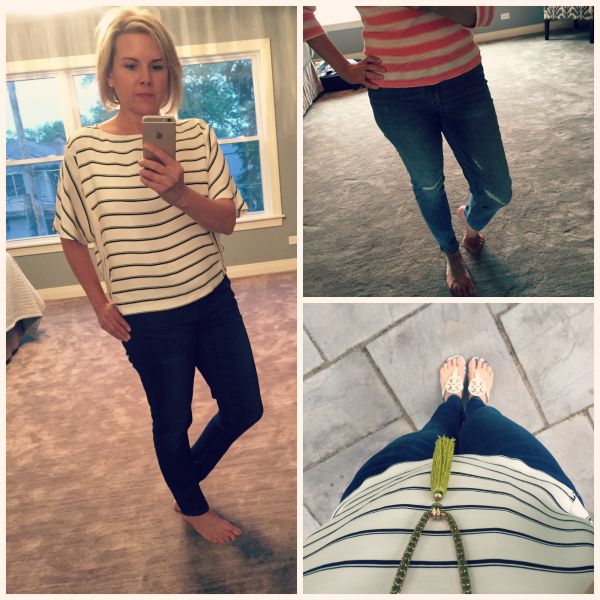 Denim Obsessed 
My current denim trend obsession? The darker the better and any style distressed. The more tears the better! Needless to say I was thrilled when my Target package arrived with both.
I wore Target dark wash skinny jeans for my recent gig as ChicagonistaLive co-host. Considering the fabulous Borris Powell was the featured guest, I wasn't sure if denim was dressy enough. But then I reminded myself that denim is ALWAYS appropriate when paired with the right pieces. And guess what – Borris was wearing jeans too!
To create a so chic look, I chose an off-white striped kimono top, long statement necklace with a pop of neon and nude patent wedges. Of course I had my hair blown out by Blowout Junkie for the finishing touch.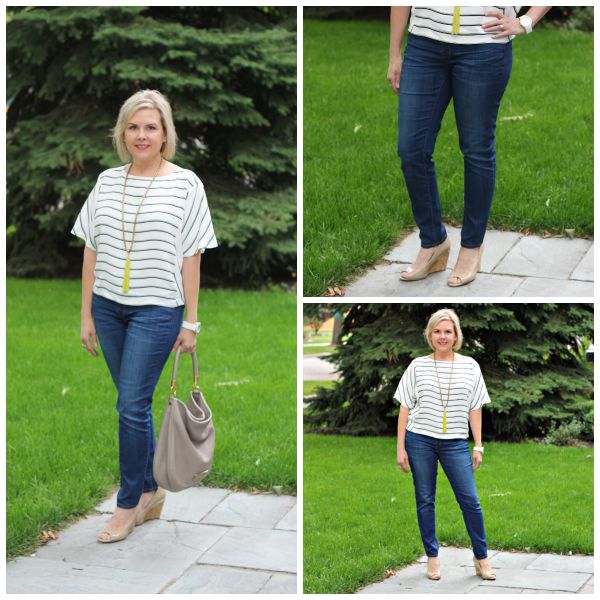 I'm a big fan of stretch denim and these have the perfect amount – giving in all the right places and is very flattering on us curvy girls. The shape stayed intact throughout the day, even after wearing for over eight hours. The length worked well with flats and wedges and the overall style was super flattering.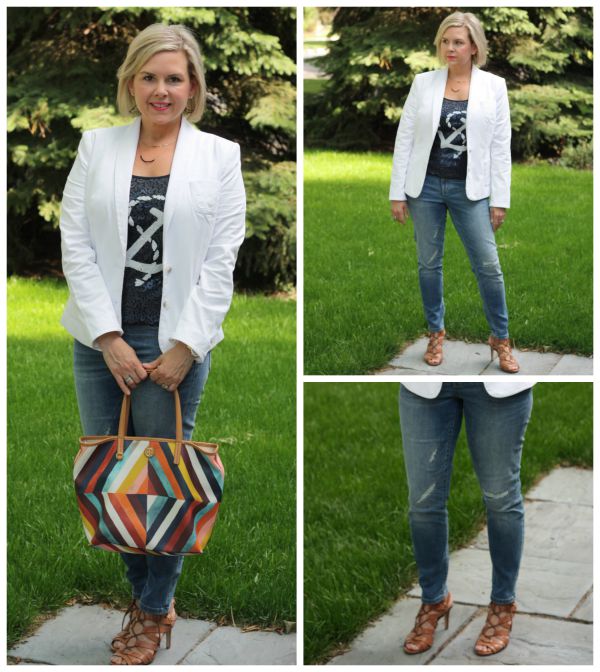 Next up were the most amazing distressed skinny jeans. Again, these jeans had the perfect amount of stretch and give too.  At the beginning of the day I threw this pair on while running around the house packing for vacation. Day turned into an evening and with no food in the fridge we decided to eat out.
The jeans stayed on but it was time to embellish. Keeping it casual but of course chic, I paired with a white blazer, sequined navy tank, lace up heels and my new favorite summer tote.
Target Jeans Rock 
I'm always nervous about reviewing clothing because I tend to fluctuate in sizes depending on the brand. I never know what to expect and if anything will look good on my body type. The Target jeans exceeded expectations.
Both pairs that I tested for 14 days fit just as well if not better than all the other jeans sitting in my closet. Whether I'm hanging at home or headed to a dinner or even hosting an event, I can honestly say my Target jeans will be in constant rotation.
Find Your Perfect Pair of Target Jeans
Now that you know all about Target jeans, I hope you'll give it a try too. You can find your perfect pair of jeans online at www.target.com/jeans. Another cool factor is starting July 26th, you can try on Target denim in the store to receive $10 off your purchase!
Find your style @Targetstyle.

This is a sponsored post by Target. All opinions are honest and 100% my own.