I'm truly obsessed with the farmhouse chic trend and incorporating the rustic charm of sliding barn doors into a home's design plan. What's not to love? It was this image that inspired me to swap a traditional door with a barn door for our guest bathroom.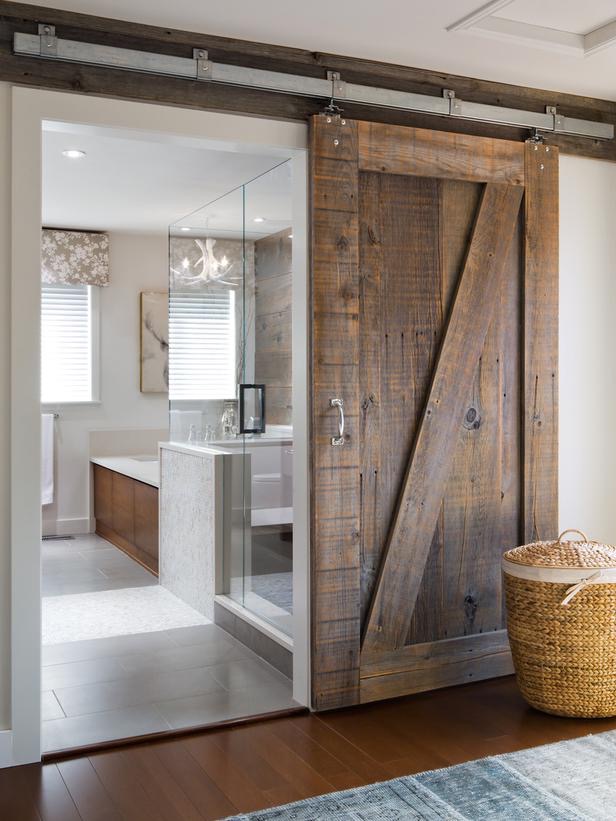 We're still working on decorating pretty much every room in the house and there are currently many blank walls surrounding me on a daily basis. However, the star of the second floor hallway is this beautiful custom door from Big Sky Barn Doors.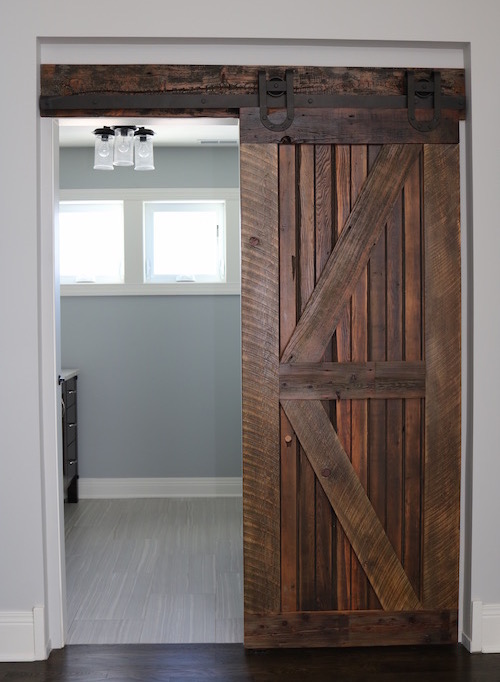 You may remember me mentioning in this post –Big Sky Barn Doors via Hoouz after searching for what seemed like a million hours for the perfect barn door.
Just like most products, all barn doors are not created equally. There are many companies using engineered wood and distressing to look like reclaimed wood or painting/staining in various colors. Heck you can even DIY a barn door purchasing lumber from your local Home Depot, but nothing compares or tells the same story like authentic wood from an old barn.
Located in the heart of the Gallatin Valley, Big Sky Barn Doors produces sliding barn doors handcrafted from reclaimed barn wood sourced throughout Montana. The doors only go into production once an order is placed and no two doors are alike.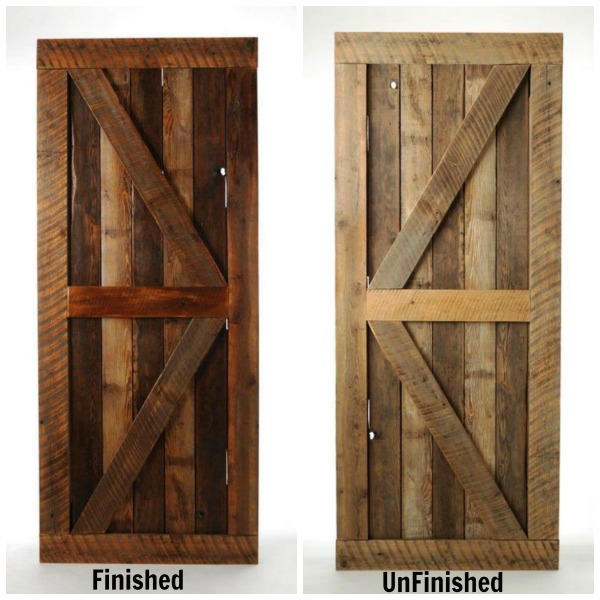 Due to the nature of the reclaimed material, colors vary slightly as well as the character of the wood. That's what makes these doors so unique! Some may have nail holes and knots, while others might be weathered and have varying grains. There is also the option to purchase a door finished or unfinished.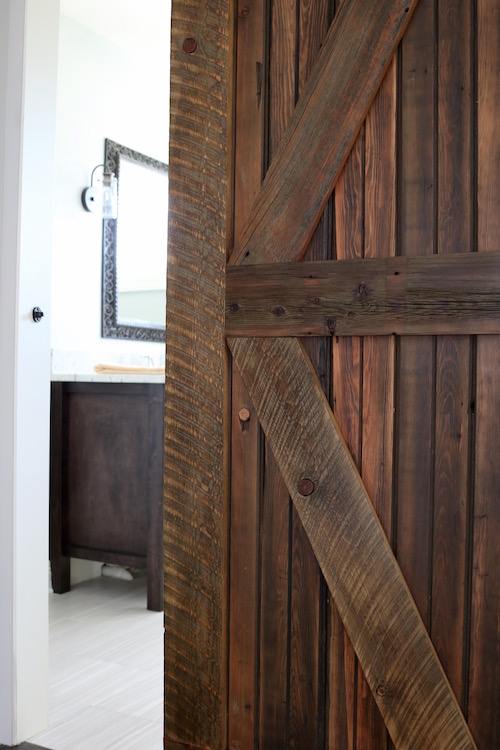 I opted for the Big Horn Door finished to coordinate with the bathroom cabinet, hardwood flooring and newel posts on the staircase. Big Sky Barn Doors worked closely with us to meet the specific measurements which were a little unusual (see below). The end result was beyond our expectations and it truly adds so much character to what would have been a boring white door at the end of a hallway.
Sliding Barn Doors 101
Before considering a sliding barn door for your home, it's important to know a few tips.
Where to install a barn door? We planned the location of our sliding barn door during the blueprint phase with our architect. Obviously there is a benefit determining the location before a home is built, but it is still very much attainable. The most important requirement for a functioning door is that you have at least 2x the width of the door in wall space where the door will slide open. 
Does the barn door need to provide privacy? Once a sliding barn door is affixed to a track there will be about a 1-2 inch gap between the wall and the door. This will be less or greater depending on if you use a header. Privacy issues can be resolved by using a door that is larger in width and height than the opening.
In our case we were using the barn door for a guest bathroom that would open to the hallway of the second floor. This definitely required privacy therefore our builder decided to build out an area where the door would be inset within the wall.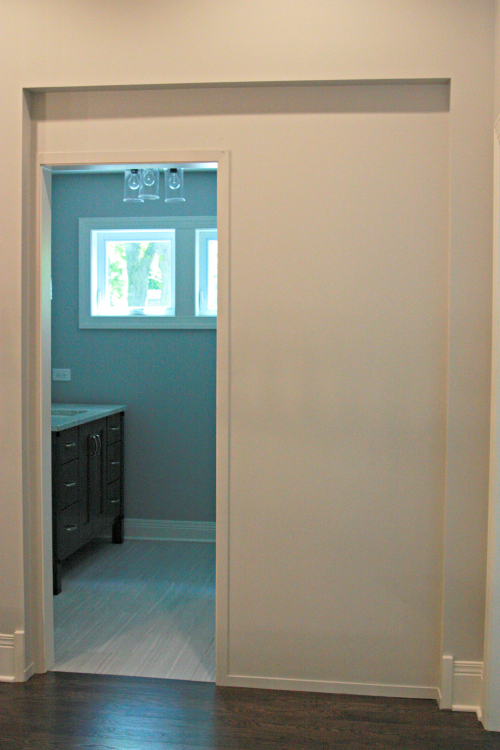 Based on the width of the wall where the door is located I really don't believe this was necessary. His intention was to provide maximum privacy for the bathroom and a stopping point for the door. Here's the thing…someone has to go out of their way to peek into that small opening AND the track is what provides the stopping point for the door. You have full control over this during the install. And by the way, there is still a gap between the wall and door. I'm not sure that is preventable if you are using a header.
My biggest issue with the door being inside a framed area is that we were a little off in the measurement of the door height. If you notice in this photo, there is a significant gap between the dry wall and top of the header. In person it's not noticeable because we painted the entire wall the same color, but if I had to to it all over again I would have made the barn door taller so the header could be flushed to the very top of the drywall.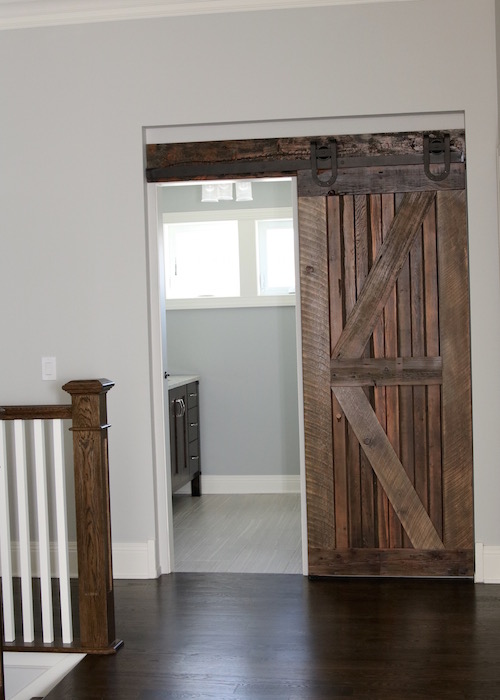 Just something to consider and why it would have been much easier if the wall was flushed. But in the big scheme of things that is such a minor issue that it really doesn't have any affect on the end result.
I love everything about our barn door and can't believe this is in our home.
Who will install the barn door? Big Sky Barn Doors assured me that we could install the door ourselves, however it did require trimming the bottom slightly to accommodate the bottom track on the floor. Not that my husband couldn't have pulled it off, but at this point we didn't own a saw and that is a necessity.
Knowing how to find studs and using a drill is key. When all else fails and you're not that confident, hire a handy man or trim carpenter. The door and beam arrive in a secure crate like this and Big Sky Barn Doors provides free shipping on all doors via Fed Ex Freight. Fed Ex delivered to our garage door that I had left open.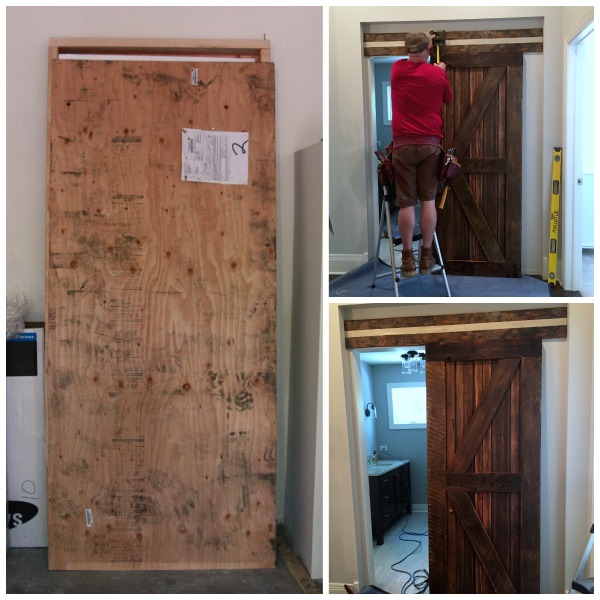 Supplies for a Sliding Barn Door
Sliding door hardware can be a little pricey and is not included with you door purchase. Big Sky recommended a company called Horseshoe Barn Door Hardware with pre-drilled holes in the track.
There's an option to purchase without pre-drilled holes but that is only if you are mounting the track into wall studs. The track holes need to be drilled wherever the studs are located. Our builder installed a beam inside the dry wall so we didn't need to worry about the studs during installation.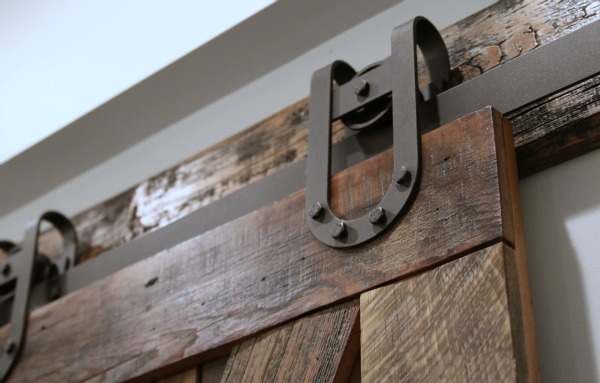 (NOTE: this company also sells barn doors but made from Engineered Alder not from reclaimed barn wood). 
We opted to forgo a handle on the outside of the door but used a decorative hook and eye latch that could secure the door from the inside the bathroom. It's easy enough to grab the door and pull it closed and then secure with the hook from inside the bathroom.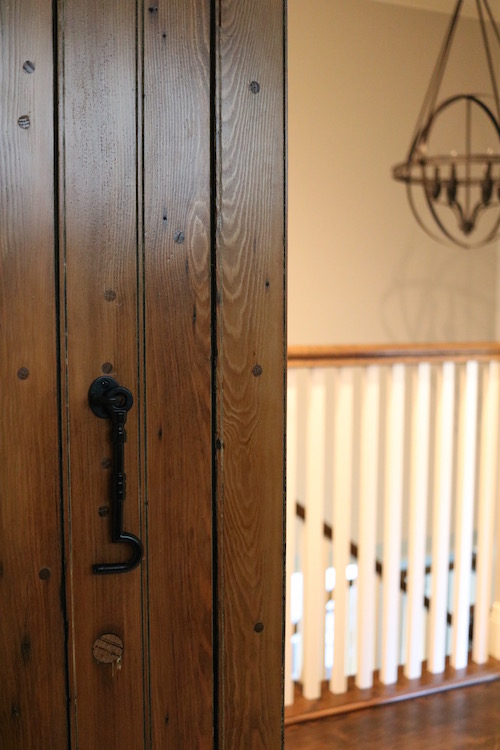 At first we thought it wouldn't be necessary, however after a few instances when the girls opened the door on our guests, it became obvious that we needed to provide additional security.
I love the look of this black iron hook we found at Home Depot and it was only $6. Very inexpensive but it adds to the farmhouse chic design.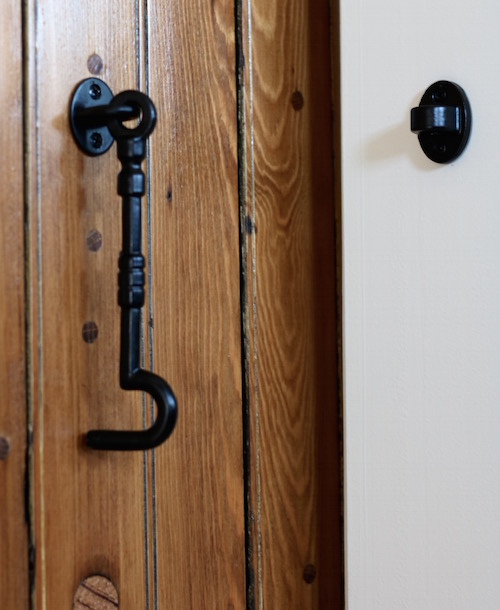 We could not be happier with our sliding barn door and the quality is outstanding. The nail holes and knots add so much character. It's definitely a show stopper as you walk up the stairs.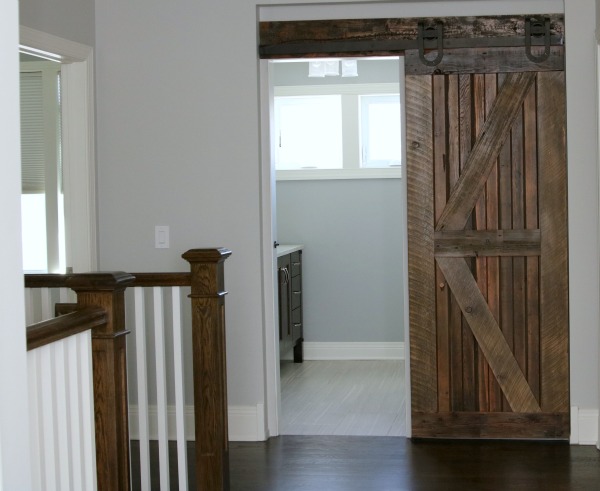 If you're considering adding a sliding barn door to your home, I highly recommend contacting online shop here. Be sure to tell them I sent you!
Would love to know what you think about sliding barn doors and the farmhouse chic design trend.
[disclaim]So Chic Life was provided product for the purposes of this review. All our opinions are 100% our own.[/disclaim]