Now that we've been in the new home a few months, slowly unpacking boxes and acclimating to having more space, it's become profoundly obvious we're in desperate need of furniture. Most of the items from our city condo are either outdated, the wrong color or not to scale. The space where we spend most of our time has a loooong way to go but I wanted to share what we've done so far with our family room design and give ya a little sneak peek.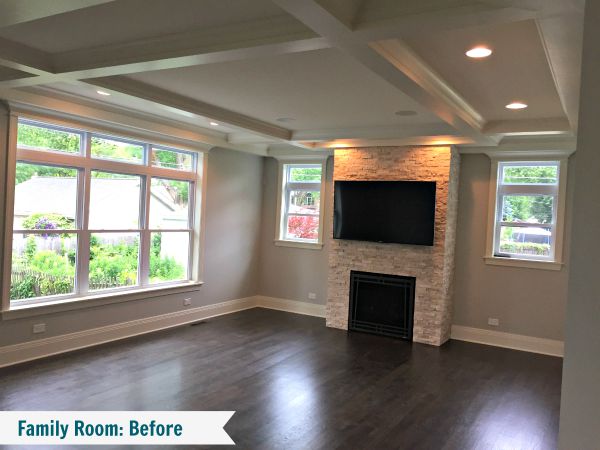 Furniture selection isn't easy and let's face it, furniture is expensive so you want to be sure you're making the right decisions. While surviving with a few remaining pieces from the condo, the first necessary purchase was a sofa. Our interior designer provided a space plan for the family room which helped tremendously. You can see the full plan here.
We liked the idea of having a sectional based on the scale of our family room and fell in love with the Arhaus Flanders. We were able to choose from hundreds of custom fabrics and the charge is an additional $100. That's extremely affordable compared to other retailers.
One purchase down, many more to go.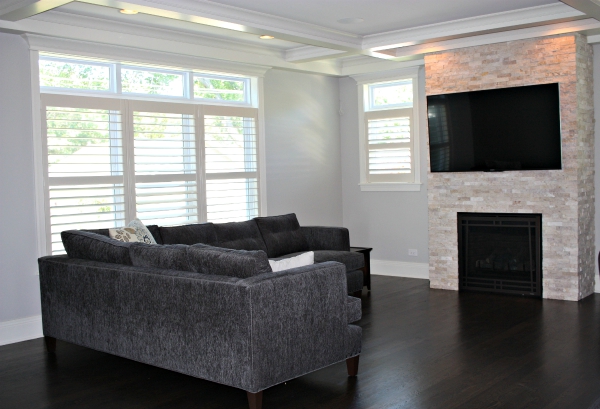 As you can see the Flander's sectional fits perfectly but there's a ton of open unoccupied space and we need to bring in some color!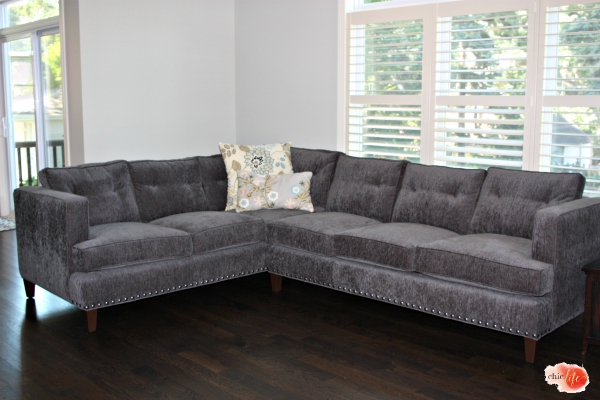 Don't be alarmed by the throw pillows. These were just temporary to see what other accent colors will work in the room. The fabric is the perfect blue gray and I really love the gunmetal nailheads across the bottom perimeter.
Adding Accent Colors
Adding access colors is all about trial and error. I was on a mission to find a color that would pop against blue gray. Something like teal blue and chartreuse. The most cost effective way to experiment with adding accent colors is using pillows. Easy to transport and if your selection doesn't work out, that's an easy return.
After searching online countless hours and hitting store after store, I stumbled into Pier 1 last week and their staff did an amazing job helping me find the perfect style and all the colors I was hoping for.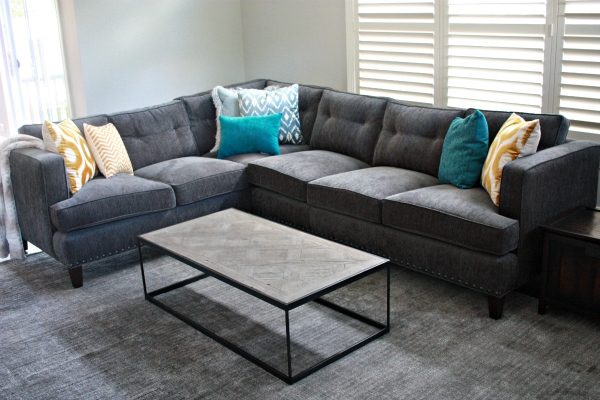 PIER 1 PILLOWS 
Confetti Fringe Pillows – Gray and Blue
Next we added the Restoration Hardware Parquet Coffee Table (on SALE NOW!!). This table deserves its own post because it is beautiful online and in person but sadly too small for our family room. Restoration Hardware customer service is incredible and we had no problem returning it and receiving a refund. I was so heartbroken because the style and reclaimed wood were what I really wanted. The rug color didn't exactly help either.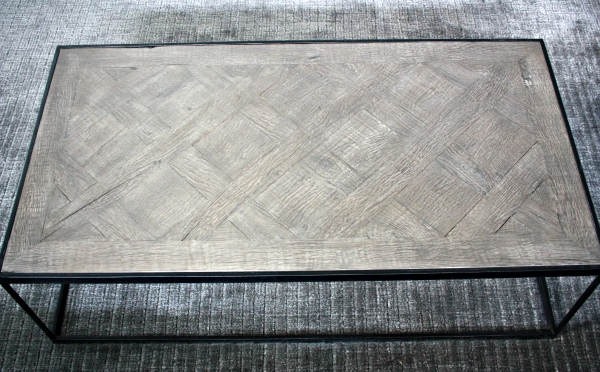 The most challenging purchase so far has been the rug. We decided to go neutral on the floor and pull in pattern with the pillows and future art work. My interior designer gave me several samples and I immediately fell in love with silvery viscose and wool blends. The viscose gives a sheen and it's extremely cozy. I became obsessed with finding something that worked with our budget because this blend is crazy expensive. As in over $3,000 for a 9 x 12. Ouch.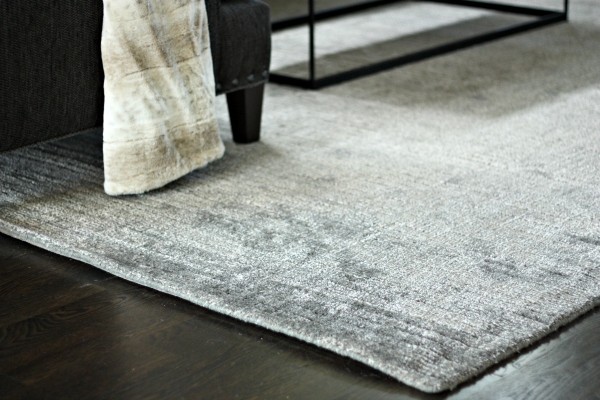 It's seems ridiculous to spend that much on a family room rug where the kids will be hanging out, we'll be entertaining and wine consumption will be involved. Another issue with viscose – cleaning isn't as easy as 100% wool. Severe stains require professional cleaning.
After searching and searching and searching for weeks, I finally found the perfect rug from Pottery Barn similar to the custom samples – 75% Viscose and 25% wool. I couldn't believe it! The Elina Rug from Pottery Barn arrived last week and we love it.
What do you think of our family room so far?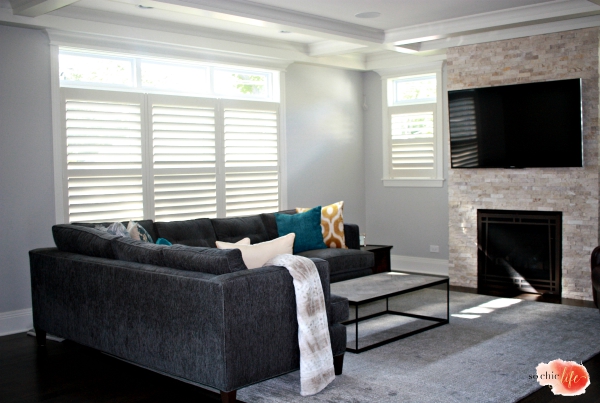 Shop the Look: