Baked Pumpkin Ziti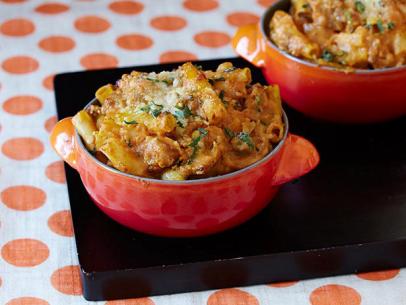 1 pound sweet Italian turkey sausage removed from casings
¾ cup chopped onion
3 cloves garlic grated**
½ teaspoon red pepper flakes**
1.5 cans (15 oz) pumpkin puree** (It is really dry with only 1 can)
1 cup chicken stock
3-4 teaspoons chopped fresh sage leaves** (I increased this from the original)
2 teaspoons salt
few dashes of fresh grated nutmeg
⅓ cup coconut milk or 2% milk**
1 pound ziti or penne pasta, cooked
1 cup freshly grated Parmesan
3 tablespoons butter
3 tablespoons flour
3 cups milk
(1) 15 oz can pumpkin puree (not pumpkin pie filling)
Few dashes of fresh grated nutmeg
Preheat oven to 375 degrees F.
Cook sausage (remove from casings) in a large, deep skillet over medium heat until fat is rendered about 8 minutes. Remove from skillet with a slotted spoon, drain on paper towels and set aside.
Add onion, grated garlic, crushed red pepper flakes to oil remaining in the skillet and cook, stirring occasionally until soft; about 3 minutes. Stir in pumpkin puree, chicken stock and sage. Mix together and add salt. Bring to a boil then lower the heat and simmer 5 minutes. Stir in milk and sprinkle with nutmeg. Simmer until the sauce comes together and is thickened slightly.
Add cooked pasta to a large lasagna pan, stir in pumpkin mixture from skillet and coat pasta well. (Pasta will look dry). Set to the side.
Melt butter over med-high heat in a medium size saute pan. Whisk in flour and cook for 1 minute. Whisk the milk into a roux, breaking up any clumps. Bring mixture to a bubble and add pumpkin puree and nutmeg. Season with salt, reduce heat and simmer for 2-3 minutes until slightly thickened.
Pour béchamel sauce over pasta and coat well. Sprinkle with Parmesan cheese and bake for 35 minutes until the topping is golden brown.