Chicken & Sausage Gumbo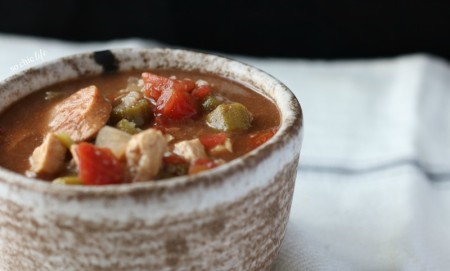 4 Chicken Breasts (shredded and cooked)
1 bag frozen cut okra
1 large onion
8 oz Kielbasa Polish Sausage (chopped in small cubes)
1 package Ham Steak (chopped in small cubes, remove bone)
28 oz diced tomatoes
½ cup flour
4 tbsp Gumbo File Powder
Old Bay Seasoning(to taste)
White Rice
French Bread
Prepare chicken and homemade broth. While broth is cooking, sauté onion with small amount of butter or bacon fat in larger Dutch oven.
While onions are sautéing, fry sausage and ham in cast iron skillet. Once ham and sausage are cooked (I like mine to be golden brown), add to gumbo pot. Turn off burner but leave skillet on stove to make roux.
Once chicken has cooked, take out of oven, remove chicken and drain broth into gumbo pot using a strainer. Reserve 1 cup of broth to the side. Add salt, fresh bay leaves, diced tomatoes and entire bag of okra to gumbo pot.
Shred chicken breast, add to gumbo pot.
Brown flour in skillet. DO NOT BURN!! If you do not have enough grease, add 1 tbsp of butter first, then flour. Pour in reserved broth, stir until smooth. Keep adding liquid until roux is a smooth consistency. Not too thin but not too think.
Add 2 tbsp of file powder to roux mixture. Add roux to gumbo pot. Simmer 2-3 hours or longer.
After 1 hour, add remaining 2 tbsp of file powder and Old Bay seasoning to taste (do not go overboard ).
Serve over rice with warm French bread. Bon Appétit!