Paleo Gumbo and Cauliflower Rice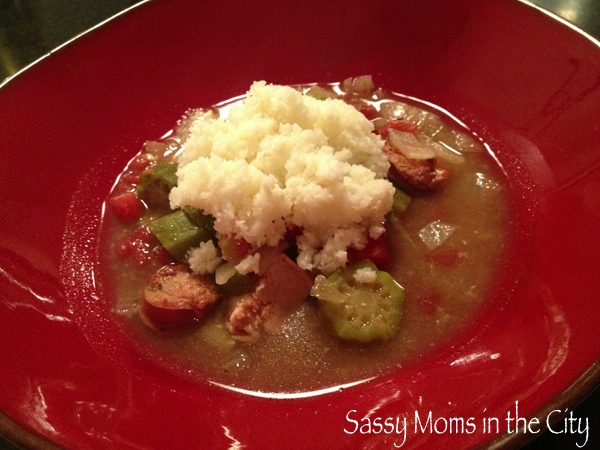 4 Organic Chicken Breasts (shredded and cooked)
Homemade Chicken Broth
¼ cup bacon grease
3 Bay Leaves
3 cloves garlic- minced
1 bag frozen cut okra
1 large yellow onion diced
8 oz Kielbasa Polish Sausage or Organic Nitrate Free Chicken/Turkey Sausage (sliced in diagonal pieces)
28 oz diced tomatoes
3 tbsp Almond Flour
3 tbsp Coconut Flour
4 tbsp Gumbo File Powder, 1 lb. – Bulk
Old Bay Seasoning (to taste)
Cauliflower Rice
Prepare chicken breast by roasting in broth or shred a rotisserie chicken.
Brown sliced sausage in cast iron skillet, remove from pan and set to the side.
Create roux by heating bacon grease in cast iron skillet and whisk in coconut/almond flour. Stir continuously until roux has a dark brown color like dark peanut butter).
Add diced onions and minced garlic until onions are translucent and soft.
Transfer roux and onion mixture to a dutch oven, adding chicken, broth, okra, sausage, diced tomatoes, old bay and bay leaves.
Bring to a boil and simmer. Remove from heat and add file powder. Serve with cauliflower rice or solo.
Recipe by
So Chic Life
at https://www.sochiclife.com/paleo-gumbo/