Baked Apple Stuffed Acorn Squash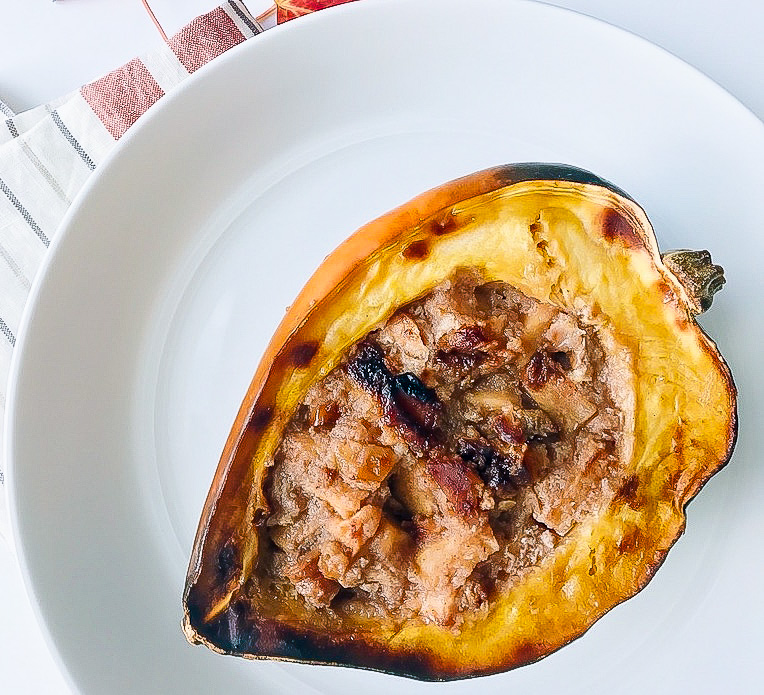 Preheat oven to 400 degrees F
Cut squash in half and remove seeds.
Cut tiny sliver of back of squash so it will sit flat in pan without rocking.
Place both halves inside up in glass baking dish.
Peel, core and dice apples in ½ inch cubes, place in medium bowl.
Add walnuts, applesauce, Erythritol, cinnamon, nutmeg and mix.
Divide mixture evenly between two acorn squash halves.
Cut butter into 2 pieces and press each piece into the center of filled squash.
Pour water into bottom of baking dish about one third of the way up.
Cover baking dish with foil and baked for 40 minutes.
Uncover dish and bake for 10-15 mins more until top is brown.
Remove from oven and enjoy!
This dish can easily be doubled to serve 4.
3.5.3229
Recipe by
So Chic Life
at https://www.sochiclife.com/baked-apple-stuffed-acorn-squash/