Spaghetti Squash Carbonara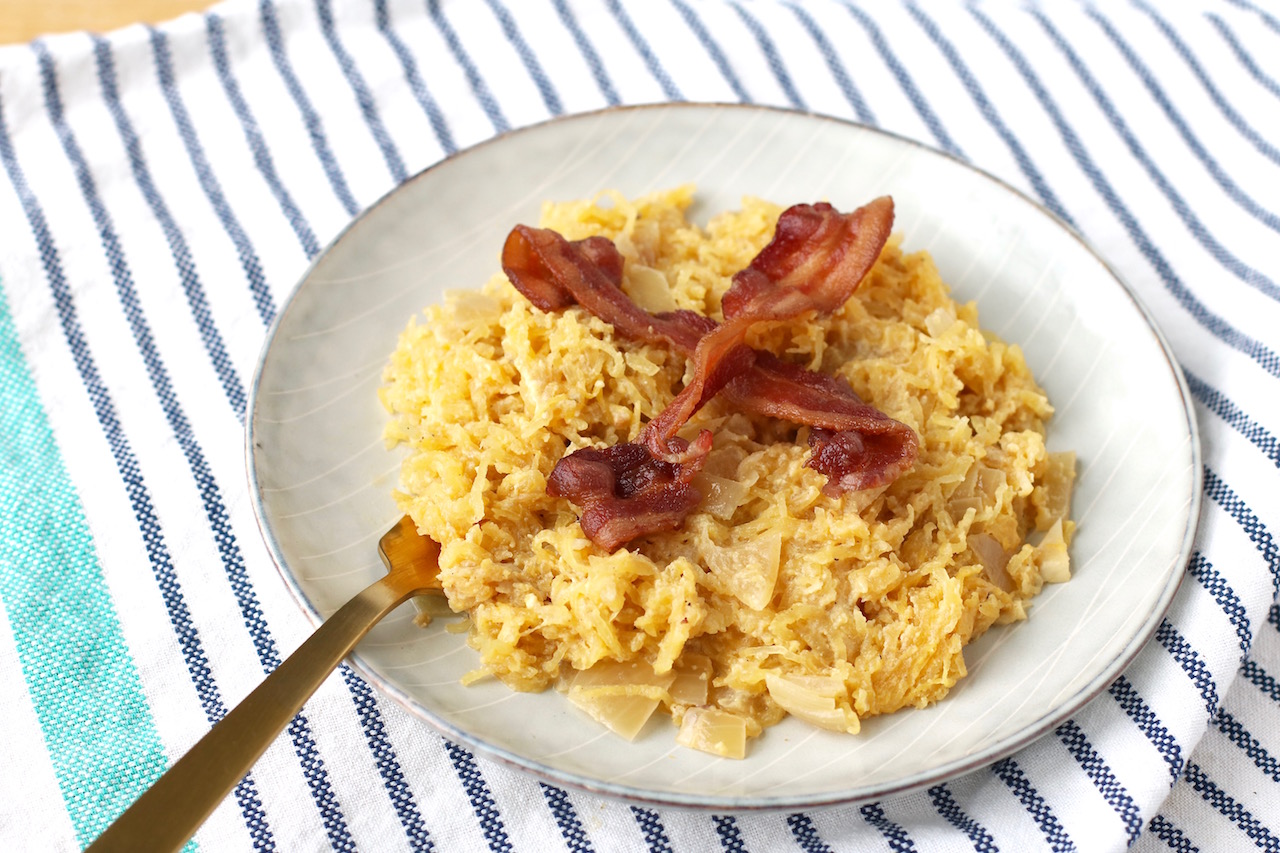 1 medium spaghetti squash, cut in half lengthwise, seeds removed
1 larger delicata squash, cut in half lengthwise, seeds removed (optional)
2 eggs whisked
4-6 slices nitrate free bacon
¼ - ½ large onion (or a whole small onion), diced very small
3 cloves garlic, minced
¾ c dry white wine (or chicken stock)
juice of ½ lemon
pinch of red pepper flakes (optional)
parsley, for garnish
½ -1 lb chicken tenders (optional)
¼ cup canned coconut milk (more if needed)
1 cup pecorino romano, shredded (optional)
salt and pepper, to taste
Preheat oven 435 degrees
Cut spaghetti squash in half, scoop out the seeds and excess threads
Place squash open side down on lined baking sheet using parchment paper, cook for 20-25 minutes.
While squash is cooking, fry bacon in large cast iron skillet until crispy.
If adding chicken, this can be done in the oven at the same time as the squash! Place chicken on parchment paper lined baking sheet, drizzle with a little olive oil, salt and pepper, bake 15-20 minutes.
Reserve a few tablespoons of bacon fat in skillet. Add onion and garlic, cooking over medium until soft.
Pour in wine (or chicken broth) and bring to a simmer, cook until liquid reduces by half (about 20 minutes).
Add lemon juice, stirring until combined well.
Once squash is done cooking, remove from oven and scrape flesh into the skillet, mixing with the liquid.
Add eggs and stir well. Allow eggs to cook for a few minutes on low then add coconut milk and cheese.
Add additional seasonings, mix thoroughly and turn stove to simmer for about 5 more minutes.
Dice cooked chicken and add to spaghetti squash if desired.
Serve your plate. Add bacon.
Enjoy!
Recipe by
So Chic Life
at https://www.sochiclife.com/spaghetti-squash-carbonara/