Oatmeal Banana Smoothie Bowl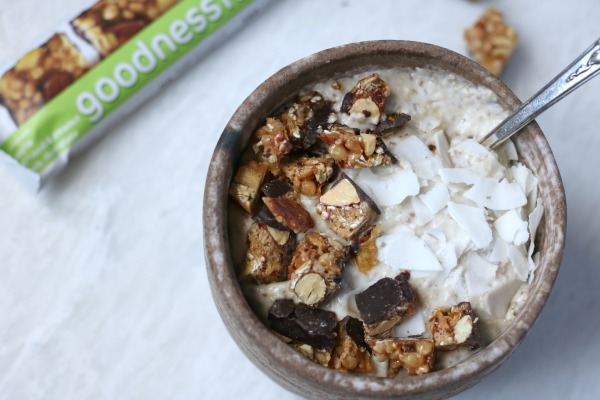 Mix together in a small bowl the oats, ½ cup coconut milk, chia seeds, vanilla and salt. Cover and place in the fridge for for at least 30 minutes or overnight. Overnight helps all the flavors soak in.
The next morning add oat mixture to a blender or food processor along with the remaining ½ cup milk and banana (or applesauce). Blend until smooth and creamy.
Pour creamy oats into a bowl, top with goodness bar crumbles, coconut and banana. Enjoy!
Soaking overnight is a bonus but not necessary. I prepared both ways and didn't really notice a big difference in flavor or consistency.

I used full fat coconut milk to soak but found that a thinner milk is better for blending and creating the smoothie.

The consistency once blended is still pretty thick, just smoother almost like yogurt.

I used a Vita-Mix and food processor and prefer the food processor as it was easier to pour all the smoothie out.
Recipe by
So Chic Life
at https://www.sochiclife.com/oatmeal-banana-smoothie-bowl/