Gluten-Free Zucchini Breakfast Muffins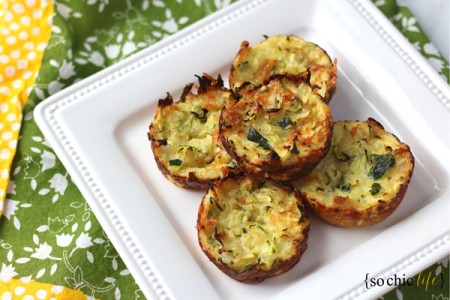 2 cups grated zucchini (1 large or 2 small)
1 small shallot, minced
½ cup grated parmesan
3 eggs
1 tsp garlic powder
salt & pepper
Preheat oven to 400
Grate the zucchini and squeeze out as much water as you can. The more water removed the crisper the muffins will become. Use paper towels to press the zucchini and absorb the water.
Add all ingredients into a large bowl and stir well.
Spray a muffin pan lightly with olive oil.
Fill each muffin tin almost to the top with the mixture.
Bake for 15-20 mins or until the tops have turned golden brown.
Recipe by
So Chic Life
at https://www.sochiclife.com/gluten-free-zucchini-breakfast-muffins/