Crumb-Topped Brussel Sprouts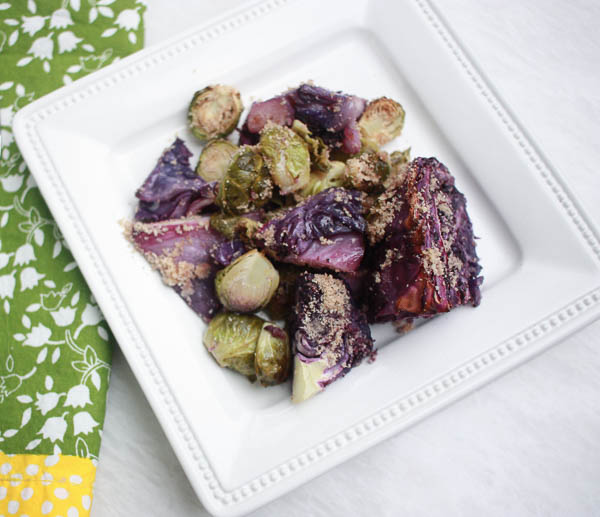 2 -3 tablespoons coconut oil or bacon fat, melted
1 small head of red or green cabbage, sliced into 1 inch thick wedges
2 dozen Brussels Sprouts, trimmed and cut in half lengthwise
½ teaspoon sea salt
½ teaspoon black pepper
For the Topping
¼ cup ground almond meal (this is my favorite brand)
¼ teaspoon onion powder
¼ teaspoon granulated garlic powder
¼ teaspoon ground cinnamon
½ teaspoon sea salt
½ teaspoon black pepper
Preheat oven to 375
Pour thin layer of oil in the bottom of a 9 inch rectangular or square baking dish, reserving the rest.
Arrange cabbage and Brussels sprouts in the dish, sprinkle on the salt and pepper,then pour the remaining melted fat or oil over the top of the vegetables.
In a small bowl combine the topping ingredients and set aside.
Bake the vegetables for 30 minutes, then remove from oven and sprinkle the topping evenly over the veggies.
Bake for an additional 10 minutes or until lightly browned and the vegetables are tender.
Recipe by
So Chic Life
at https://www.sochiclife.com/crumb-topped-brussels-sprouts/