Easy Tomato Soup | Gluten-Free | Dairy Free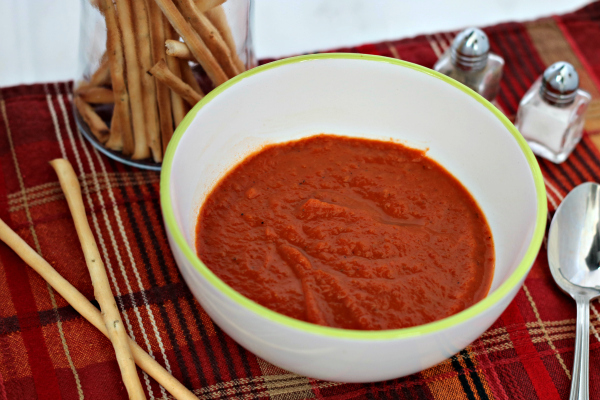 In a large pot or Dutch oven, heat the olive oil over medium heat.
Add the onions and cook over medium-low heat for 15 minutes, stirring occasionally, until soft.
Add the garlic and cook for 1 more minute.
Stir in the stock, tomatoes, saffron, 1 tablespoon salt and 1 teaspoon pepper.
Bring the soup to a boil, then lower the heat and simmer for 15 minutes.
Using an immersion blender, puree the soup until smooth. You can also use a regular blender too and return back to pot. This is an important step to ensure the soup is smooth and creamy. It should not be chunky.
Add coconut milk, return the soup to a simmer and cook for 10 more minutes, stirring frequently. Don't be afraid to use coconut milk. I promise it will not taste like coconut!!
While soup is simmering, fill a medium pot with water, add 2 teaspoons salt and bring to a boil. Add orzo and cook al dente 7-9 minutes. Drain the orzo.
WARMING TIP: Fill orzo pot will small amount of water, place orzo in glass bowl and bowl into pot, back on stovetop. I left partially covered with a lid and on simmer during the party. Adding a little bit of olive oil will help the orzo not stick as much.
*Serve hot with orzo and parmesan cheese.
Recipe by
So Chic Life
at https://www.sochiclife.com/easy-tomato-soup-dairy-free/