Easy Chicken Soup Gluten Free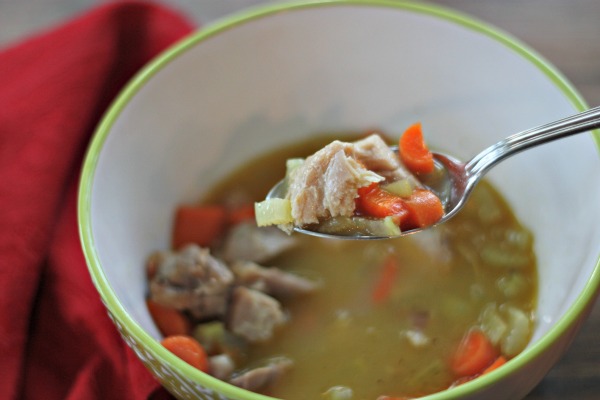 1 pound boneless, skinless chicken thighs
sea salt and black pepper
2 tablespoons cooking fat (I use bacon grease)
1 small onion, diced (3/4 cup)
2 large celery stalks, diced (3/4 cup)
1 extra-large or 2 medium carrots, diced (3/4 cup)
4 cups Bone Broth or Chicken Stock
Option: 2 tablespoons chopped fresh dill, plus more for garnish
Preheat Oven to 350 F
Season chicken thighs liberally with salt and pepper. Place on a rimmed backing sheet and bake for 30-35 minutes or until internal temperature is 165 F.
When chicken is done, chop into small chunks.
In a large pot over medium heat, melt cooking fat.
Add onions, celery, carrots, salt and pepper. Saute for 5-8 minutes or until vegetables are fork tender and onions are translucent.
Add bone broth or chicken stock and chunks of chicken to the large pot and simmer for 10 minutes to combine the flavors.
Option: Stir in the dill just before serving. I left this ingredient out.
Another option in place of baked chicken thighs -use leftover rotisserie chicken or leftover Thanksgiving turkey.
Recipe by
So Chic Life
at https://www.sochiclife.com/easy-chicken-soup-gluten-free/