In my daily effort to resolve a diagnosed hormone imbalance, I couldn't resist watching The Dr. Oz Show recently about resetting your hormones to beat belly fat. Considering the inability to lose weight is an ongoing issue, I set the DVR in anticipation that my problems would soon be resolved.
Dr. Natasha Turner, Naturopathic doctor and author of The Supercharged Hormone Diet, The Hormone Diet, and The Carb Sensitivity Program, explained how many of us have difficulty losing weight specifically around the waist, which is a key indicator of hormone imbalance. As in my case, extra belly fat can indicate that you may have high estrogen, low testosterone, low DHEA (a hormone of the adrenal glands), high insulin and/or high cortisol.
Having done a great deal of research on food as it relates to hormones, I wasn't surprised by the foods and lifestyle changes that were recommended. Dr. Natasha Turner wrote a great article that provides tips for resetting your hormones to beat belly fat.
In addition to adding certain foods, Dr. Oz created a 3 day detox cleanse that will eliminate harmful toxins, restore your system, and reset your body. It looked pretty simple so I decided to give it a go.
Although this was on a whim, I had many of the items on the shopping list so I knew the smoothies wouldn't be that difficult. The challenge would be going without solid foods for 3 days! Could I really do it?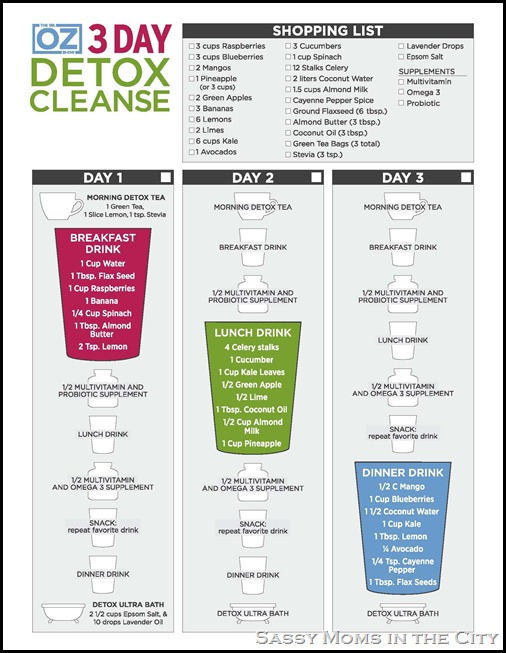 Download Dr. Oz's on-sheet 3 Day Detox Cleanse Here
Dr. Oz 3 Day Cleanse Shopping Tips to Set Yourself Up for Success:
Surprisingly shopping for this cleanse was really easy. 
1.Buy everything organic (produce, almond milk, coconut oil, spices, etc).  You'll spend more than the projected $16 but considering this is a cleanse it makes more sense.
2. Frozen fruit with no additional sugar is acceptable. I was able to find organic raspberries, blueberries, pineapples and mangos at my local Whole Foods.
3. To save time purchase pre-cut pineapple and mango if not available frozen.
4. Include travel cup for on-the-go to your shopping list.
5. Consider learning more about the Paleo regimen which incorporates coconut oil, almond butter, almond milk and flaxseeds in most recipes. Another plan I've done and really like is the 21 Day Sugar Detox.
Testing Paleo or 21 Day Sugar Detox is another great way to introduce hormone balancing meals back into your diet post cleanse. There are tons of resources online that offer recipes, shopping lists, guidelines and more. I was shocked to find so many amazing Paleo blogs.
My favorite Paleo websites:
Paleo Plan
I Breathe, I'm Hungry
Everyday Paleo
Elana's Pantry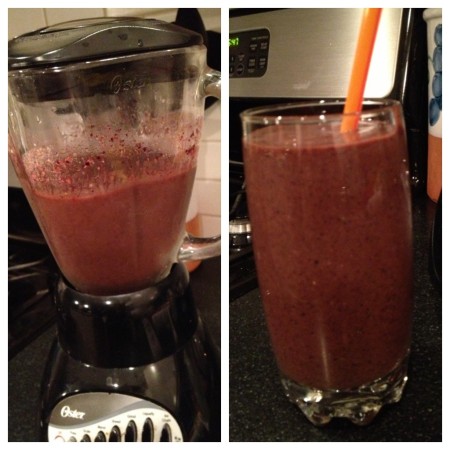 Dinner Drink: Makes almost a full pitcher.
How did the first day go?
Until tomorrow….
You can learn more about my Dr Oz 3 Day Detox Cleanse experience: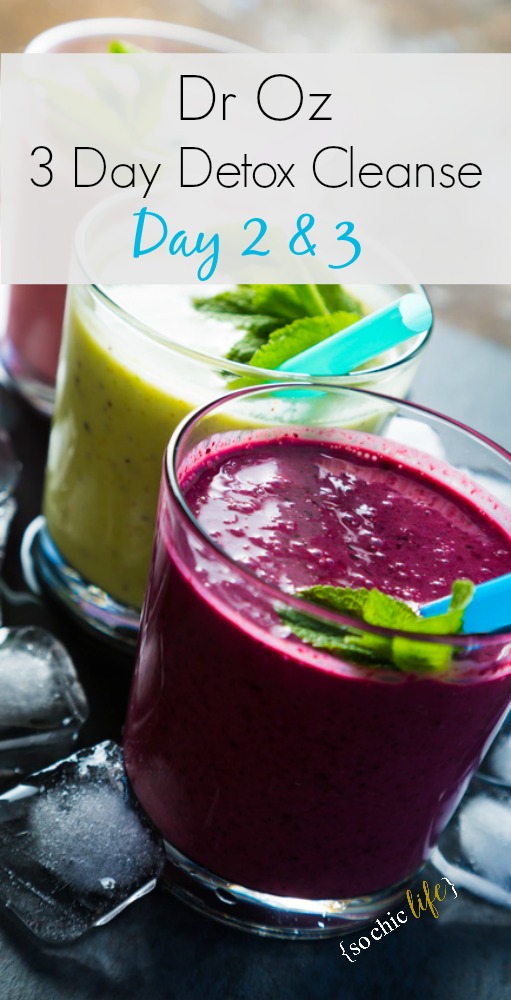 Dr Oz 3 Day Detox Cleanse Day 2 & 3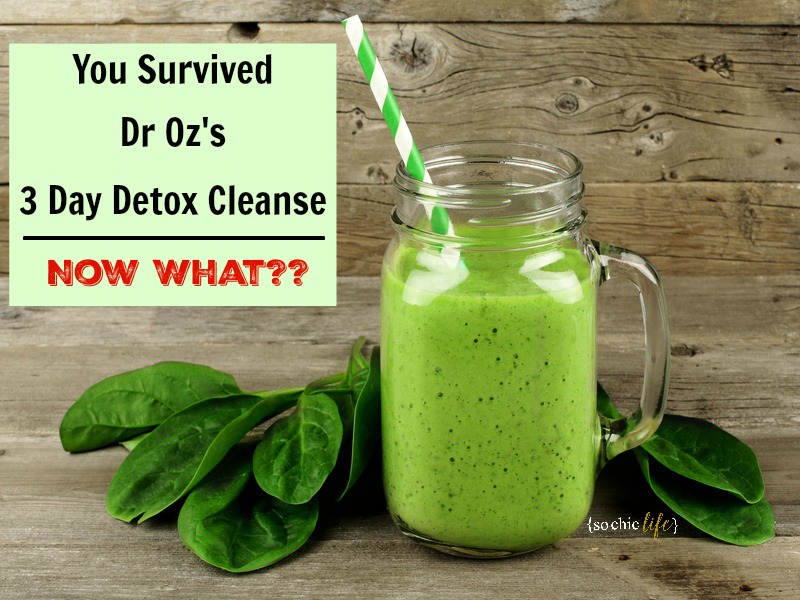 You Survived Dr Oz's 3 Day Cleanse Now What
Efficiency is key when going through a detox cleanse. I found these products super helpful.
Shop the Post