With Valentine's Day just around the corner wouldn't it be nice to add a little subtle sex appeal to your date night outfit?  2015 was the year of the naked dress. For us mere mortals, this isn't a look that can be pulled off in our everyday life- we probably wouldn't be allowed into our date night venue. There are ways to be attractive and sexy without venturing into tasteless territory. Here are a few date night outfit inspiration ideas that can help elevate your look from so-so to sultry and stunning!
The Slip Dress
Celebrities such as Kate Moss and Amber Heard count the slip dress as a staple in their date night wardrobe. The style has been on trend since the 90s, made especially popular by Courtney Love. This slip-inspired silky stunner provides a simple backdrop for a relaxed yet alluring look. An unadorned pair of pumps or one toe strap high heeled sandals are the perfect accent to keep the focus on the dress. As for jewelry, you can layer a few of your favorite chains to create a delicate statement, or add a little drama with shoulder-grazing drop earrings. My slip dresses have all come from thrift stores, but I can never find one if I am on the hunt so I rounded up a few I am currently coveting.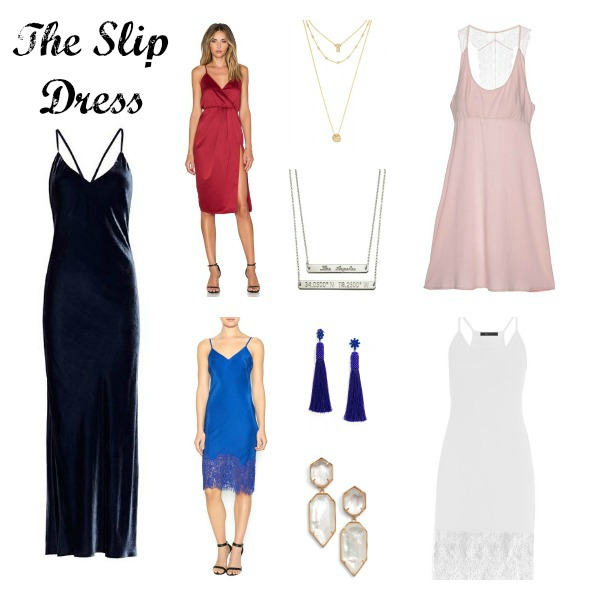 Long Velvet Dress: BCBGMAXAZRIA
The Peek-a-boo 
Lingerie is generally meant to be hidden under clothing, but letting a little lace show can create an added layer to your look. There are numerous bras that are designed to show- from decorative straps to lace panels to fancy fringe, these pieces are meant to be seen on date night! Since cleavage can be too obvious, one of my favorite ways to let a little lingerie (and skin) show is to wear a lace-backed bra under a scoop back top. I found the perfect Cosabella cropped lace cami at Chantilly Lace in my home town of Wilmette; if you aren't in the area, you can snag it online. Also, The Bra Lab makes interchangeable sets of bra straps and bands that you can customize.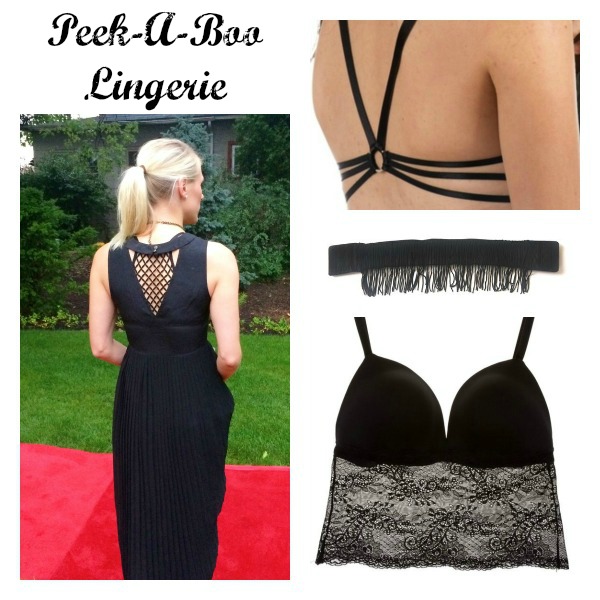 Net Back Bra: The Bra Lab |
Lace Cropped Cami: Neiman Marcus
The Cut Out
This year at the Golden Globes, cutouts at the waist popped up on red carpet stars such as Jennifer Lawrence and Brie Larson. Although this style skews a little more towards the younger crowd, it can be wearable for all ages if the cutouts are strategically placed. If you are shy about showing your midsection on date night, cutouts around the neck or on the back can be just as sexy. Keep the shoes simple with such an intricate design- nude toe strap or stilettos make a great complement! The dress I am wearing in the photo below (left) is from Akira- it was around $100 and I accessorized it with a gold metal skinny belt and geometric accessories.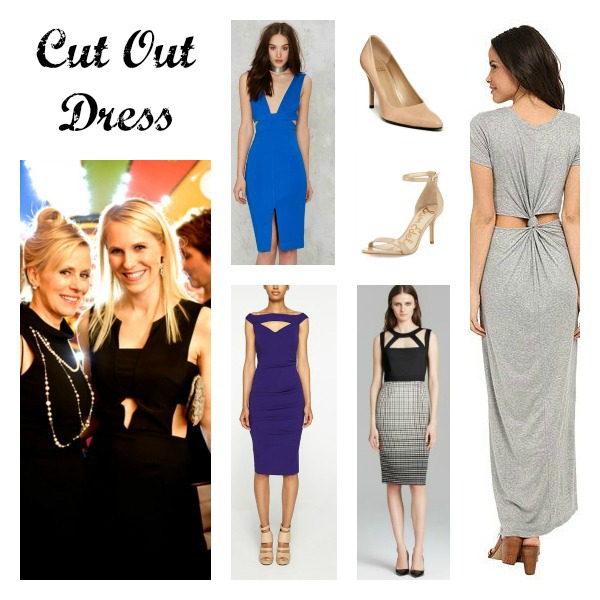 Blue Dress: Zappos
Take a little risk and add some subtle sex appeal into your date night wardrobe- it will definitely pay off!
Linking up with Fashion Friday via JolynneShane.com.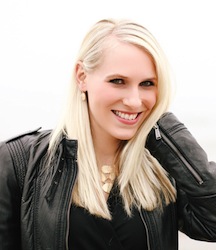 Cheryl Leahy is the author of the blog ChicagonistaLIVE! show.