Last week I was invited to Walgreens by Crest and Oral-B in honor of Women's Health Month to chat with Dr. Travis Stork. You know – the adorable host of the Emmy® award- winning talk show, The Doctors? Did you know he was also The Bachelor – a little factoid that came to my attention during the event.
Crest and Oral -B teamed up with Dr. Stork to help raise awareness regarding the impact oral health has on our overall health. Did you know 1 in 2 American adults has gingivitis, and many don't even know it? 70% of pregnant women will develop gingivitis. YIKES!
The new Crest Pro-Health line provides advanced protection against plaque that can cause gingivitis and can also help prevent and reverse gingivitis. Crest Pro-Health toothpaste is the first toothpaste that protects against all these areas dentist check most: plaque, cavities, gingivitis, sensitivity, tartar, stains, and fresh breath.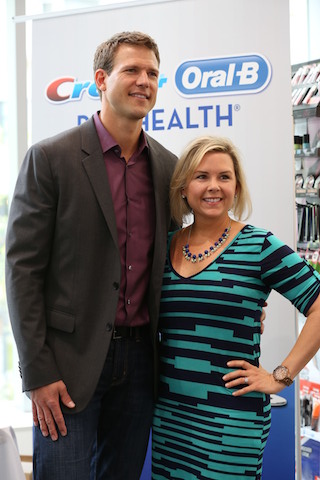 The Crest Pro-Health collection includes:
Crest Pro-Health Clinical Gum Protection Toothpaste
Crest Pro-Health Clinical Plaque Control Toothpaste
Crest Pro-Health Invigorating Clean Multi-Protection rinse
Crest Pro-Health Clinical Rinse
Oral-B Pro-Health Clinical Pro-Flex Toothbrush
Oral-B All-in-One Tooth Brush
Oral-B Glide Pro-Health Clinical Protection Floss
It's always a fun time running into these girls too!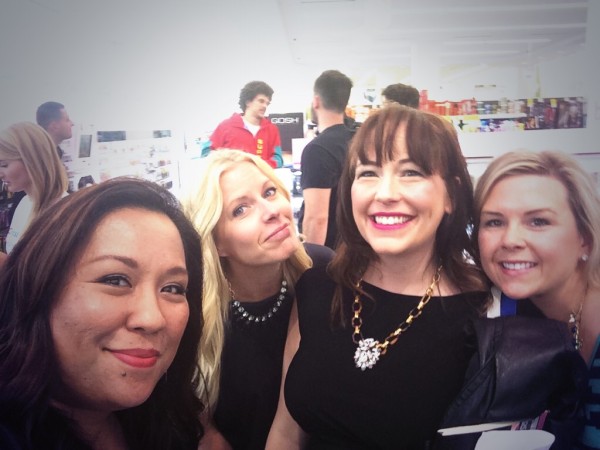 I sat down with Dr. Stork for a few questions…..
SMITC: As a board-certified emergency medicine physician what made you decide to partner with Crest and Oral B? 
DR. Stork: A lot of people come to the ER and it's too late and they feel powerless. All the small the decisions people make throughout the day dictate if they end of with illnesses. You can't prevent everything, accidents do happen, however there are a lot of things you can prevent and gum disease is one of these things. 1 in 2 adults in this country have gum disease. Recent studies have shown there is an association with poor oral health and heart disease.
Oral inflammation can lead to body inflammation so this connection is becoming more apparent. 2/3 of all diabetics have gum disease. 70% of pregnant women will develop gingivitis.
SMITC: (These stastics threw me for a loop). Is this on the rise in general? That seems high especially when many people have access to dental treatment?
Dr. Stork: A study just came out that over 2/3 thirds of Americans admitted to not going to the dentist in the past year. But I think back to myself and I didn't go to the dentist during medial school because at the time there was no evidence of this connection. And I didn't have money or the time.
But realizing now that investing in good oral care routine and the reason I partnered with Crest and Oral -B the Pro Health line is specifically designed to address and reverse gingivitis. Yes, it's also about preventing teeth stains and cavities and having fresh breath, but specifically designed to combat plague the bacteria that causes gingivitis, that can lead to periodontitis, that can lead to tooth lose. 
As a doctor, I'm trying to get people to think about your mouth as the gateway to your body. 
SMITC: When it comes to expectant moms what do they need to know about healthy gums? What should moms be aware of? 
Dr Stork: Every year we are learning more and more about what oral health aand how it affects overall health. When I went to medical school overall health was separate, we didn't discuss this. We're learning more about the associations between oral health, inflammation and hear disease, diabetes. The good news is it doesn't have to be that way. 
Partnership with Crest and Oral B was designed to let women and men (especially pregnant) know if you commit to a good oral health routine brushing twice a day for two minutes and flossing one a day, along with twice a day using an anti- gingivitis rinse you are going to go a long way and potentially not become part of that 70%. My biggest point (even for myself) is I have control over this so I'm going to commit to it. 
It's simple and easy to do, but it's a big deal. It's hard to get people to realize that this is a big deal. All these little decisions add up to have we live and whether we end up in the ER and stay away from me. 
SMITC: I'm lucky and never had a cavity. Are cavities always preventible or do some people just have bad teeth or good teeth? 
DR. STORK: Yes, some people are prone to poor dental health and that's why they need to be more vigilent. It could just be how much saliva you have. People who don't produce much saliva, bacteria will build up. Good for you – I'm jealous! 
For more information about Gingivitis provided by Crest Pro-Health visit http://www.crestprohealth.com/crest-products/clinical-gum-protection-regimen.aspx##1.
Walgreens is running 2 Crest Pro-Health specials to coincide with Women's Health Month:

Buy 2 Crest Pro Health products (base paste, brush, rinse, and floss) for $8, PLUS receive $5 in Walgreens Register Rewards (good on next purchase). That's like paying $3 for 2 Crest Pro Health items. This offer is valid from 5/11 -5/17.
Crest Pro Health (paste, brush, rinse and floss) is on Sale for $2.99 each PLUS when you buy 2 you get 1 free. This offer is valid from 5/18-5/24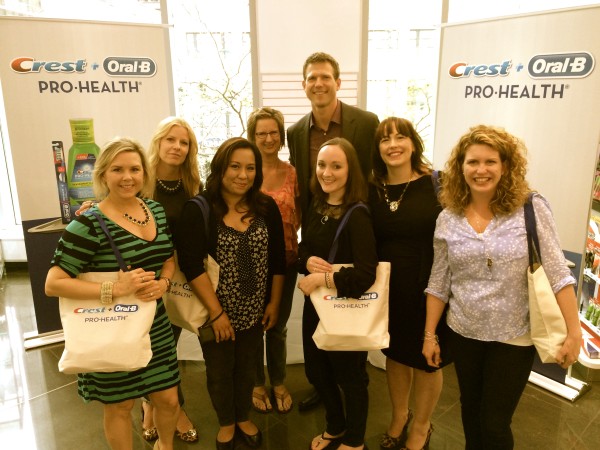 Disclosure: This post is a sponsored post written in partnership with One2One Network and Crest Pro-Health.