Chicken and sausage gumbo is one of my favorite family recipes with several versions from my grandmother, aunt and mother being passed around. Growing up, either chicken and sausage gumbo or seafood gumbo were always on the menu Christmas Eve along with fried Gulf shrimp and fresh French bread. Depending on who was hosting or agreed to prepare would usually determine what recipe was served.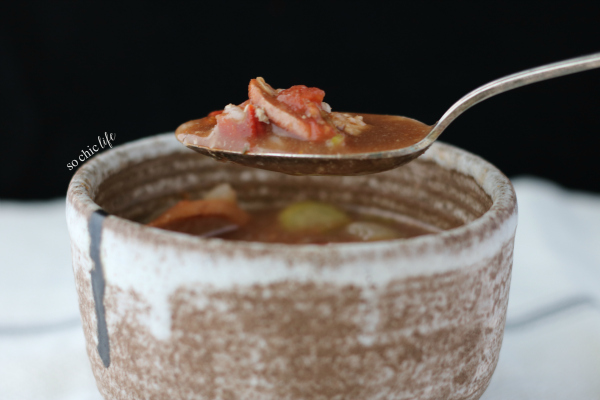 My maternal grandparents lived in Biloxi, Mississippi and our family spent a great deal of time visiting nearby New Orleans. I still crave New Orleans style gumbo and that's the main food (aside from beignets and oysters) that I will always consume during every visit.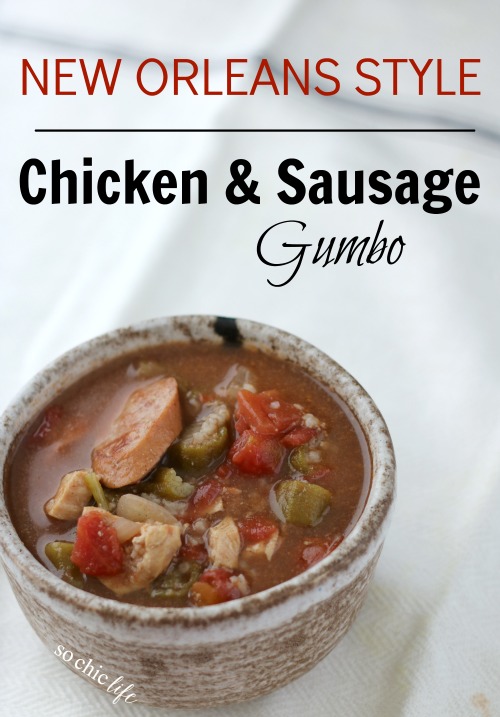 One could debate what comprises an authentic gumbo recipe, but over the years I've created my own version using ingredients from my aunt's recipe (ham, okra, file powder, sausage) then adding diced tomatoes. Years ago I swear I ate gumbo at a restaurant in Jackson Square that had tomatoes, but no one believes me.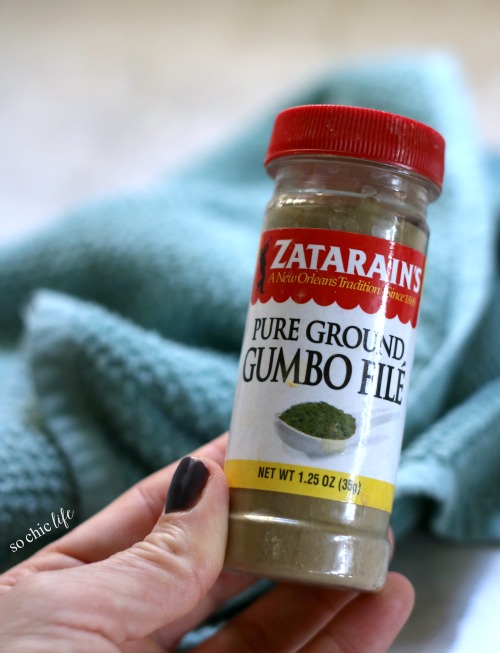 The trick to preparing "authentic" roux (French base made of flour and fat) and file powder (dried and ground sassafras leaves). There are occasions when I've skipped the roux but never the file powder. There's something distinct about this spice that really makes gumbo taste like gumbo.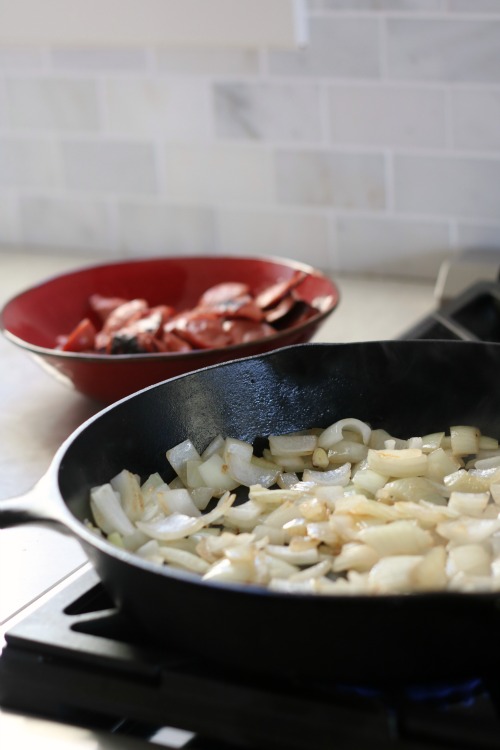 The biggest time saver is to use one pot but I really prefer the sausage and ham have a little texture from browning in a cast iron skillet. This time around I sautéed the meats first then set to the side, browned the onions and transferred both to the pot of stock with the chicken, bay leaves, okra, tomatoes and roux.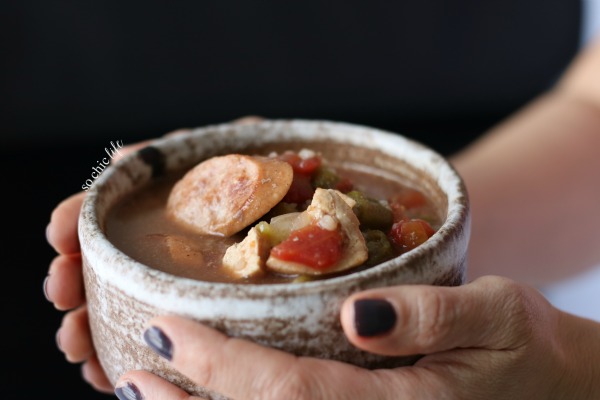 Chicken & Sausage Gumbo
Ingredients
4 Chicken Breasts (shredded and cooked)
1 bag frozen cut okra
1 large onion
8 oz Kielbasa Polish Sausage (chopped in small cubes)
1 package Ham Steak (chopped in small cubes, remove bone)
28 oz diced tomatoes
½ cup flour
4 tbsp Gumbo File Powder
Old Bay Seasoning(to taste)
White Rice
French Bread
Instructions
Prepare chicken and homemade broth. While broth is cooking, sauté onion with small amount of butter or bacon fat in larger Dutch oven.
While onions are sautéing, fry sausage and ham in cast iron skillet. Once ham and sausage are cooked (I like mine to be golden brown), add to gumbo pot. Turn off burner but leave skillet on stove to make roux.
Once chicken has cooked, take out of oven, remove chicken and drain broth into gumbo pot using a strainer. Reserve 1 cup of broth to the side. Add salt, fresh bay leaves, diced tomatoes and entire bag of okra to gumbo pot.
Shred chicken breast, add to gumbo pot.
Brown flour in skillet. DO NOT BURN!! If you do not have enough grease, add 1 tbsp of butter first, then flour. Pour in reserved broth, stir until smooth. Keep adding liquid until roux is a smooth consistency. Not too thin but not too think.
Add 2 tbsp of file powder to roux mixture. Add roux to gumbo pot. Simmer 2-3 hours or longer.
After 1 hour, add remaining 2 tbsp of file powder and Old Bay seasoning to taste (do not go overboard ).
Serve over rice with warm French bread. Bon Appétit!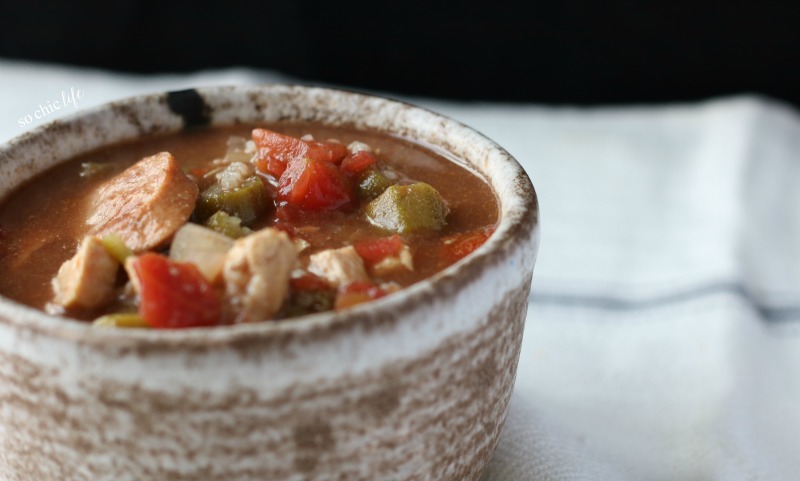 Have you tried making Chicken and Sausage Gumbo?