It's finally warm enough to bring out the bikes in Chicago! The clouds have parted and the sun is showing her face. Now let's just hope it lasts. We're rolling into the last week of school and the girls have committed to getting back on the bike everyday.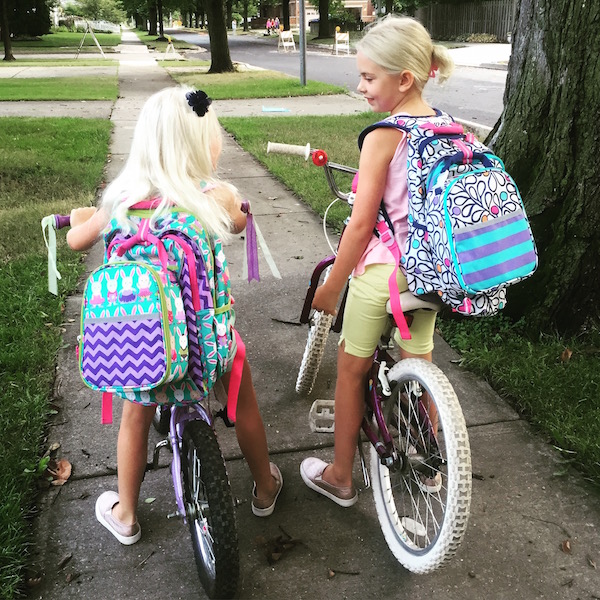 Our school does a great job of encouraging the kids to walk or bike by giving out collectable charms throughout the year. Now that we live in a low traffic area (compared to when we lived in the city) and a few blocks from a bike path, biking has become one our favorite activities. It's a fun way to explore our neighborhood and town as a family.
When was the last time you rode a bike? It's true what they say – you really never forget and how can you – it's way too much fun. May is actually National Bike to Work month and I'm partnering with goodnessknows —convenient on-the-go snack squares—to encourage everyone across the country to participate in their local Bike to Work activities.
goodnessknows has offered 10 great tips for getting back on the bike that I'm excited to share with you.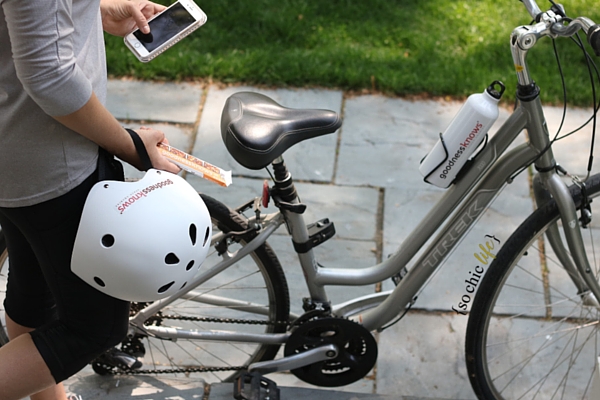 Protect Your Head
It's so important to wear a helmut no matter how far you may be biking -it's your most valuable asset!
Is Your Bike Ready?
Before hitting the road conduct a quick "ABC Check". (Air) be sure tires have enough air and inflated to the correct PSI. PUBLIC Bikes recommends 80psi. (Brakes) check your brakes to ensure they are functioning properly. (Chain) your chain should look like two parallel lines from above and always free of dirt. We do our own ABC check or a local bike shop can do this for you too. Never hurts to have an annual tune up!
Stay Visible and Alert
Always keep an eye out for obstacles, pedestrians, cars and other bikers. Use hand signals to let other drivers and bikers know what direction you are headed.
Pick The Right Accessories
With so many accessory choices, pick bike gear that keeps your ride safe and enjoyable like a water bottle holder, basket or headlight if you bike through dark city streets.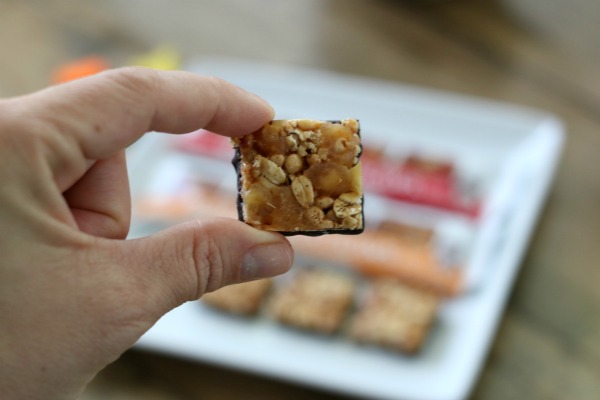 Pack Snacks
Staying fueled up is so important especially on long rides. I rarely leave home without a full water bottle and a healthy snack. Carolyn Brown, MS RD, recommends portable snacks with key nutrients that can easily be eaten in just a few bites. She says that goodnessknows snack squares are the perfect bike friendly snack as they offer the right mix of protein and fats.
Act Like A Car
The more predictable you ride, the safer you will be. Always travel with the flow of traffic—it's the law—and NEVER weave in and out of cars. Stop at stop signs and traffic lights and yield to oncoming traffic. You'd be amazed how many bikers in Chicago blow through lights and stop signs. Even if you have the right of way, if you get hit no one wins.
Try New Routes
This is the best advantage to riding a bike instead of driving! The opportunity to explore new routes allows you to feel more connected to any city you're riding in. Find roads with minimal traffic, those that offer bike lanes or find bike paths.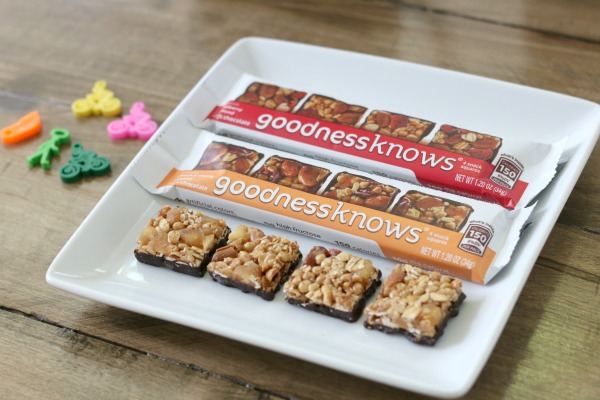 Always Carry A Cell Phone
It's so important to always carry a charged cell phone. You never know if there will be a flat tire or other mechanical issues.
Do A Weekend Dry Run
Before biking to work it's safer to try out your route on a dry run first. Ride at an easy pace so you know exactly how long it takes you to get there. Nothing worse than being rushed or feeling uneasy about a bike route when there's a specific time of arrival.
Wear Comfortable Clothing
Of course you want to be comfortable while riding. Pay attention to wearing comfortable shoes and tuck in those pant legs and secure a skirt with a rubber band to prevent being caught in your bike chain. When all else fails athleisure wear comes in handy!
Even though my office is at home, I'm using every opportunity possible to ride instead of drive. I hope you'll join me!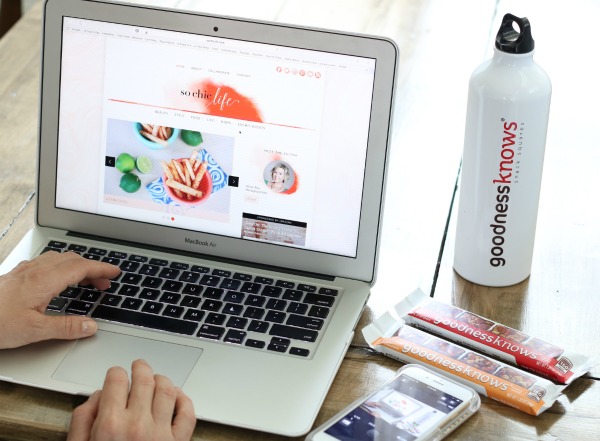 Why I'm Loving goodnessknows!
These convenient and delicious snack squares combine the goodness of whole nuts, real fruit like cranberries and tart cherries, toasted oats and dark chocolate with no artificial colors, flavors or sweeteners. Each bar is 150 calories divided into four perfectly portioned squares (each two-bite square is about 40 calories), containing 100 mg of naturally occurring cocoa flavanols. I love that this gives me an easy way to control portions.
goodnessknows giveaway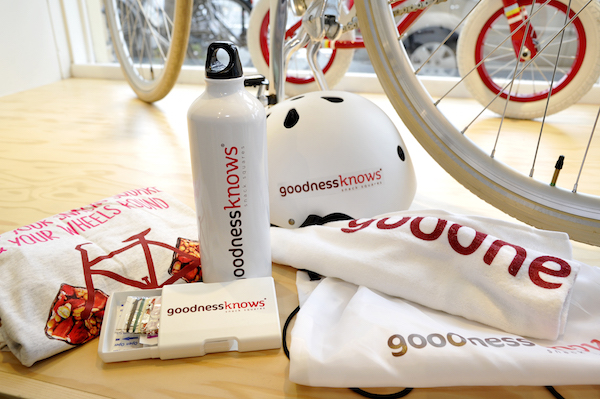 I'm giving one lucky reader a goodnessknows "Gear Up and Go" pack that includes a t-shirt, workout towel, mini first aid kit, carrying bag, water bottle and (1) full box of goodnessknows snack bars. I know you'll love these bars so much, we're throwing in a $25 Target Gift Card to purchase more on your own.
Enter here for a chance to win!
Tell me about your bike plans this summer.
This is a sponsored conversation written by me on behalf of goodnessknows. The opinions and text are all mine.