Happy Super Bowl Sunday friends! While you're busy noshing on party food, I'm contiplating how to move forward after a successful week implementing the Beauty Detox menu.
Wow! I hate to jinx myself on this new plan but I've noticed significant changes.
I haven't missed meat. At all. Weird because I've studied nutrition for over 20 years and nothing has ever made me consider eliminating from my diet. Over the past eleven days, I've eaten salmon twice and hormone free ground turkey once.
I'm rarely hungry and get full quickly. This is unusual as sometimes a few hours after dinner of meat and veggies (no grains), I feel hungry and would need a snack before bed.
Cravings for club soda have completely dimenished. I only allow myself one Le Croix per day as a treat. Normally around 4:00 pm I had to have one and would gulp it down in minutes. I'ver never consumed sodas, not even diet, however club soda was an alternative beverage when I grew tired of plain ole water.
I'm consuming a TON of water. As an experiment I've been drinking from a 20 ounce water bottle and go through 3-4 per day possibly more. Normally I can barely make it through two per day before the cravings for club soda would kick in.
I have a lot more energy and stopped taking naps in the afternoon. Now remember that insomnia keeps me up really late so by 5:00 pm I was taking a 30 min power nap. Not anymore!
My bloating belly is FINALLY reducing. This is where I don't want to jinx myself. This could a result of incorporating three things per The Beauty Detox Book: 1) a probiotic twice a day 2) digestive enzyme before lunch and dinner and 3) 1/2 cup fermented food before dinner.
What does this mean for the weekly meal plans? I've decided to keep going which means rather than focusing on Paleo, you'll be seeing more vegetarian and raw recipes. But don't assume I'm going Vegetarian. There'll be no faux meat, pasta or heavy grains.
I'll be incorporating an array of plant based foods on most days. Occasionally you'll see things like Game Day Chili, Gluten-Free Lasagna, Gumbo – all include meat.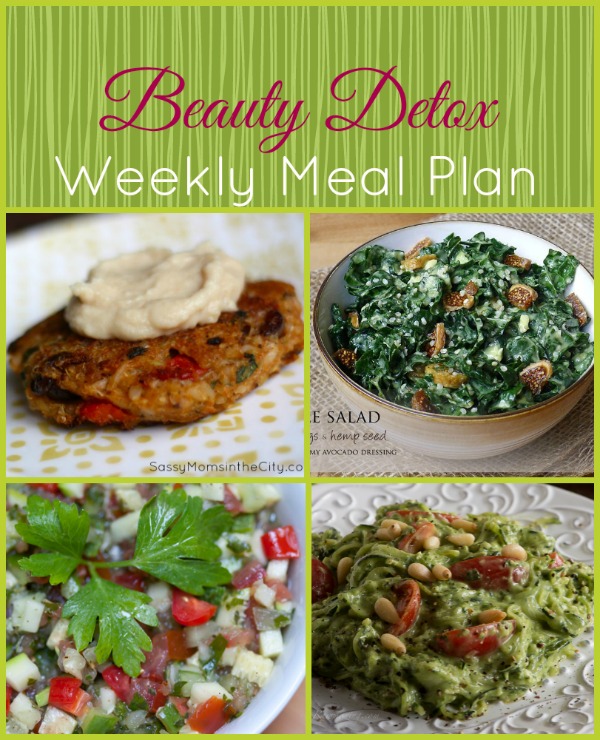 weekly meal plan – february 2nd  
Sunday: Game Day Chili
Monday: leftover Chili + Green Salad
Tuesday:  Touchdown Burgers with Parsnip Puree 
Wednesday:  Raw Avocado Kale Pesto with Zucchini Noodles +  Raw Vegan Caesar Salad (The Beauty Detox)
Thursday: Quinoa, Butternut Squash, Avocado and Microgreen Timable Stacks (The Beauty Detox) + Steamed Broccoli
Friday: Mediterranean Feast (Baked Falafel, Israeli Chopped Salad Recipe, Lentil Soup) For more ideas, see all my meal planning and recipe posts or follow my Paleo and Eat Raw boards on Pinterest.
 http://pureandsimple.typepad.com/myblog/