Never fails, fall and winter rolls around and winter squash is on heavy rotation. Butternut squash, Delicata squash, spaghetti squash and acorn squash are my favs and pair perfectly with all the fall spices -cinnamon, nutmeg, cloves, allspice and ginger.
Ya'll this Baked Apple Stuffed Acorn Squash is gonna rock your world!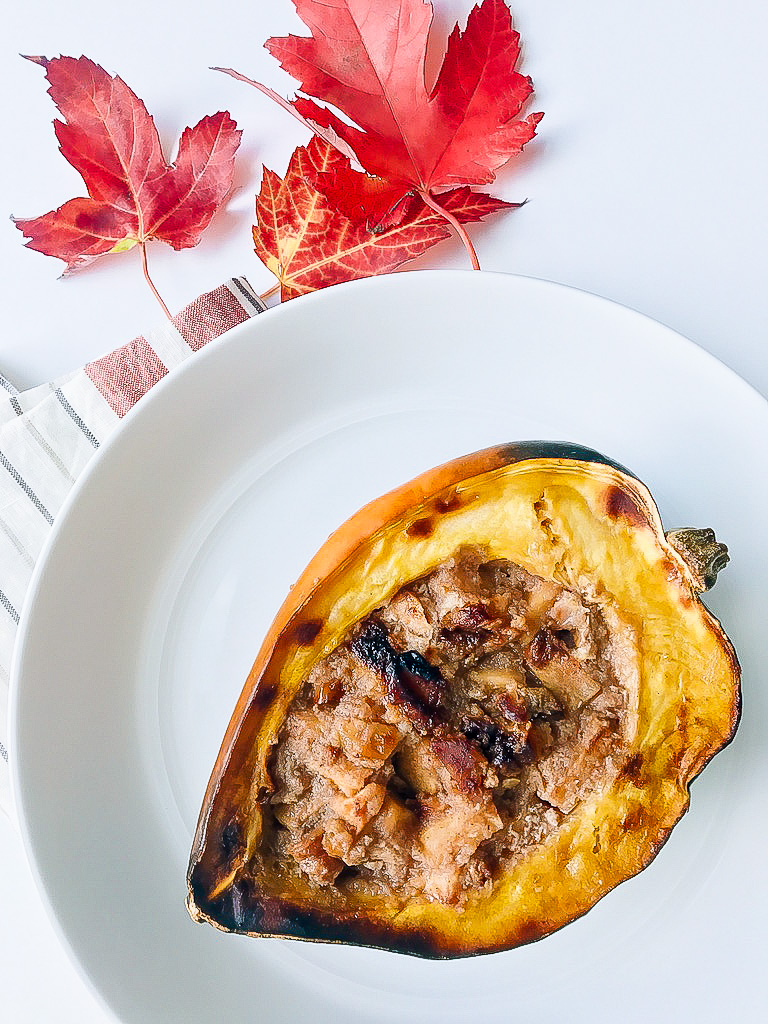 I've had an epiphany recently when it comes to sharing recipes here on So Chic Life. While I love to cook, creating a recipe from scratch is not my thang. I wish it were. But give me any home-style, rich, classic recipe and I can modify and transform into a healthy version. For realz.
Healthy can mean different things to different people. I generally adhere to a gluten-free, dairy-free, sugar-free, Paleo and Keto lifestyle. Forget the word diet – it's so 1990's.
Today it's all about following a healthy lifestyle consistently. Sure I like to splurge (wine and pizza are my weaknesses) but after eating this way for so many years, my brain no longer craves refined carbs or processed sugar.
Ok so enough about my eating habits. Let's get on to the good stuff.
Most acorn squash recipes I've come to love use some form of sugar to enhance the sweetness of the squash.
Why raise caloric count or add empty calories with unnecessary sweeteners? Brown sugar and maple syrup seem to be the most common offenders, however using a sugar alternative like Erythritol, a low-glycemic, zero calorie sugar replacement does the trick.
Discovering erythritol was life changing. Originally I purchased to make Keto Chocolate Fat Bombs which by the way are to die for. It worked so well I've been experimenting as a substitute for all sugar ingredients.

Baked Apple Stuffed Acorn Squash
Baked Apple Stuffed Acorn Squash Author: Alison Prep time: 10 mins Cook time: 1 hour Total time: 1 hour 10 mins Serves: 2
Instructions
Preheat oven to 400 degrees F
Cut squash in half and remove seeds.
Cut tiny sliver of back of squash so it will sit flat in pan without rocking.
Place both halves inside up in glass baking dish.
Peel, core and dice apples in ½ inch cubes, place in medium bowl.
Add walnuts, applesauce, Erythritol, cinnamon, nutmeg and mix.
Divide mixture evenly between two acorn squash halves.
Cut butter into 2 pieces and press each piece into the center of filled squash.
Pour water into bottom of baking dish about one third of the way up.
Cover baking dish with foil and baked for 40 minutes.
Uncover dish and bake for 10-15 mins more until top is brown.
Remove from oven and enjoy!
Notes
This dish can easily be doubled to serve 4.
3.5.3229
If this was a
Paleo approved recipe
, maple syrup would most likely be used in place of 
Erythritol. 
While maple syrup is a better choice than refined sugar, unfortunately it still needs to be consumed in moderation. Read more all about maple syrup
here
.
If you try this baked apple stuffed acorn recipe, I'd love to hear how it turned out!
If this post was helpful would love for you to share on Pinterest! You can also follow on Facebook, Twitter, Pinterest and Instagram. Sign up for our monthly newsletter and never miss a post here!
This post does contain affiliate links. If you click and purchase any of the recommended products I will receive a small commission that goes towards running So Chic Life.