If you're new here, I'm a big advocate of natural beauty products free from parabens and carcinogen ingredients. I'll never admit to being 100% perfect, but I do my best whenever possible.
Standard toothpaste has been one of the most difficult products to replace with an all natural and chemical-free version. Most options available at places like Whole Foods don't taste so great or still include an ingredient that shouldn't be considered natural.
I've found a natural toothpaste that I really loved last year. Give Me the Dirt lasts a long time and the taste wasn't so bad. If you can get past that it is a dry toothpaste (no lather), you'll probably love it too.
After I running out of my dry toothpaste, I decided to give the dōTERRA On Guard Natural Whitening Toothpaste a try. I use essential oils for just about everything you can imagine. So far I am loving it!!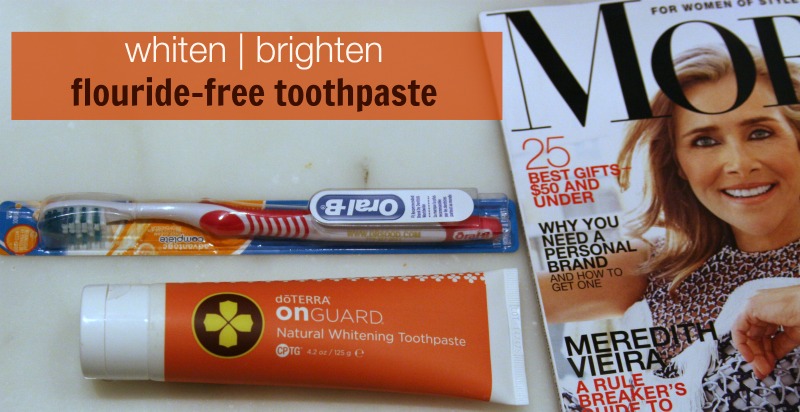 The taste is amazing…. A mixture of cinnamon-mint flavor, it leaves my breath fresh and clean.
doterra uses their proprietary On Guard® essential oil blend of wild orange, clove, cinnamon, eucalyptus, and rosemary that cleans and freshens breath while providing natural protection against germs and other harmful microbes in the mouth. I guess you could say it reminds me a little of drinking cinnamon clove tea.
Why try doterra On Guard Natural Whitening Toothpaste?
Formulated according to dōTERRA's "NONE OF THE BAD" philosophy, meaning it does not contain artificial colors, diethanolamine (DEA), formaldehyde donors, parabens, phthalates, propylene glycol, sodium laureth sulfate (SLES), sodium laurel sulfate (SLS), toluene, or triethanolamine (TEA). And NEVER tested on animals.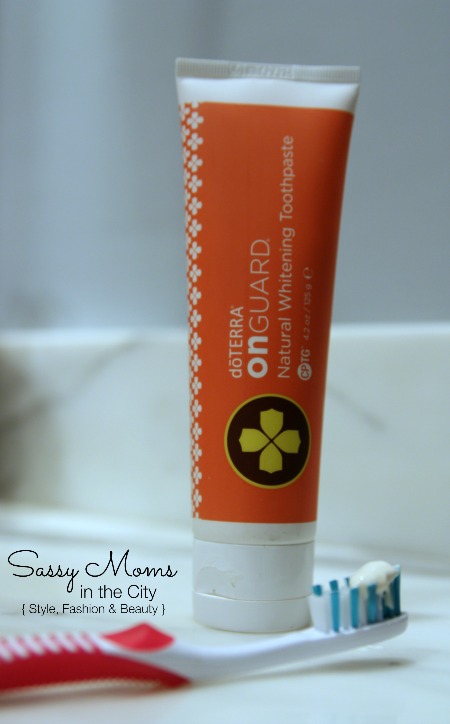 On Guard Natural Whitening Toothpaste includes calcium hydroxyapatite, a safe alternative to fluoride that helps strengthen dental enamel by restoring equilibrium of tooth remineralization. It also includes hydrated silica, a gentle abrasive that helps remove plaque and brighten teeth during brushing. One part a defense against harmful germs and bacteria entering through the mouth, one part tooth enamel strengthener, and one part gentle cleanser and whitener, On Guard Natural Whitening Toothpaste is an excellent foundational product for complete oral health.
Want to learn more about doTERRA On Guard Natural Whitening Toothpaste read this product information sheet. You are welcome to comment below or email me directly for more information on using essential oils.
Ready to try On Guard Natural Whitening Toothpaste? 
Purchase directly from from me for $11.00 with free first-class shipping, email me at sochicmedia(at)gmail (dot) com.