I'm Sarah from 70's inspired fashion!
The 70's trend is back and leading so many fall collections from wide leg jeans, floral prints, fringe, big sunglasses and even platform shoes. All of these put together would make for a very retro look so adding elements of the iconic style will give an everyday outfit the modern twist. This trend might feel a little like Coachella, but channel your inner flower child because the 70's look is going to be all over the NYFW runways in a few weeks.
It might be a little too bold to pull out some of those vintage items from the back of your closet, here are a few ways to add the 70's inspired fashion into your everyday wear:
Flared Jeans: An easy way to wear this trend is to pair your favorite flared jeans with a button down tucked in shirt. Once you pick up a pair, swing by the tailor so you get the hemline just right for your height and what shoes you plan to wear them with often.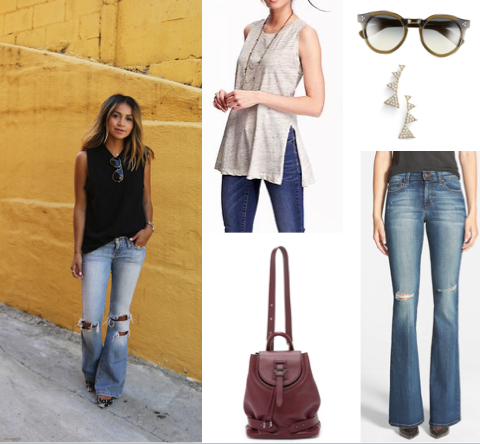 Top: Nordstrom
Fringe: No need to go full on fringe but you can easily let your purse do all the swinging for you by using a bucket bag with fringe on the side. There are some cute fringe booties walking into fall.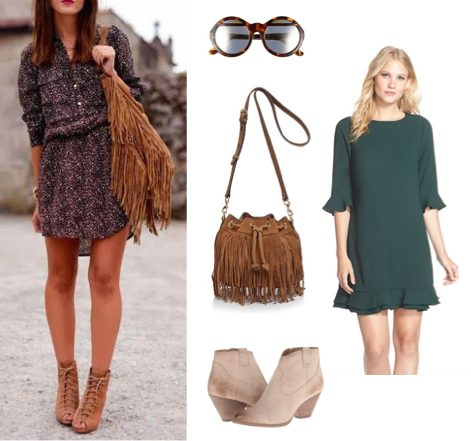 Dress: Zappos 
Platform Shoes: Wedges, booties and flats have all been elevated by the trend. For fall, these boots are made for stomping into a room with style. To increase the 70's style on your feet check out a pair of faux wood boots that are hitting stores.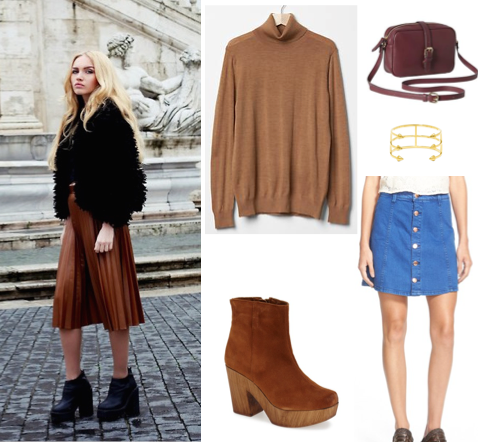 Skirt: Nordstrom 
Adding a pieces of the fall 70's inspiration can turn an everyday outfit into something that is retro cool!