Yes Miley Cyrus is a hot topic this week for her outlandish and trashy performance at the VMAs. These type of antics are  the reason I stopped watching the MTV Video Music Awards in 1992, specifically when Howard Stern floated across the audience and farted on everyone. It became obvious that it was more about shocking viewers than about recognizing musicians. But hey, it's MTV so should we really count this award anyway?
It's no surprise that Miley is getting so much attention, however were you equally as shocked when Lady Gaga bled on stage in 2009?  I guess that performance is now considered "art" if you're comparing it to twerking with a team of pandas and dry humping a married man who wasn't able to sing very well live. Let me guess, you didn't notice Robin Thicke wasn't doing much singing?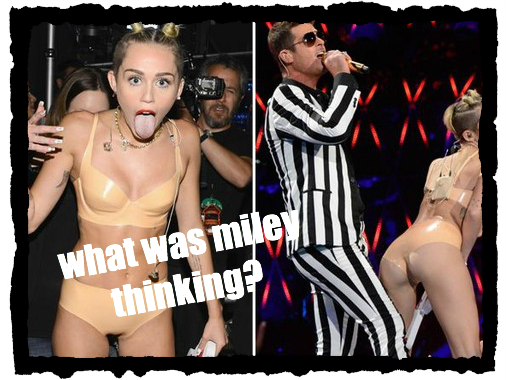 I'll admit to jumping on the Miley Cryus bashing wagon. Primarily because it was trashy, pointless and had nothing to do with her song.  Honestly, it's more than her VMA performance. Take a look at her Twitter feed and you may wonder where did things go so wrong. It seems being "trashy" is her daily mantra.
We're on day three of "Miley Gate" and the only interesting result has been my Facebook feed filled with comments and posts by various news outlets and bloggers. To save you time, I've rounded up the 5 best posts about Miley Cyrus at the VMA's.
Kim Helminski Keller, RoadkillGoldfish.com

Dear daughter, let Miley Cyrus be a lesson to you.
Yes, this is what happens when you constantly hear everything you do is awesome. This is what happens when people fawn over your every Tweet and Instagram photo. This is what happens when no responsible adult has ever said the word "no," made you change your clothes before leaving the house, or never spanked your butt for deliberate defiance.
Note: this post received 2.5 million views within 36 hours. Read her follow up here.
By Meredith Sinclair, special to HLN
For 24 hours, twerking backfire, while Syria and "Batman Affleck" have been dismissed to make room for color commentary on how another Disney star's "gone wild." I fully understand the uproar and disgust with how it all went down, but I'm not going to lie: I wasn't all that appalled by it. Here's why.

By Jill Simonian, special to HLN
Dear Miley,
I've been a fan of yours since long before I became a mom. I'm not sure if you remember Until last night.
By Meredith Artley, Managing Editor Of CNN.com
Over the years, CNN.com has become a news website that many people turn to for top-notch reporting. Every day it is visited by millions of people, all of whom rely on "The Worldwide Leader in News"—that's our slogan—for the most crucial, up-to-date information on current events. So, you may ask, why was this morning's top story, a spot usually given to the most important foreign or domestic news of the day, headlined "Miley Cyrus Did What???" and accompanied by the subhead "Twerks, stuns at VMAs"?

Last night Miley Cyrus attempted to show us that she's all growed up with a sexed-up performance at MTV's Video Music Awards. We've seen this story before: young pop star tries to shed her Disney image by giving an R-rated performance on national television. And while I can see that this tactic is tempting for someone trying to prove they're no longer a child, I'm here to humbly offer some tips for proving you're a grown-ass woman that don't involve showing said ass.
As a special bonus you can watch five hosts unite in utter disgust …..