I was nervous and stressed out going into the 21 Day Sugar Detox but I have to tell ya – I think I got this. Headed into my fifth day, I really wanted to share days 1-3. The goal of recapping is to detail what I ate so you can determine if this is attainable for your lifestyle.

I really do think this program is for anyone especially considering there are three different levels.
The most common question I've gotten so far is – What CAN you eat??
Because I've decided to go hard core with Level 3 AND the Modified Autoimmune protocol, everyone seems to think that leaves me with very few options.
Surprisingly the program been relatively easy. The most important tip I can provide is to be prepared and stock your fridge and pantry with approved foods before getting started. I pretty much had everything because of my current eating habits. It's the extra stuff like eggs, nuts and nightshades that I am eliminating that is requiring a little more creativity in meal planning.
So here's how the first three days of the 21 Day Sugar Detox went down.
DAY 1:  
Green Smoothie from The Beauty Detox  (1 cup filtered water, 1 organic celery stick, 1/2 organic green apple, 1/2 banana, 2 cups spinach or kale, 1/2 squeezed lemon)
Lunch – leftover Chicken Meatballs and Zucchini Pasta
Snack – Small piece of Chicken (ordered take out for the kids but was starving. Had to eat before I left to go to an event)
Dinner – Met friends out on my first night!!! This was challenging but I made it work.  Club Soda (took care of the alcohol craving), Roasted Brussel Sprouts with Bacon (YUM), Grilled Octopus with mixed greens, shrimp and mussels. The octopus had a red pepper sauce but I chose not to eat it. I stuck with the appetizer menu which made it much easier.
Supplement – Natural Calm before bed
Notes: Again I was more surprised that I wasn't famished throughout the day. The exact opposite happened except for around 6 pm when we normally eat. At the event that evening, I just drank water and didn't miss having wine. 
DAY 2:
Pre Workout Breakfast – Green smoothie
Post Workout Snack – Leftover Chicken Breast with Artichoke Hearts
Lunch – Nori Roll with Turkey, Avocado,  Raw Sauerkraut and Shredded Carrots
Dinner – Pan Fried Cumin Pork Chops +  Roasted Green Beans + Club soda
Snack – Roasted Baby Carrots and 2 Green Olives
Supplement – Natural Calm before bed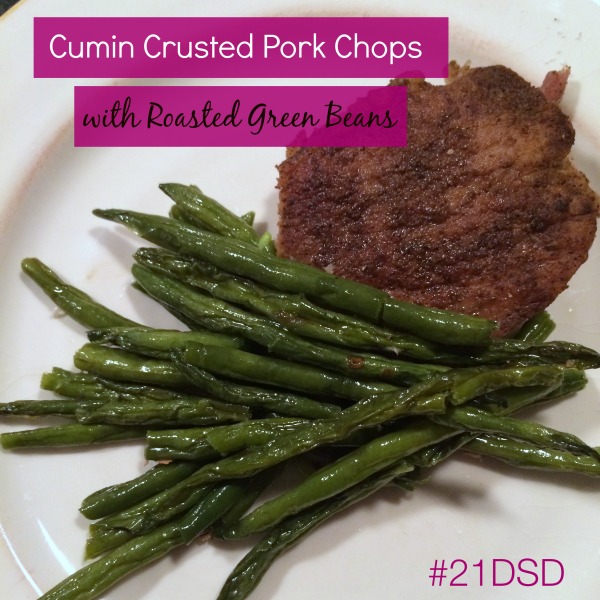 Notes: No cravings but was hungry at 9:30 pm so opting for carrots and olives seemed safe. Probably seems weird to eat chicken and artichokes in the am but I can't have eggs and needed protein. 
DAY 3:
Coffee whipped with 2 tsp Coconut Oil + Cinnamon
Breakfast – Panera Breakfast Bowl with Sautéed Spinach, Turkey, Pesto and 1 egg (this has red peppers so I didn't eat and also comes with 2 eggs)
Snack- Leftover Roasted Carrots, Steamed Broccoli, Artichoke Hearts and Avocado- heated in microwave (yes this was actually good but I was also starving)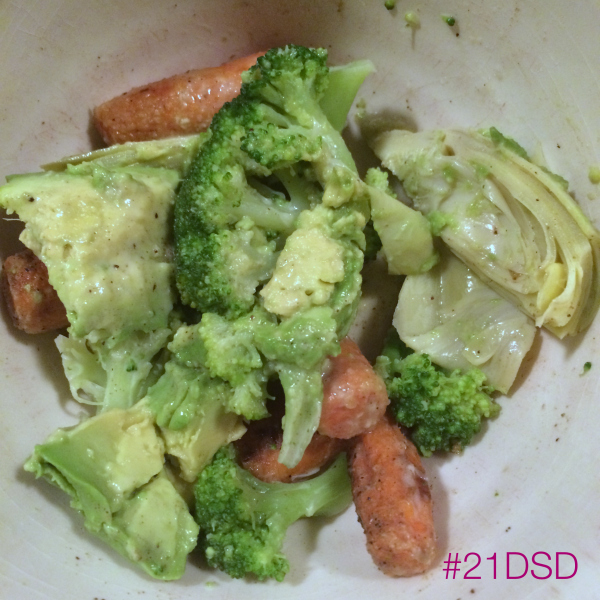 Lunch – Leftover pork chop and green beans
Dinner- Ordered Out – Grilled salmon with Sautéed Spinach and Capers. This normally comes with a cream sauce which I asked to leave off. I added my own coconut milk with lemon.
Snack: Organic Green Olives
Supplement – Natural Calm before bed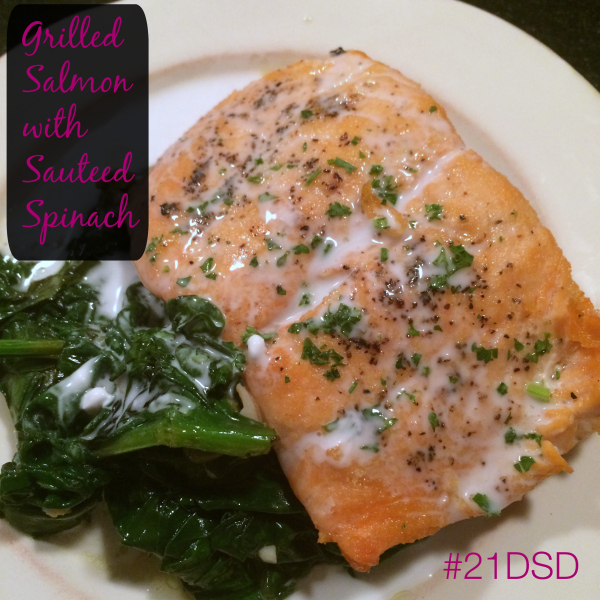 By the end of the day I was craving chocolate as usual. Looking at my approved food list there aren't many options so I whipped together this quick "treat". Seemed to do the trick.
 1 tbsp coconut butter
2 tsp unsweetened organic cocoa powder
1 tsp of applesauce unsweetened
2 tsp unsweetened shredded coconut
Note: This day was more difficult because it was Friday pizza night and I really wanted a slice. I let myself have a the smallest bite but then I stopped myself. It's just not worth cheating! I also let myself have a small piece with just the cheese topping (no crust). 
What do you think so far? Any thoughts on trying the 21 Day Sugar Detox?