Over Labor Day weekend I was invited to a dear friend's home to be a part of a filming for HGTV.  When he invited MOI as one of his 20 friends for the shoot, I was ecstatic!
Lately, I have been ALL about supporting local and emerging designers.  Maybe it's because I DO come from a design background and know how tough it is to make it in the industry.  At the same time, I appreciate the talent and hard work that goes into being creative and to run a business.  IT IS NOT EASY.
As much as fashion is something to be perceived for the lifestyles of the rich and famous (with my Robin Leach voice), the beauty lies within the art of design.
That day, as I was picking out my wardrobe for national TV(!), I felt very strong in wearing designs from someone local – Lagi Nadeau.  What I love about Lagi Nadeau's designs are her prints, choice of colors and how she finishes her garments.  I appreciate her aesthetic and fine details.  Don't get me wrong, I love it when I can buy a dress for $15 (which is pretty much disposable after one wash), but I love that Lagi Nadeau's designs focus on quality.  All her fabric is imported from Italy and some of her prints are designed by Lagi herself.  A true designer that takes pride in her work.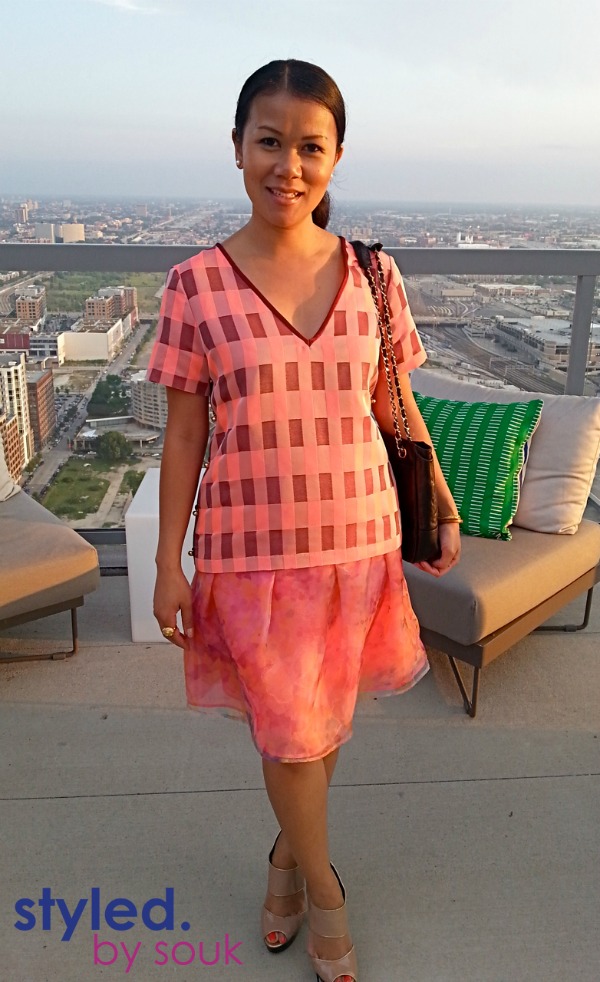 Top and Skirt | Lagi Nadeau Spring 2014  Ring | Vintage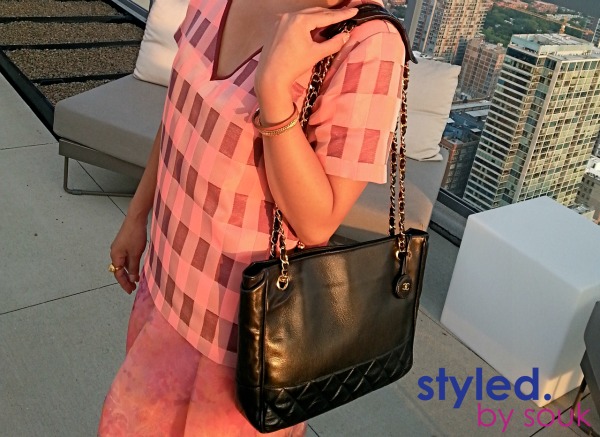 Gold Bracelet | from Laos (high school graduation gift from my father)  Bag | Vintage Chanel
You must have noticed those same BCBG shoes (I have posted them many times).  I think I've gotten my wear out of these.  I buy shoes to match with 80% of my closet.  Let's call this an "investment" piece for me.  Am I turning over a new leaf or is this justification for my shopping habit?
I typically would not choose this silhouette, but I thought I would give it a shot.  It is a drop waist look, but because it is not fitted and not too loose, I thought it looked very flattering on a petite girl with hips.  It is a two-piece, but I fell in love with the colors and the mixed patterns on the top and bottom.  We were also filming later in the evening (it was dark).  I paid attention to the colors of my outfit for the camera.  Hey, you don't go on TV without making a statement.  BE BOLD OR GO HOME.
P.S. Like the shine on my cheeks?  Try Benefit's Sunbeam!
HAPPY FASHION FRIDAY!
Have questions about what I'm wearing this week? Comment below or connect with me online at @styledbysouk.